When i was doing my first roadtrip in California some years ago we were not going to Yosemite Nationalpark because of limited time and the road closures in winter. So when i found out that i can do an internship in California, this immediatly got on top of my todo list over here.
Last weekend it finally was time for me to see one of the most beautiful Nationalparks over here. Together with 2 other Austrians that are also living in Los Angeles i was going there, having the plan of hiking the Half Dome. This hike is one of the hardest in the Yosemite area and Northern America and it really was one hell of a hike.
Am i fit enough?
After doing some research (okay – a lot of research), having a look at the height profile and everything, i was a bit scared of not being able to finish that hike. Due to some virus i wasn't allowed to do any sport for 2 months before coming here, so i really was out of the shape i'm used to be. As i'm cycling to work at least 3 days a week and i already went for some hikes over here, i thought that i could be able to finish it. I decided that i would give it a try and if i'm not feeling safe enough to complete it, i would turn around.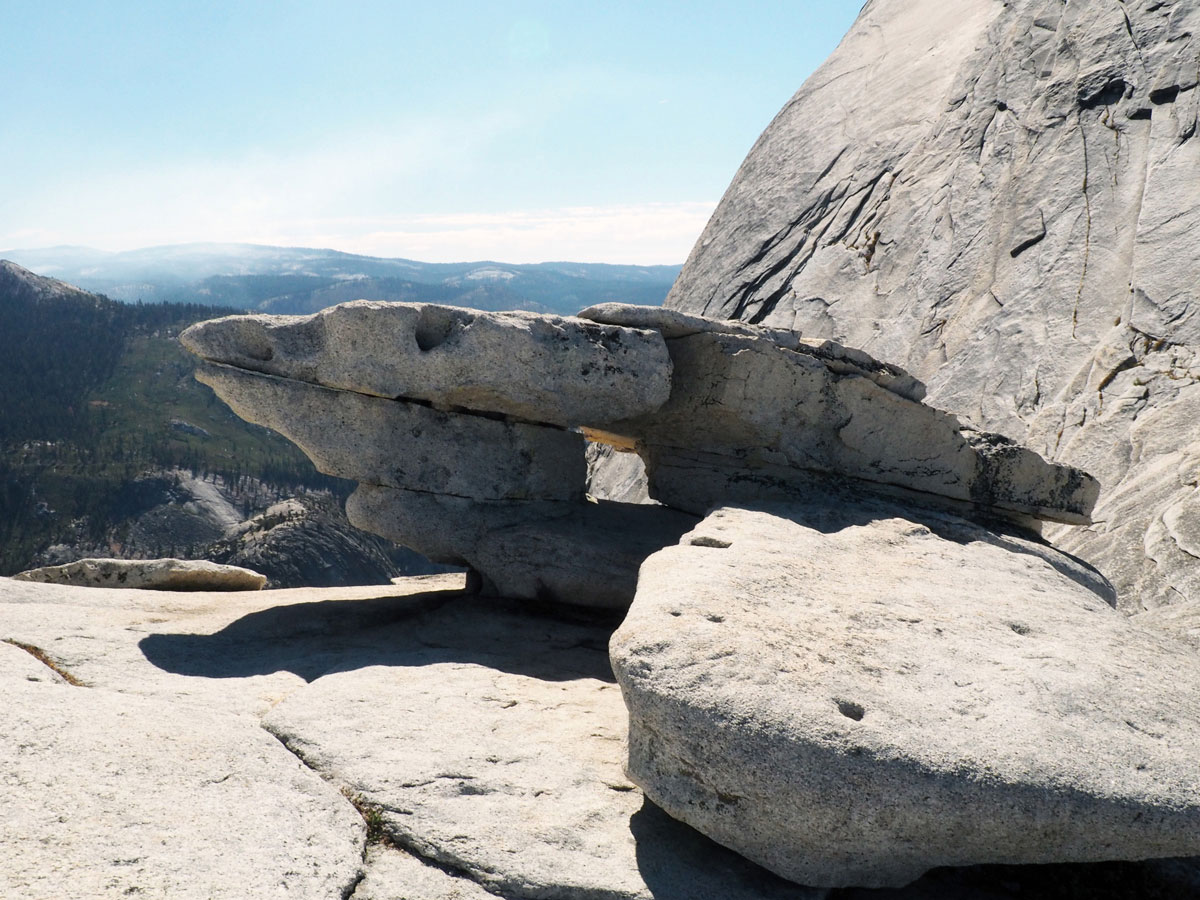 Facts
The Half Dome hike is around 18 miles (23-28km, depending on the route you're deciding to take) and around 5000ft elevation (1600hm). It will take around 10 – 12h to complete it (it took us 10 hours plus 2 hours pause on the Half Dome for enjoying our food and the view). You should leave early to make the most out of it and to not walk back at the steepest areas in the dark.
Preparation – Permit
The hike to the end of the Half Dome is free without a permit, but if you want to get on the Half Dome, you have to get a permit. Those permits can be won in a lottery, which is held in March or April for the whole year. Around 300 people a day get a permit for hiking the half dome, 250 of it are given away in this pre-lottery, the other 50 (plus the ones that were returned) in a day lottery 2 days before you want to do the hike. You have to get your name and the number of people in your group in the lottery online or per phone. For applying for the lottery you have to pay a fee (5 dollar) and if you finally get the permit, you'll have to pay 8 dollar per person. You don't get back the 5 dollar, but if you win a permit and you don't use it, you will get back the 8 dollar pp.
There's a simple reason, why they're having this lottery. A lot of people have been climbing the cables in the last years and it is already dangerous if nobody is on the cables, so imagine 900 people on one day climbing up those cables.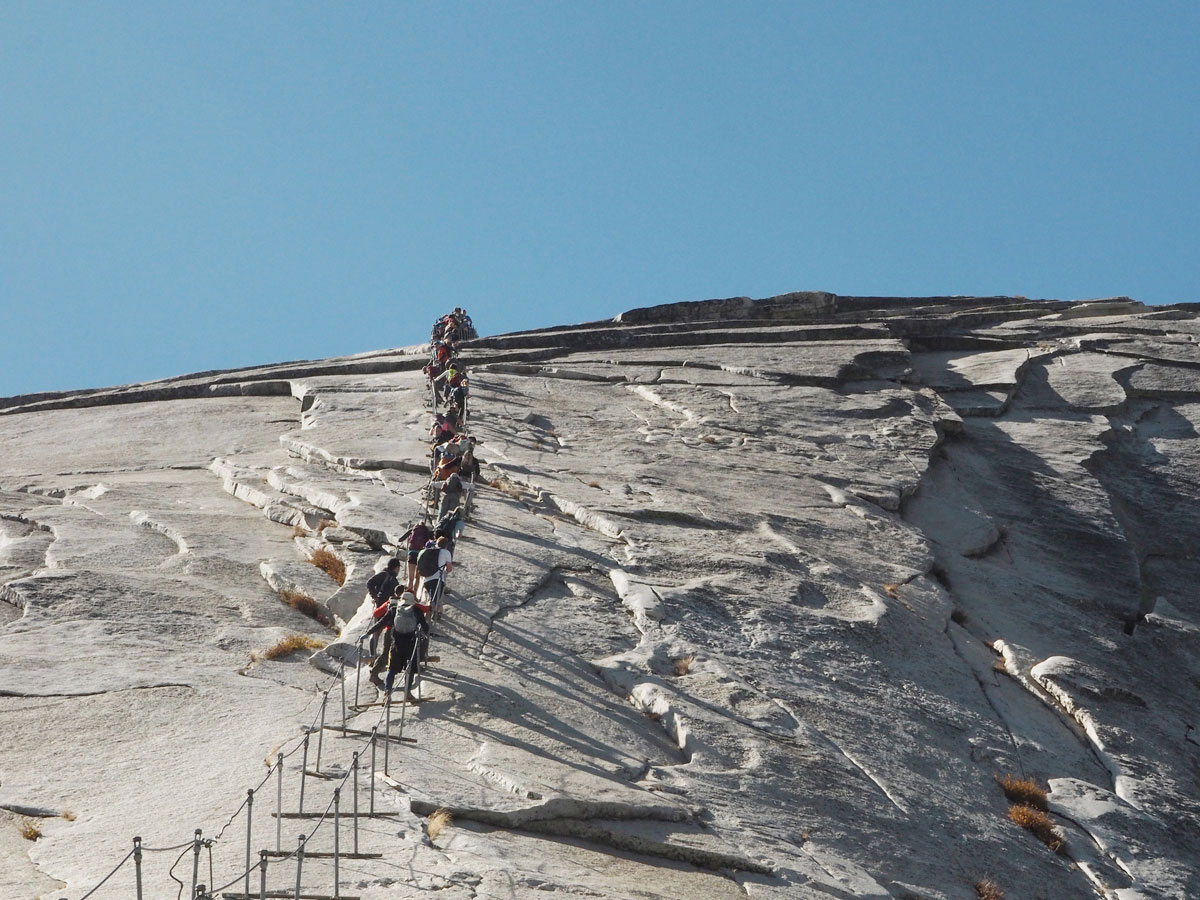 Preparation – Hotel
Yosemite Nationalpark is one of the most famous and most visited parks in California and there are not that many campsites or hotels in the Valley, where everybody wants to sleep. Specially on holiday weekends everything will be fully booked. So be wise and book in advance (specially if you want to camp, campsites are always full).
Bears, Mountain Lions and other scary animals
There are bears living in the Yosemite Nationalpark and as they're always hungry, it can happen, that they are breaking into a car or the food box that you're bringing for camping. So make sure that you are using a foodbox for bears if you're camping and bring everything from the car into the hotel if you're staying in a hotel. We were bringing a german hunters sausage for eating it on the top of the Half Dome and in the end we were pretty scared that we are gonna cross the way of a bear on our way up to the Half Dome. There are also mountain lions, so make sure that you're safe when you're walking around in the dark. Making some noise is always good, bears are scared of noise. We did not meet any bear, mountain lion or anything else and were able to eat our hunters sausage on top of the Half Dome 😀
Going up
4.00 Alarm wants to wake us up
5.30 Finally found a parking lot and let's go
Vernal & Nevada Falls
The first half an hour is an easy walk with some uphill and downhill until you're arriving at the last waterstation in the park. After that the first ascent starts. You will have to walk a lot of steep stairs next to the Vernal Falls to the top of them. After arriving on top of the Vernal Falls, you can take a breath and continue walking pretty straight and easy going. Not far from the Vernal Falls you will find yourself facing the next falls – Nevada Falls. The way up there is not as steep as the Vernal Falls, but still steep enough to take your breath away.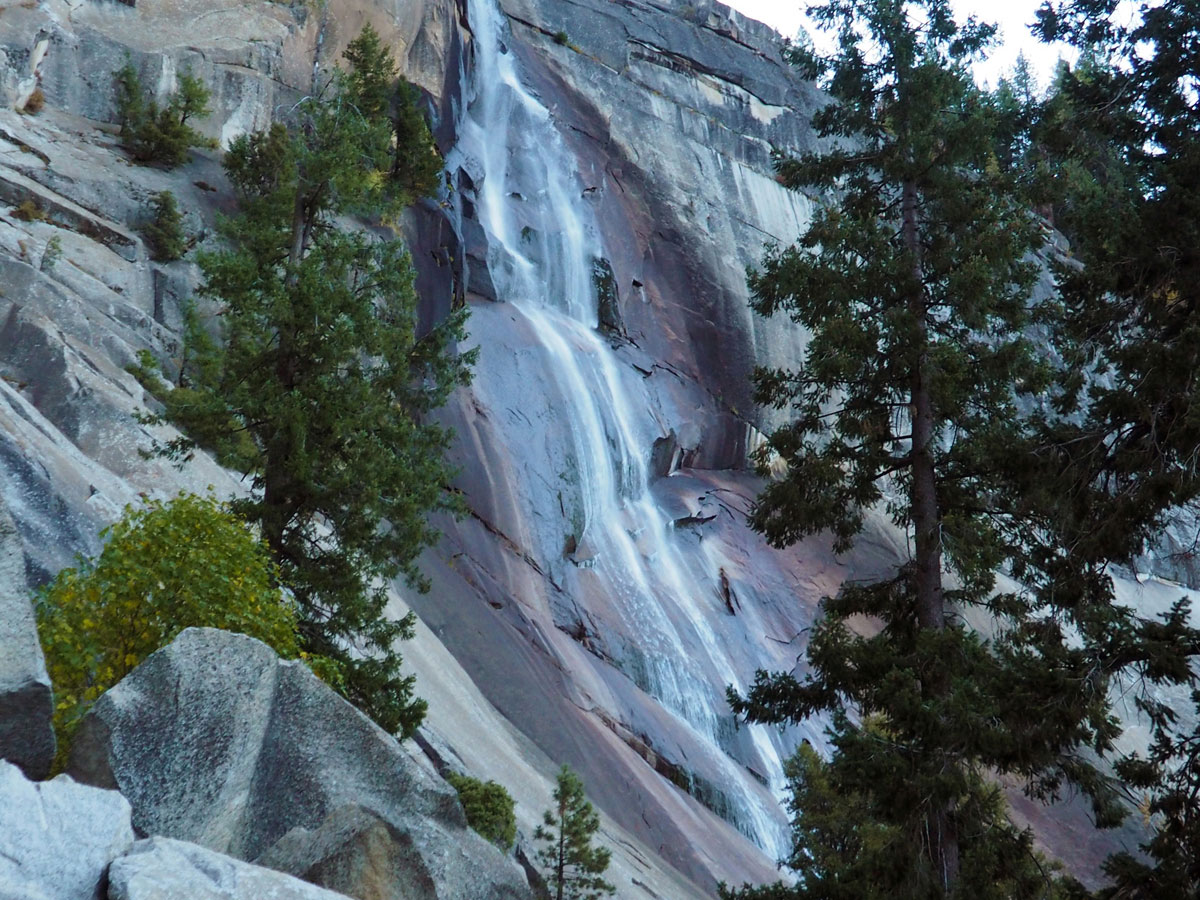 Going in the forest to the Subdome and climbing it up to face the half dome
After those two waterfalls where you're already going up a lot, it flattens a bit and you're walking a long way up to a forest. Once you are arriving in the forest, you'll feel that this is a neverending walk up ending at the Sub Dome.
The Sub Dome itself is really steep and scary. Make a break before it, get some rest and get some energy, because it takes some time and you'll be walking in the sun up a hill all time. If you take one step wrong and you slip, this might not end too nice for you, so take your time and be sure to walk safe.
The cables at the Half Dome
Arriving on the base of the Half Dome the view took my breath away. I was expecting that it will be steep, but what i saw, was even more scary than i thought it would be. As you cannot walk on the slippery stone, they put up some cables and wood steps, to make a way up the half dome. There is only one way up, which you also have to go down, so you're meeting people from time to time. The earlier you are at the base, the better it is. When we were going up, we only met maybe 5 people coming down, when we were going down, there were a lot of people on the cables, specially on the really steep part.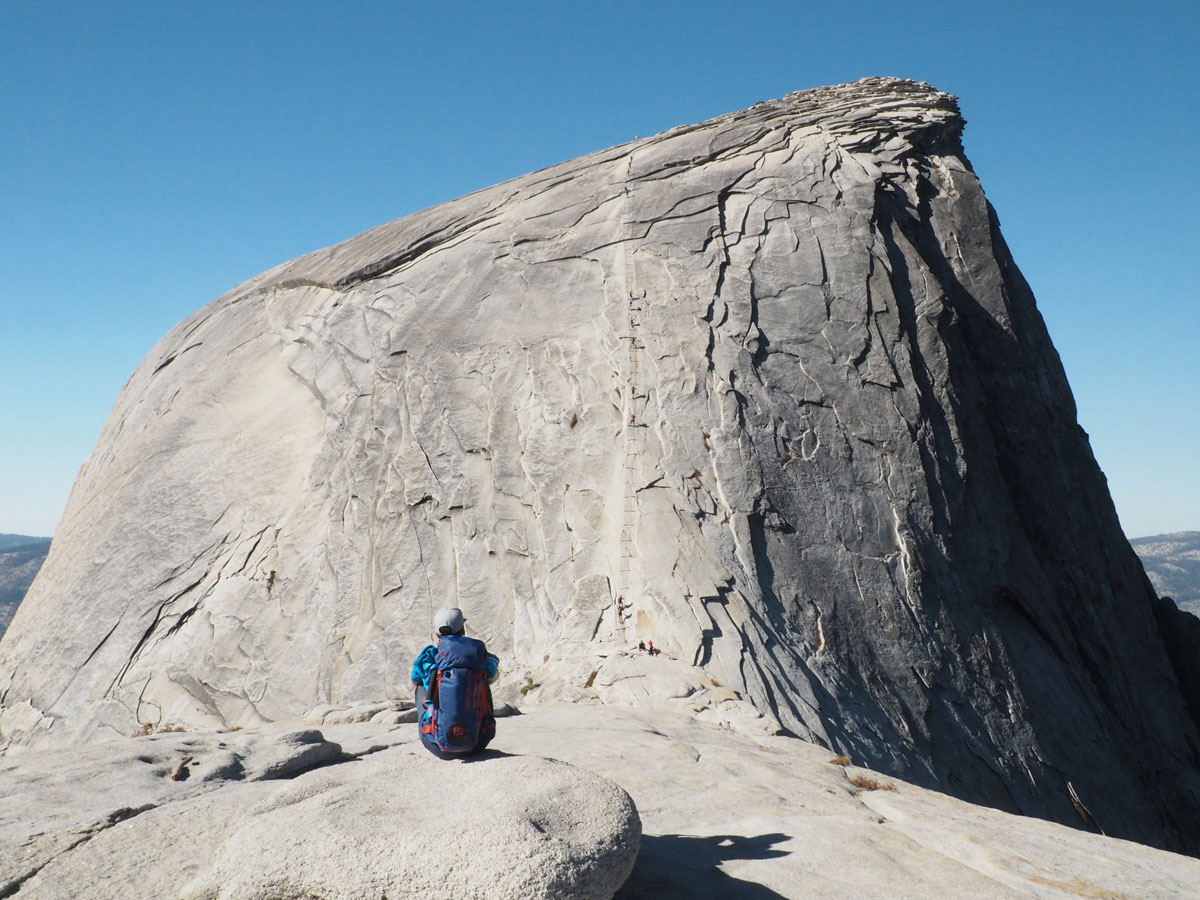 Never ever again without climbing gear
I don't know how the americans can write that it is safe enough to go up there without clipping yourself to the cables. I really like my life and i don't like risking my life for something that could have really been avoided. You can make it without climbing gear, of course, but you won't feel safe at all and you know that if you ever slip away, you will fall down 400-500 ft (around 200 meters), hitting the rock in the end. So you might know how this would end. I think it's stupid and dumb to not make yourself feeling a bit more comfortable and safe taking your climbing gear with you. I would never ever do it again without clipping myself to the cables, even though there can still happen a lot when you slip, but at least you're not completely in the free fall. And to be honest: All the pictures you can find on the internet can not express, how steep it really is. This picture for example was taken at one of the last steps, so it is really flattened up there.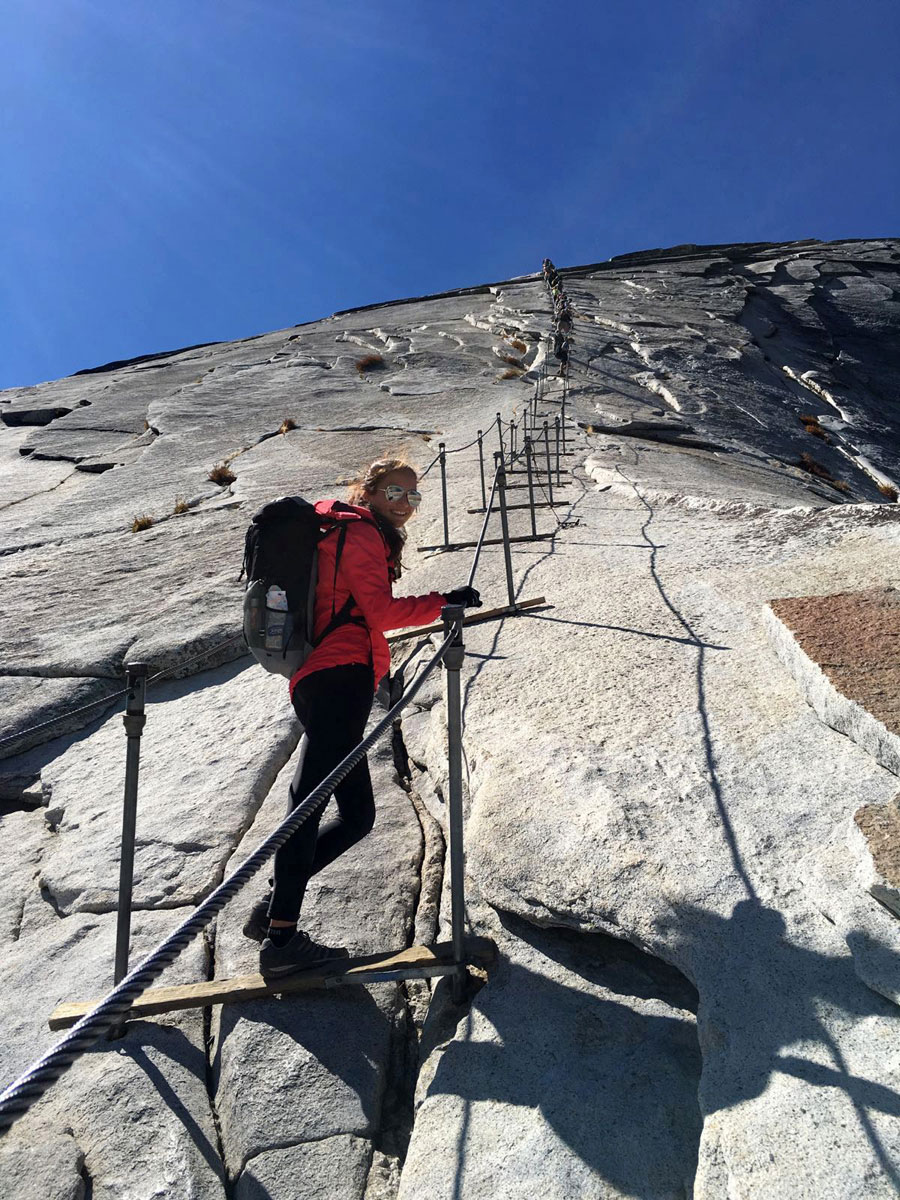 Arriving on top of the Half Dome – 11:00 am
I was so happy arriving safely on top of the Half Dome and the view was totally worth everything. We got some german food and austrian chocolate and taking some pictures before heading back down again. When i finally had safe ground under my legs again, i was the happiest person on earth (i guess).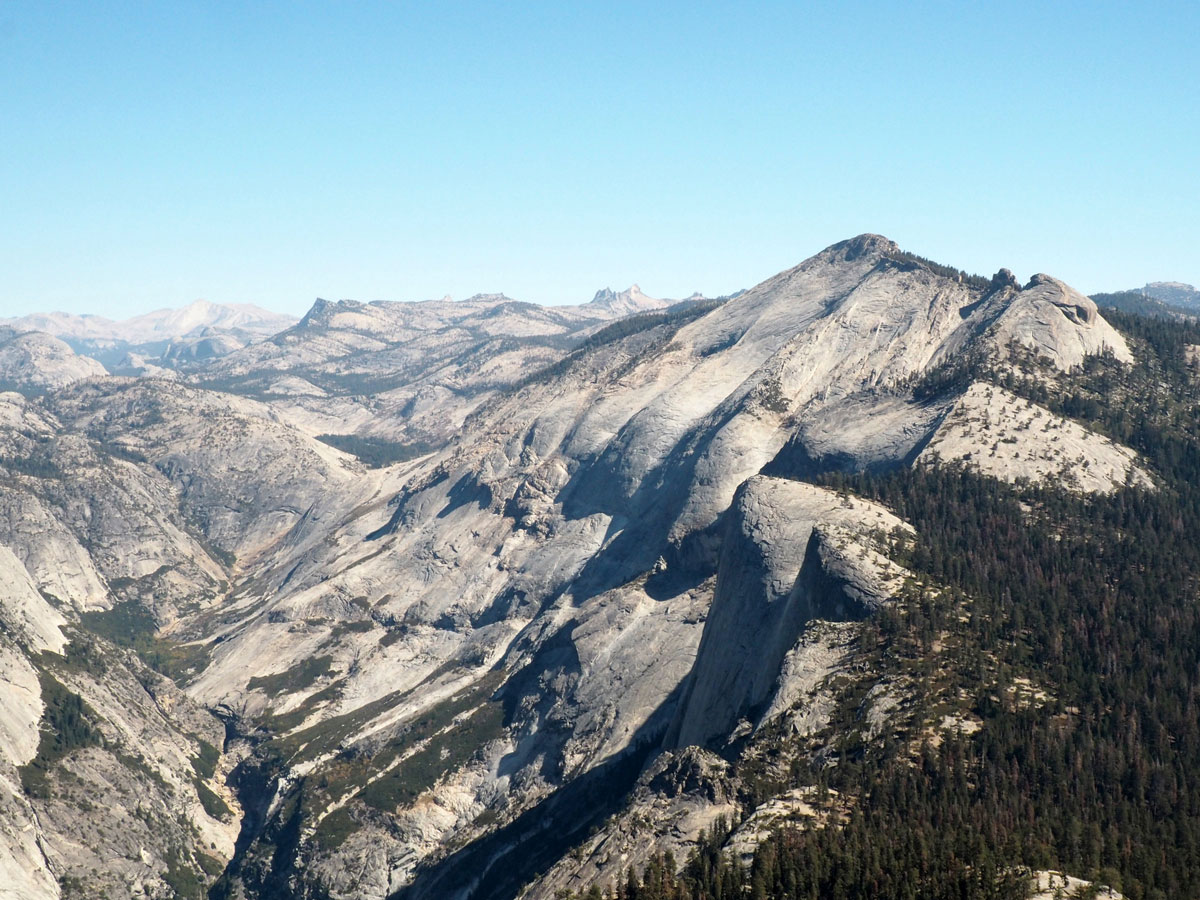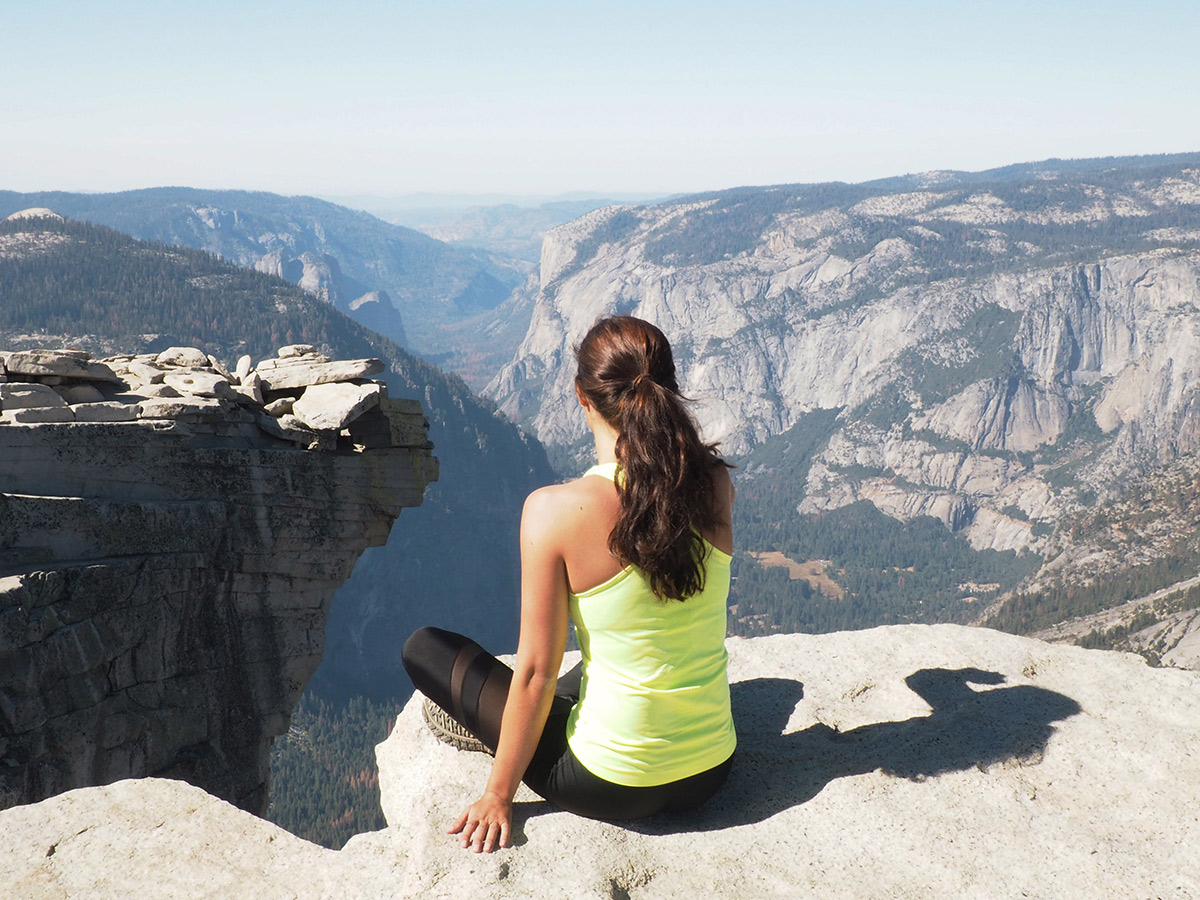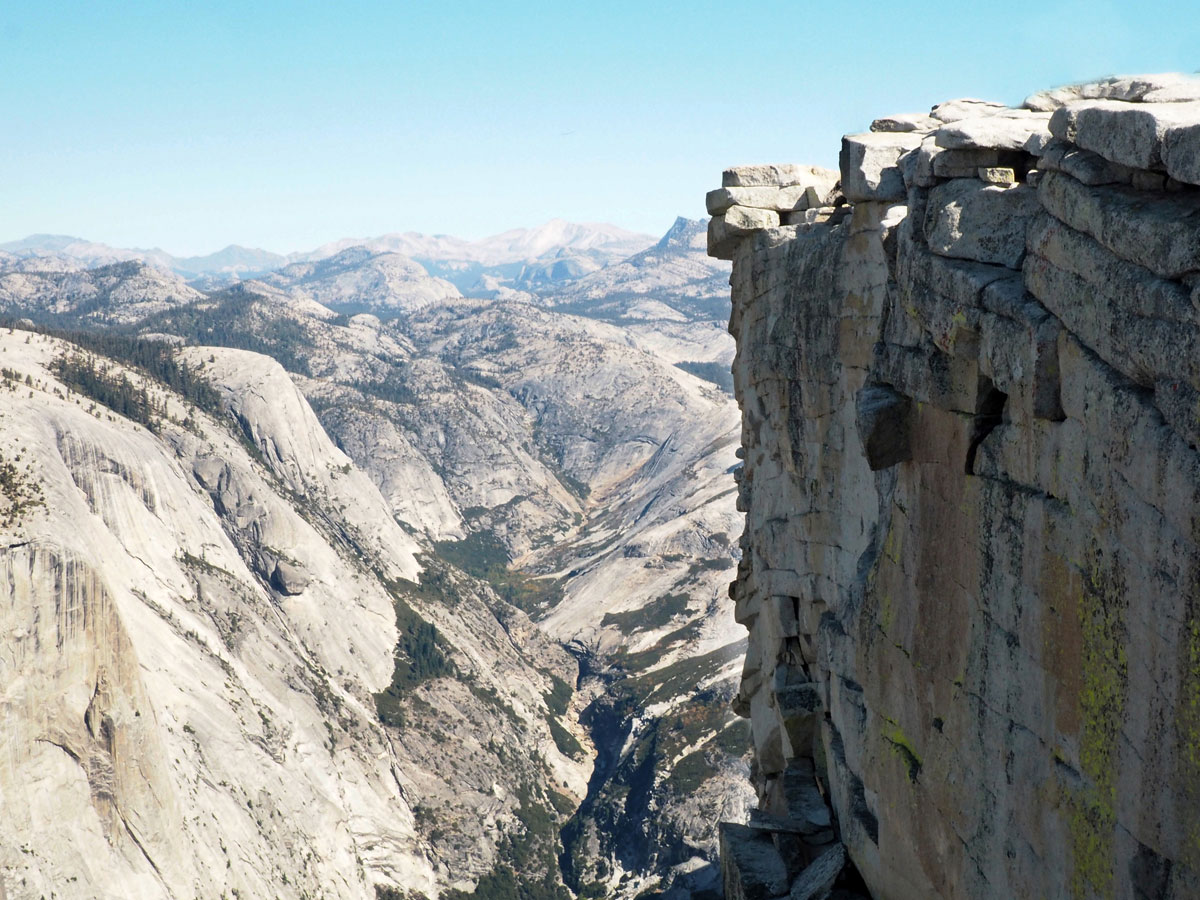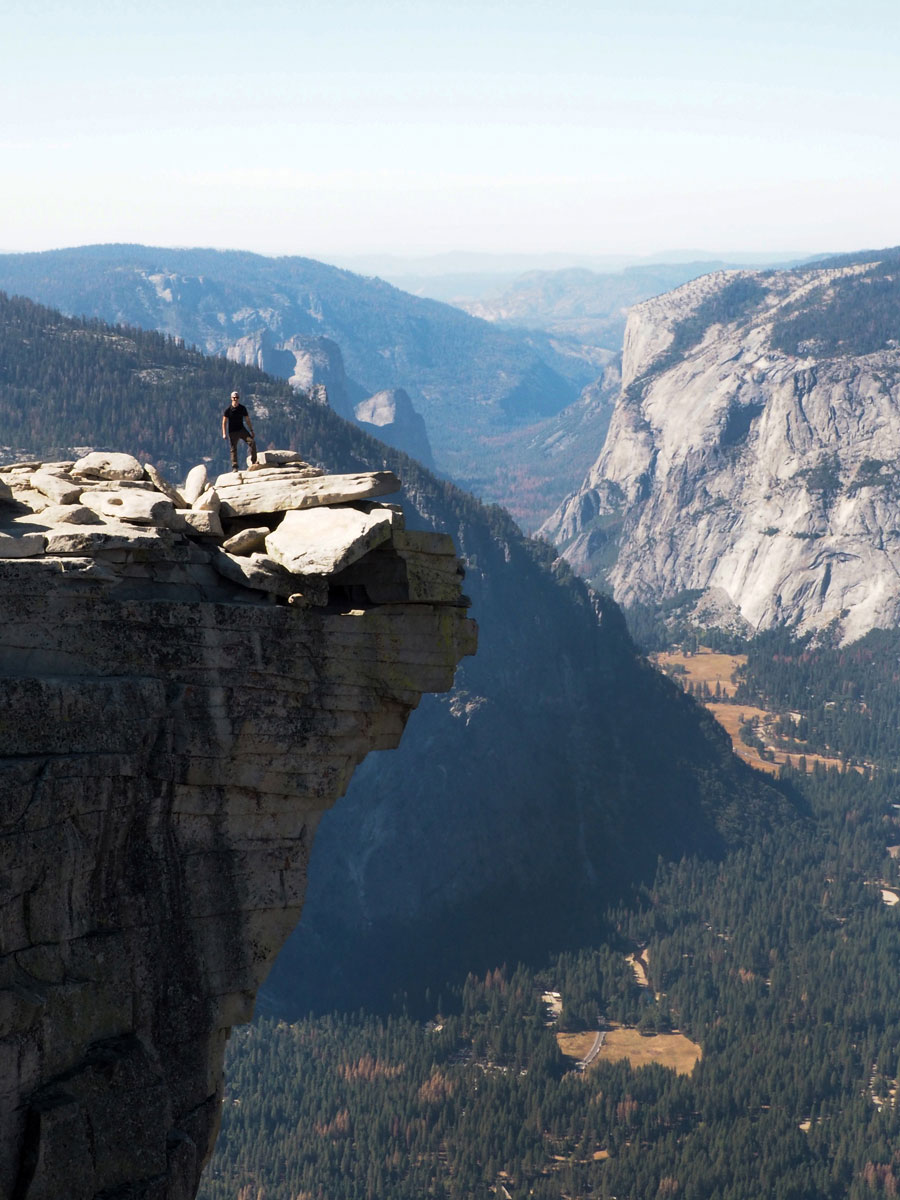 Going down
After making it down safely from the Sub Dome too (which isn't that easy again), there are still a lot of miles/km in front of you to get back to the valley, but it is a really easy hike, specially if you walk down the John Muir trail, which is skipping the steps at the two waterfalls. Going down took us 4h (including the Half and Sub Dome), but to be honest we were going really fast, sometimes it was more a running than a hiking.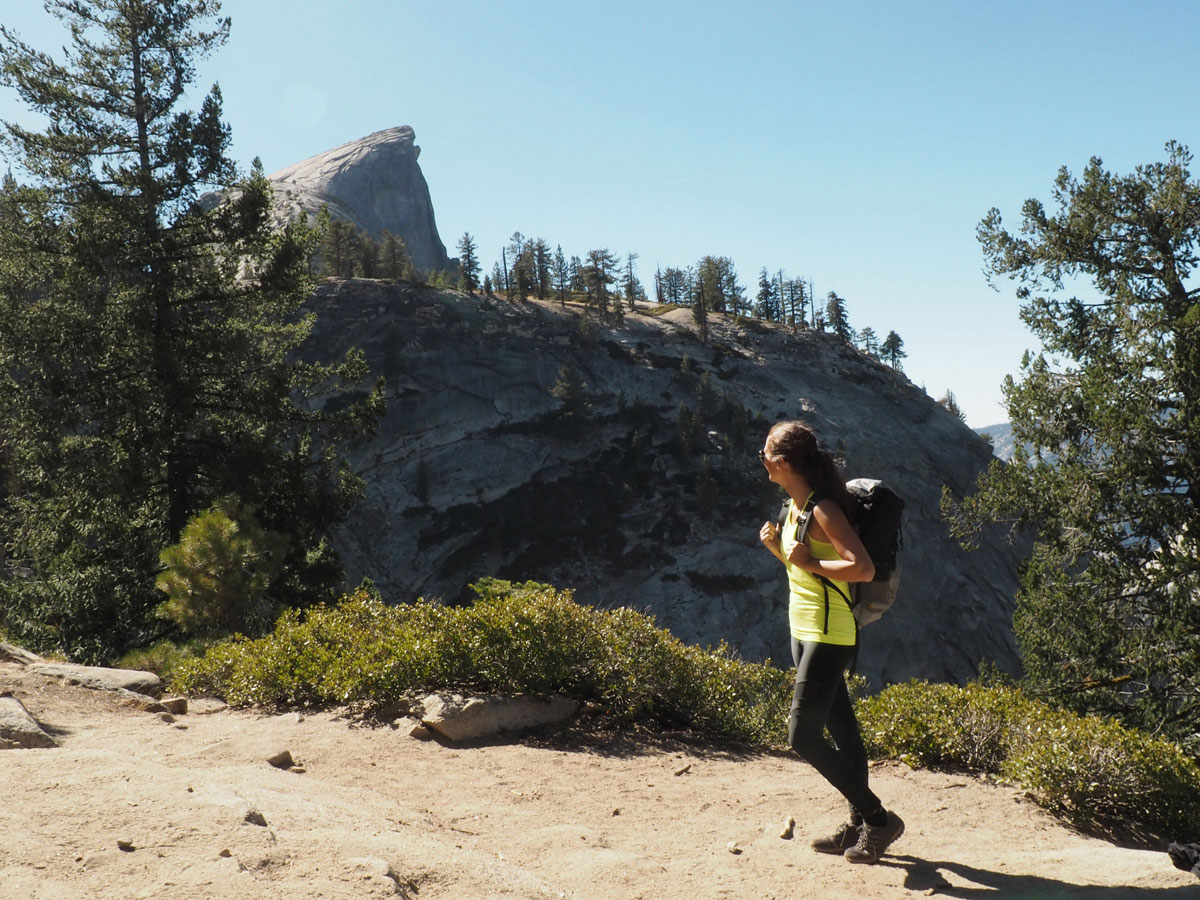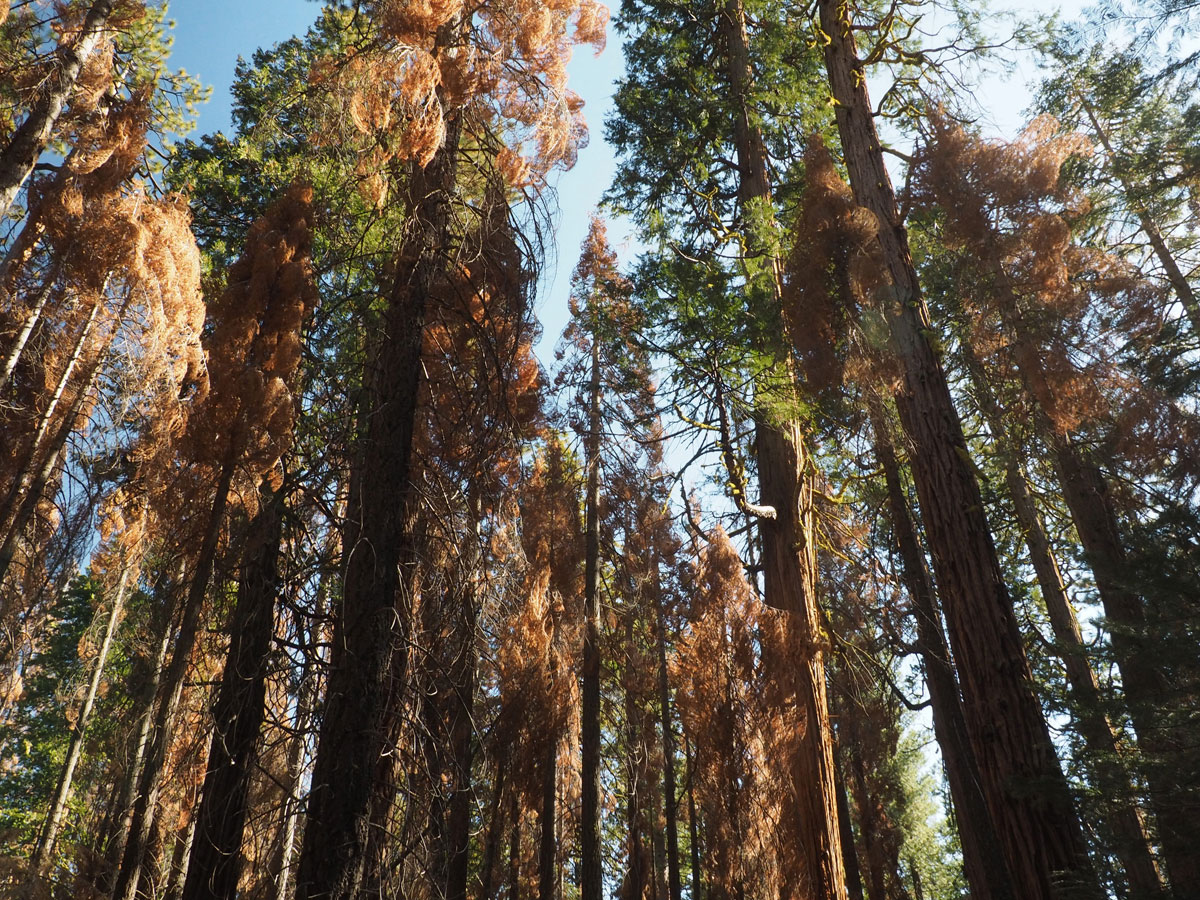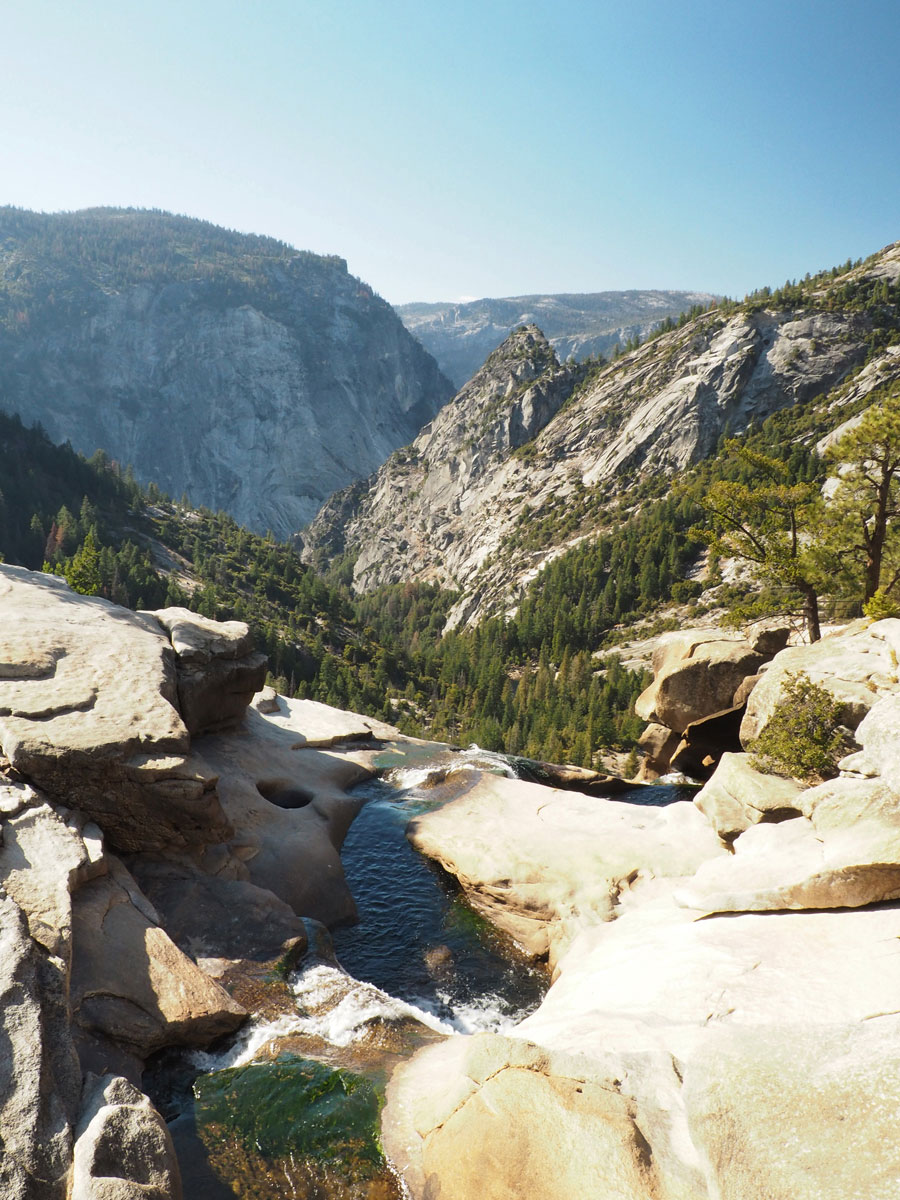 Packing list
Hiking boots (no Converse!!!!)
A lot of water (specially in the summer)
Climbing gear
Gloves with grip for the cables (e.g. biking gloves)
Food for a whole day
Food and drinks with fast sugar in it (Coke, Chocolate)
Maybe hiking sticks if you have some
Your camera and batteries
A jacket (it is cold in the morning and it will get cold in the evening and on the Half Dome)
A light (very important if you come back down late!!)
Sunscreen
Sunglasses
First aid set
Maybe a hat (in the summer)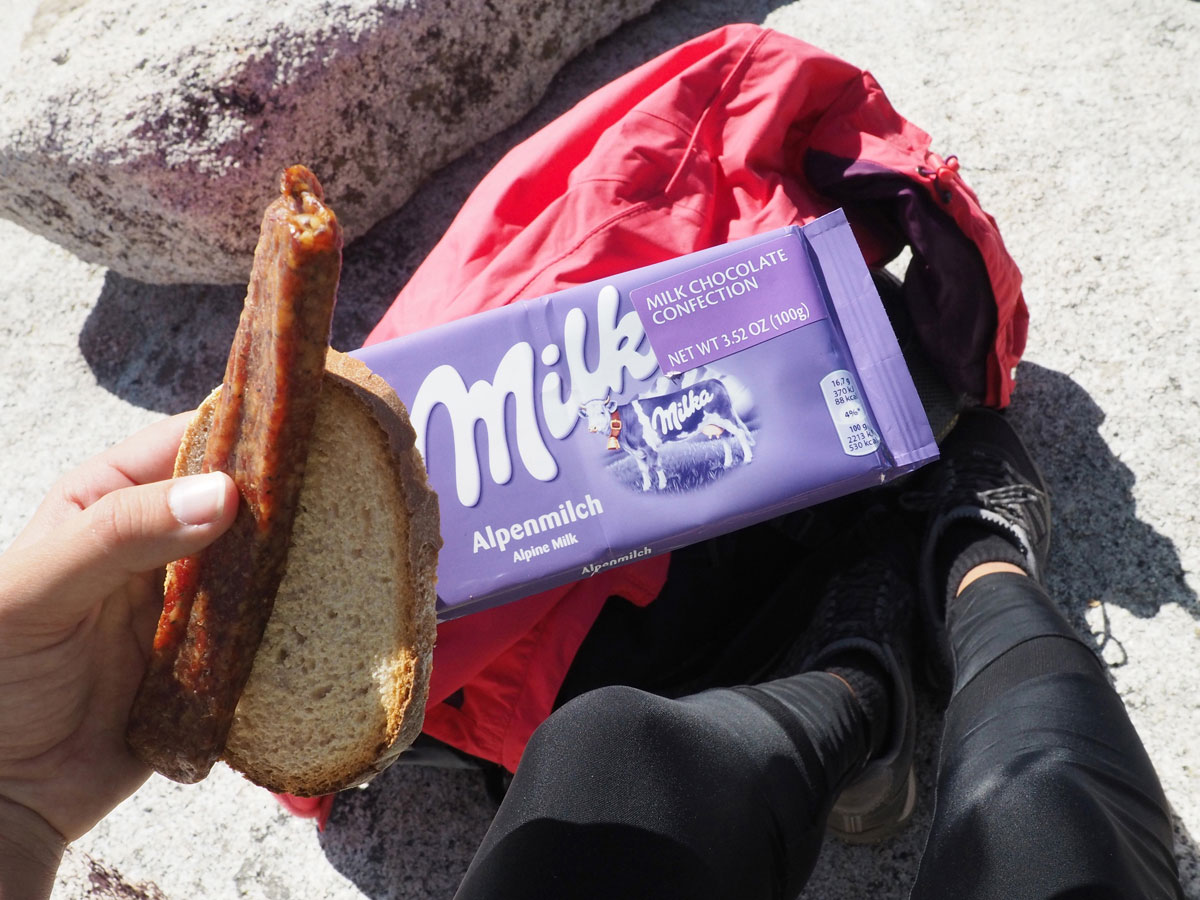 Merken