A product could not be loaded.
A product could not be loaded.
11The Maeklong train market in Thailand has gained much fame in recent years and many tourists like visiting the crazy spectacle near Bangkok, it's one of the top travel tips for Bangkok. However, those who do not want to go on one of the many tours, but want to travel individually, will soon be faced with many challenges. We mastered the challenge and went there and back to the famous train market for a total of 36 Baht per person. If you want to go on the adventure Maeklong train market on your own, you will now get our tips. But if you prefer searching for everything yourself in hours of hard and loving work, you should avoid this article, because I am explaining exactly how to plan the trip.
What is the Maeklong train market in Bangkok?
In the small town Samut Songkhram, 80km from Bangkok, there was a typical Thai market on the street when suddenly somebody decided to build a railway connection into the village. THe Thais did not want to close this market and so a curious spectacle was created. The railway was built and the market remained. 8 times a day a train (at walking speed) drives through the market, which before took place directly on the tracks. A few minutes before the train is arriving, the sellers start clearing their stalls from the tracks by folding them back and as soon as the train has passed through, everything is unfolded again. Of course this is attracting tourists from all over the world now, because it's something extraordinary, as probably no other country would allow a train pass by a market.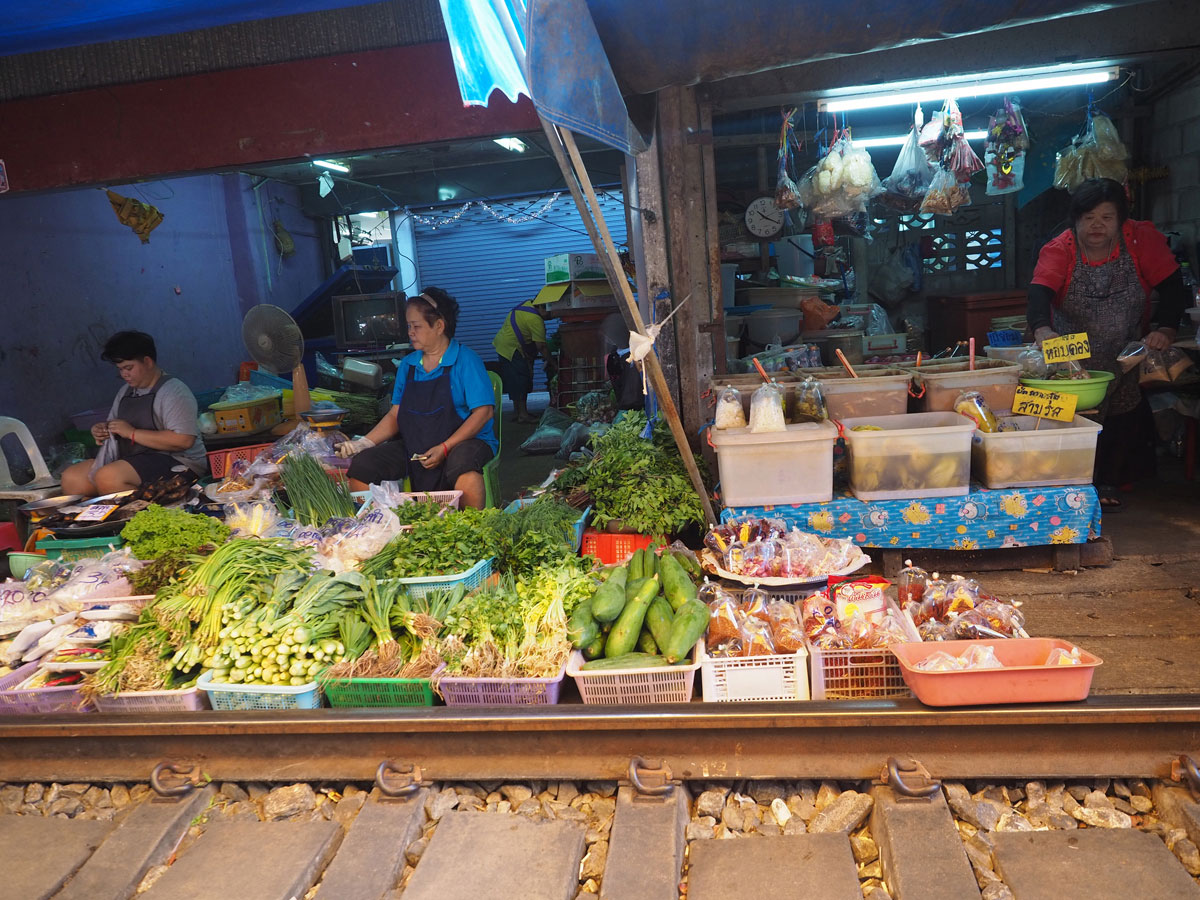 How to get to the Maeklong train market from Bangkok in a day
If you want to see this crazy event going on, you have two options:
Organised tours to the Maeklong train market
You can book an organised tour, which is taking you to the train market easily. Arriving there you can watch the train making its way through the market stalls, then visit the Damnoen Floating Market and then head back to Bangkok. As these tours usually go by bus, unfortunately the day trips do not experience going through the market in the train. Moreover, the tours are usually relatively expensive, especially for Thai standards. The tours are perfect for those having less time and simply not wanting to organise the adventure itself, because it's not easy. If you like to book a tour, you can find great tours on GetyourGuide for example:
Affiliate-Links
Take your own taxi to the Maeklong train market
If you want, you can of course book a private shuttle to Samut Songhkram. This is rather expensive and apparently one is mostly ripped off here, perhaps by getting a cheap taxi, but then having to book a very expensive longtail boat trip at Damnoen Floating Market… I have read in reviews that a family e.g. finally paid almost 300 Euro for 4 people which is a crazy amount compared to going to the train market by yourself (approx. around 1 euro per person)
Going to the maeklong train market on your own
But now we come to the most adventurous way getting to Samut Songhkram. Going on your own, the journey is tedious and long due to various waiting times, but it is inexpensive (the equivalent of about 1 Euro return), an adventure and you can see a lot of the life of the Thai people in small villages and off the beaten tourist tracks. Here are the steps how to get to the train market:
1. Wongwian Yai Railway Station in Bangkok
In Bangkok you start at the train station Wongwian Yai. You can get to Wongwian Yai either by grab, taxi or by skytrain and then walking.
Attention: There is a train station Wongwian Yai and also the Skytrain station called the same – they are about one kilometer away, so you have to take your taxi to the right station. The address of the Railway Station is Bang Yi Ruea, Thon Buri, Bangkok 10600, Thailand
Those who come with the Skytrain arrive at this station: Wongwian Yai, Khlong Ton Sai, Khlong San and from there it's a one kilometer walk to the trainstation.
2. Go by train from Wongwian Yai to Maha Chai
From Wongwian Yai Railway Station take the train to Maha Chai. Cost: 10 Baht, duration 1 hour. Maha Chai is the last stop of this train. The train leaves about every full hour, but only a few trains make sense to take, because you have to catch the connection to Samut Songhkram.
February 2020 that's the timetable for Wongwian Yai to Maha Chai: 5:30, 6:25, 7:00, 7:40, 8:35, 9:40, 10:40, 12:15, 13:20, 14:25, 15:25, 16:30, 17:05, 17:35, 18:35, 19:10, 20:10
3. Ferry from Maha Chai to Ban Laem
That was the part of the trip where we weren't sure how well it would work out, but it's actually really easy. Arrived in Maha Chai you leave the station on the right hand side and walk about 5-10 minutes across a fish market to the river Tha Chin. You will see the ferry terminal (Maha Chai Pier), where you have to take the ferry to cross the river Tha Chin. The crossing takes about 5 minutes, costs 3 Baht (you should have exactly) and the ferry crosses regularly, I would estimate about every 5-10 minutes. Once you reach the other side you walk about 5-10 minutes to the train station Ban Laem. In total I would estimate about 30 minutes to getting from Maha Chai to Ban Laem. The way is very interesting with the fish markets, the ferry and in general you get to know a lot about the Thai life in this small town.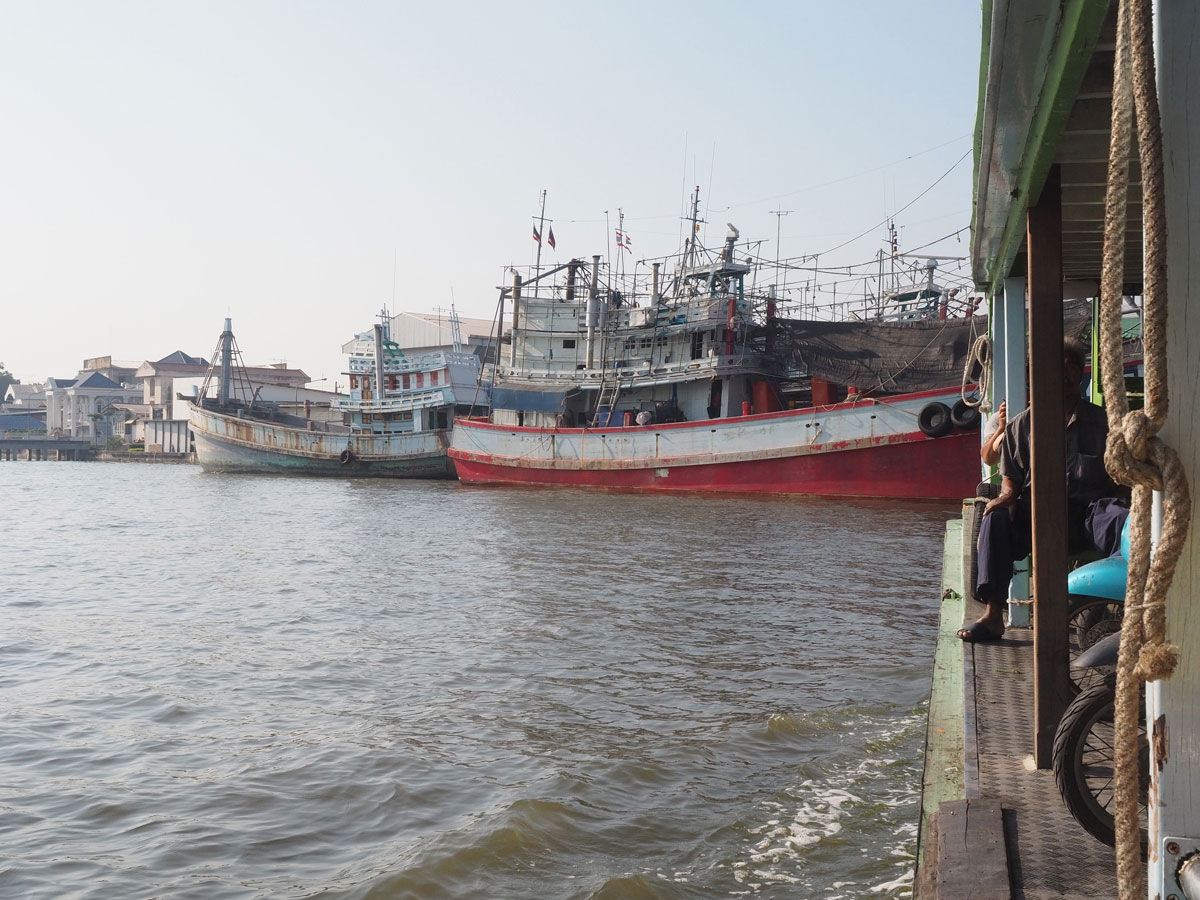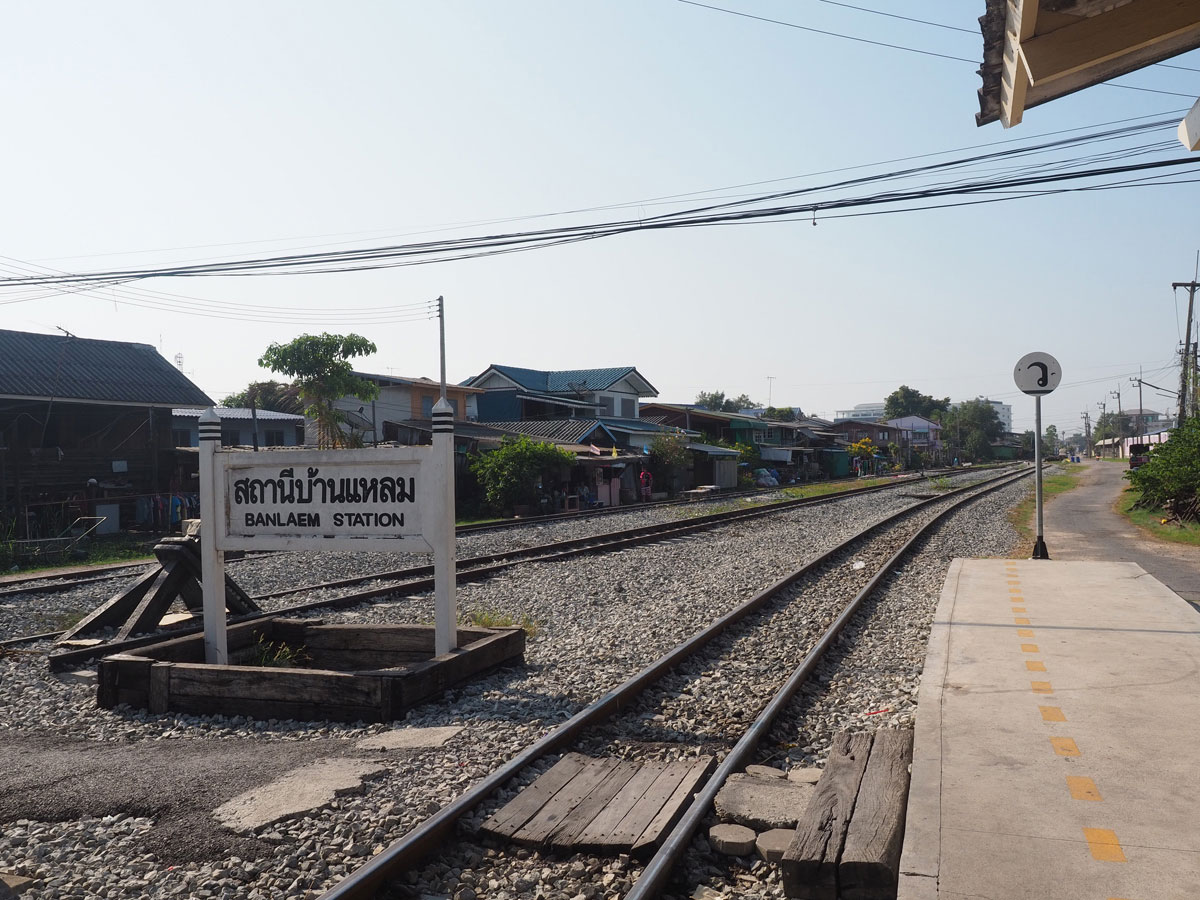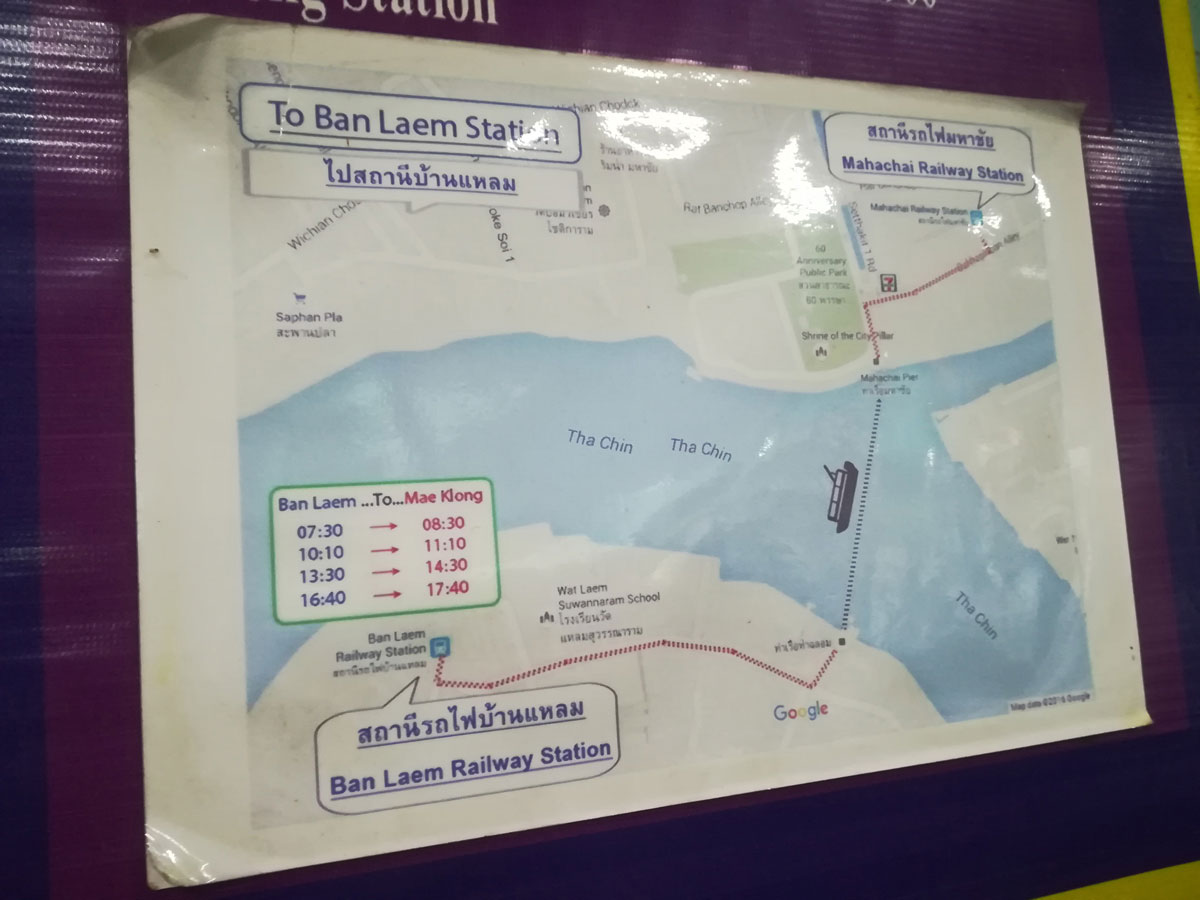 4. Train from Ban Laem to Maeklong
In Ban Laem at the station the train finally arrives to take us to Maeklong. The train runs 4 times a day and currently I don't think that the departure times will change. I have photographed the timetable for you, see below. The train is priced 10 Baht per person and will take you in about 50 minutes directly to the Maeklong market. Here I can recommend getting on the train in the front, then you won't have all the smartphones or cameras of the others in the picture when taking pictures. In any case you should also try to get a window seat. At Bang Krabun station, which is the last stop before Maeklong, you can get ready to film or take a picture out of the window. The entrance to Maeklong is really funny and interesting, as you might will see the hustle and bustle, the products, the market traders and many tourists, some of them standing in a corner with a few centimetres distance to the train.
Timetable train from Ban Laem to Maeklongl (March 2020): 7:30, 10:10, 13:30, 16:40, Rückfahrt: 06:20, 09:00, 11:30, 15:30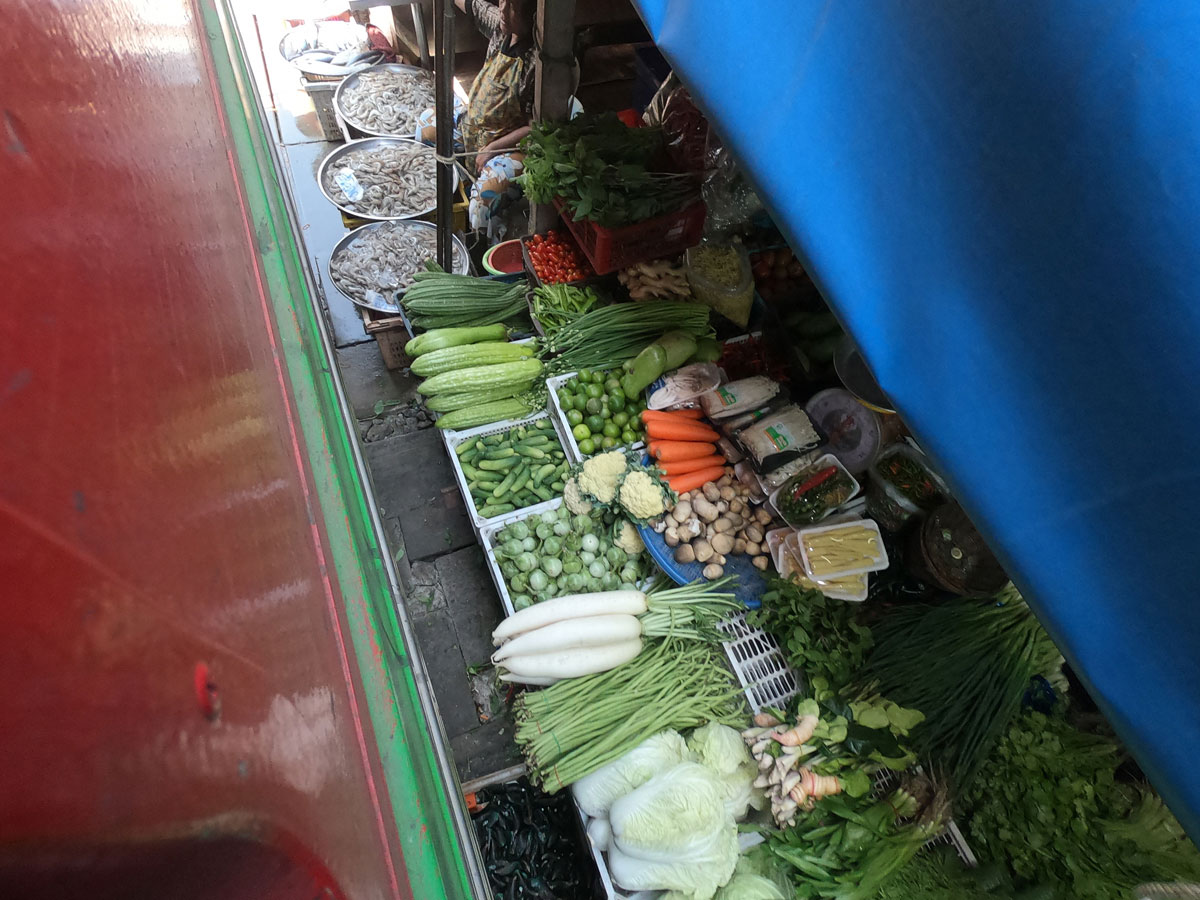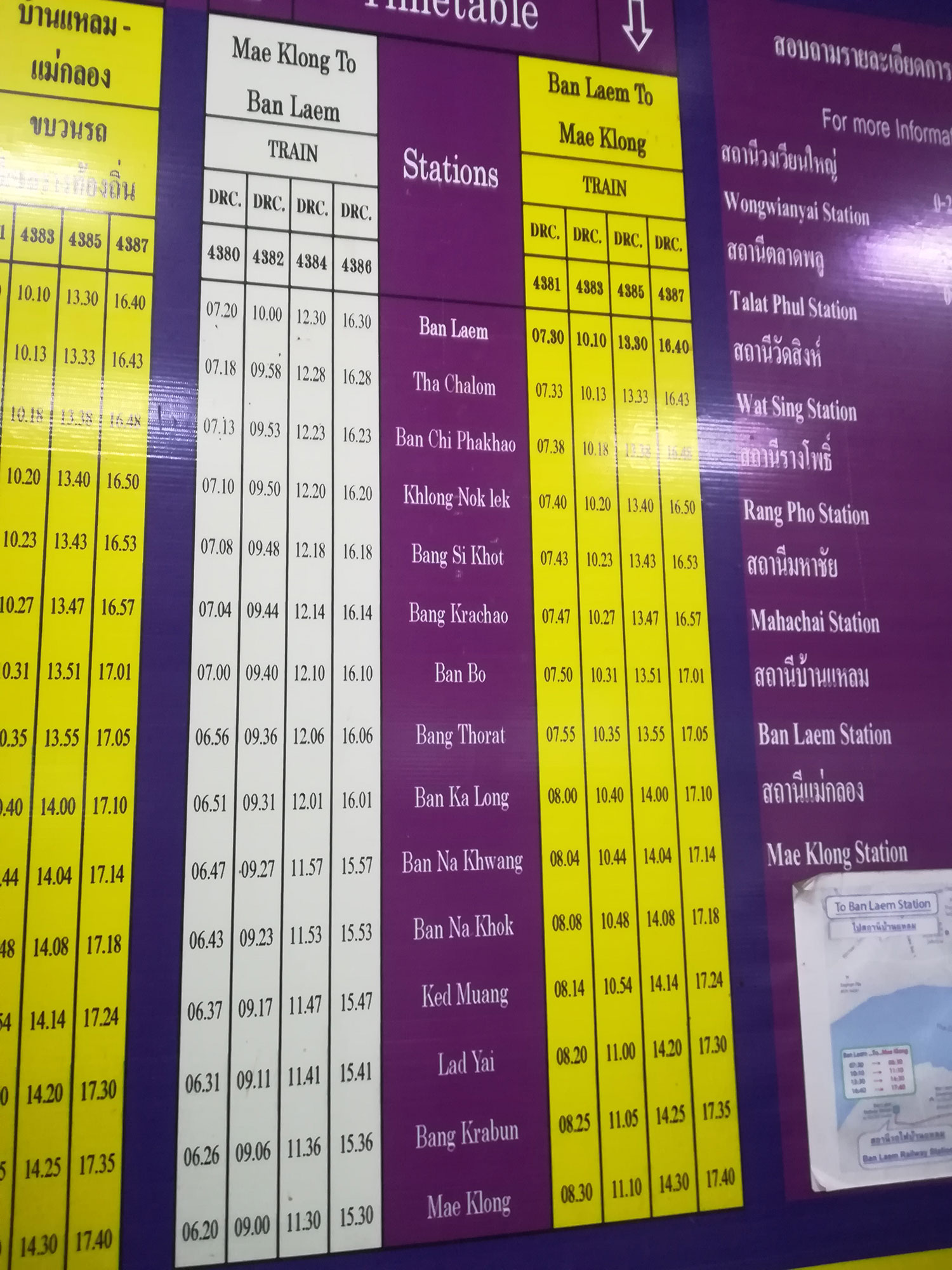 Going to a floating market when visiting Maeklong train market
Around Samut Songkhram there are 2 floating markets, which can be reached in a relatively short time. The famous Damnoen Saduak Floating Market is about 20 minutes drive to, which is very touristy. Also the Amphawa Floating Market takes around 20 minutes by car as well, but is a weekend market and is usually only open on weekends until noon. Damnoen Saduak is so touristy already that the market is open all day long. From Samut Songkhram you can take a collective taxi and according to other tourists it was straight forward and for about 20 Baht per person pretty cheap.
Staying overnight in Samut Songkhram
If you want to make the trip a little less stressful and enjoy the small towns in the countryside, you also have the possibility to stay in very simple accommodations in Samut Songkhram. Some accommodations you can find here
Our self organised trip to the Maeklong train market – A timetable
We started in Bangkok at 7.40 am with the train to Maha Chai (arrival 8.35 am), because it was difficult to estimate how long we would need for the ferry crossing. Finally we had 1 hour stay in Ban Laem, which we enjoyed with a book and a little walk through the town. In theory we could have taken the train at 8.35 (arrival at 9.28), I would recommend going with that one. At 10.10 we were taking the train to Maeklong, then we started running to watch the train go through the market, as we actually had the plan to go to one of the floating markets. But since we liked Samut Songkhram so much, we stayed there without going to one of the floating markets and finally taking the last train back to Ban Laem at 3:30 pm. The return trip was straight forward. I would recommend buying the return ticket in Samut Songkhram early enough as it's first come first serve and the train at 3.30 pm was completely filled with tourists. We were going to the train pretty soon and therefore we've had a window seat on the return trip. At about 19.00 we were back in our accommodation in Bangkok