Finding a camera that is suitable for every situation is virtually impossible. There are so many brands and models on the market that it is actually difficult to choose a camera. Since I have received many questions about my camera equipment, I would like to introduce you to the cameras and lenses I use for my travel photos.
Contains affiliate links. Post from 2016, has been revised to give you current information about my equipment
A system camera for travel
For years I had a Canon
SLR camera, I was pretty happy with. But after exhausting travel days I often had problems in my back and tensions in my neck due to the weight of the camera. Therefore, I had long considered to change my camera equipment and to get a lighter camera with a system camera, even if many photographers usually don't take them too seriously. Compact system cameras have the same sensors as SLR cameras, but are smaller and lighter. For travelling it's the perfect mix of quality but also lightweight.
My camery i use for traveling, the Olympus OM-D E-M10 Mark III
So at some point I decided to switch to the Olympus PEN
, which is very popular with bloggers. The main reason for my change to Olympus was also a friend of mine who is a big Olympus fan and so he also made the camera appealing to me. But as the camera had a bad noise behaviour (specially at night), I now finally bought the Olympus OM-D E-M10 Mark III and this is exactly the camera I am currently using.
My short summary of the Olympus OM-D E-M10 Mark III
Now that I have been photographing with this camera for 1 1/2 years, I can certainly draw a first conclusion.
Basically I am very satisfied with the Olympus OM-D E-M10 Mark III, the noise behaviour is much better than with the Olympus Pen I had before. Nevertheless, with an ISO over 1600 at night, you notice the first noise. I like the design and the material of the camera very much, also the handling or the feel with the knobs and wheels that can be used is really great.
I'm a big fan of the integrated WLAN, which makes it super easy to copy pictures to the mobile phone. For me as a travel blogger this is very important, because I actually don't take pictures with my mobile phone at all and of course I like to share impressions on Facebook or Instagram.
The quality of the pictures is generally very good, the only weak point is currently definitely the 15 megapixels to which the body is limited. Unfortunately, Olympus has stopped a bit here. Basically, the 15 megapixels are sufficient for many things, but if you want to change the image section a bit afterwards, it's very difficult to crop the image without losing a large part of the data. A positive thing about the quality of the pictures is definitely the great colour fidelity and colouring when you look at the JPEG directly from the camera. Here you can see a big difference to many other brands, which is one of the biggest advantages of Olympus for me. Most of the pictures I don't have to rework and they are still perfect in colour.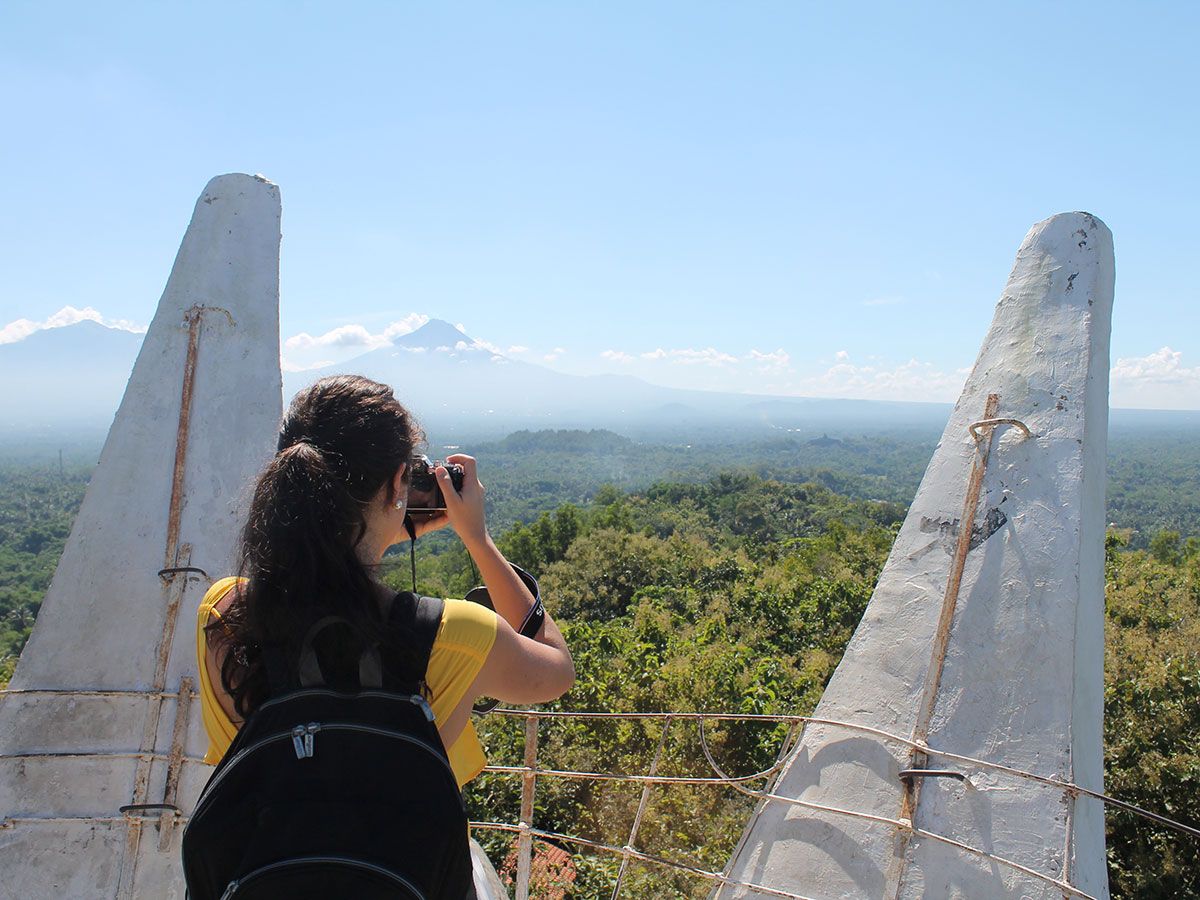 My favourite MFT camera lenses for the Olympus camera
First of all, I would like to mention that when buying a professional camera, one always has to pay attention to the lens. You pay attention to the focal length (which is simply explained by the magnification factor) and light intensity (how much light can fall on the sensor). The higher the light intensity (or the lower the value), the easier it is to take pictures in dark rooms without anything getting out of focus. However, the better the light intensity, the more expensive the lenses become.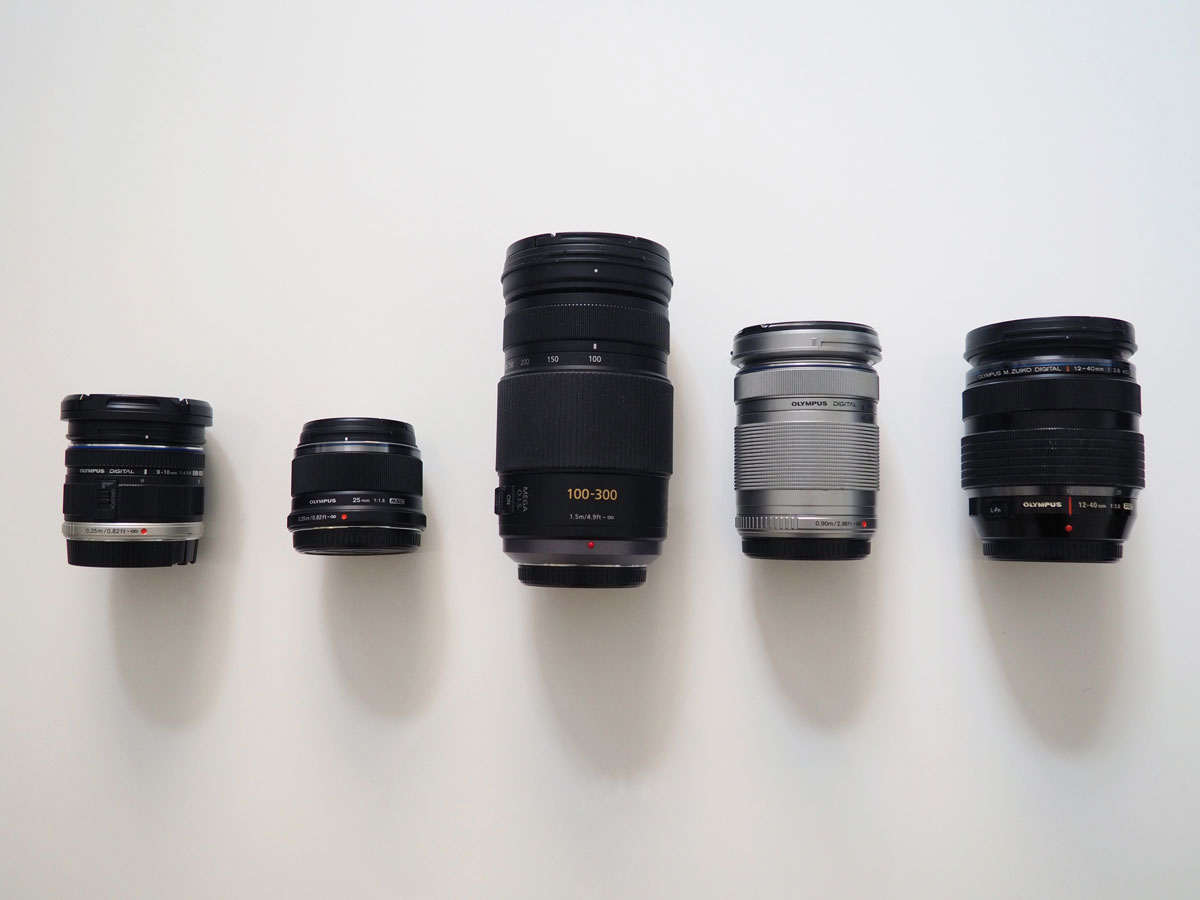 Olympus cameras use MFT lenses. For a long time I was equipped with the basic equipment and with the standard lens, because the other lenses were always too expensive for me. Basically, I think the standard lens that comes with the kit is quite good, too, but in the meantime it is only at my home, because I am now travelling with other lenses:
The Porsche of MFT lenses – Olympus M.Zuiko 12-40mm
Every camera travel equipment should include a zoom lens that covers a short focal length. When traveling, especially with less photo enthusiastic friends / family, you rarely have the time and nerves to really change the lens constantly.
My favourite Olympus lens for these cases, with which I take almost all of my photos is the Olympus M.Zuiko 12-40mm with continuous aperture 2.8. This lens is the ideal allrounder for city trips and also in nature. Only of course the limited focal length of 40mm makes it worthwhile to expand with another lens.
Zoom with longer focal length
The focal length is the magnification factor of a lens, which means that the higher this value becomes, the further you can zoom. When traveling, you always want to "fetch" objects that are a bit further away, as my mother says so nicely… For this you need lenses with a longer focal length or telephoto lenses. I'm using those two:
A zoom lens Olympus M. 40- 150 mm – This cheap zoom lens covers quite a lot of things and I am basically very satisfied with the very reasonable price of only 200 Euro. But of course there are better ones on the market, which is a dream of mine, but I probably won't be able to afford the Pro Version of the Zoomlens.
Tele zoom Panasonic Lumix 100-300mm – This tele zoom lens is simply ideal for animal observations, for example if you want to take photos of an Orang utan, as I did in Borneo. Its value is really good compared to the price. Most of the telephoto lenses are really very expensive, but they usually offer a better light intensity. But this lens is suitable for the small purse for the big and small animals on safari or in the zoo.
Wide Angle – Olympus M.Zuiko 9-18mm
Olympus M.Zuiko 9-18mm – Even if this wide-angle lens isn't in use that often, it is always worth having a wide-angle lens in your photo backpack. With wide-angle lenses, you just have to be careful that the lines in pictures arent starting to bend in weird directions. 9- 18 is already an ultra wide angle, so a picture can suddenly take on strange shapes. Buildings for example can suddenly appear round.
Olympus Fixed focal lengths
There are lenses with fixed focal lengths and zoom lenses. With fixed focal lengths you cannot zoom, but these lenses are usually better for effects.
The fast fixed focal length Olympus M.Zuiko 25mm 1:1.8 – Almost always in my backpack, but unfortunately I'm hardly using it.
For portraits I'm using the Olympus 45mm which is amazing for taking pictures of others.
Accessories for travelling photography
The perfect camera bag
I'm using several different bags for storing my camera, it all depends on where I'm going and what I'm doing
Camera Backpack
In general i'm using a DSLR-Backpack for Cameras, which is big enough to fit in all of my equipment. The backpack is pretty awesome, it has many individual pockets, is of very good quality, fits well and is also really cheap.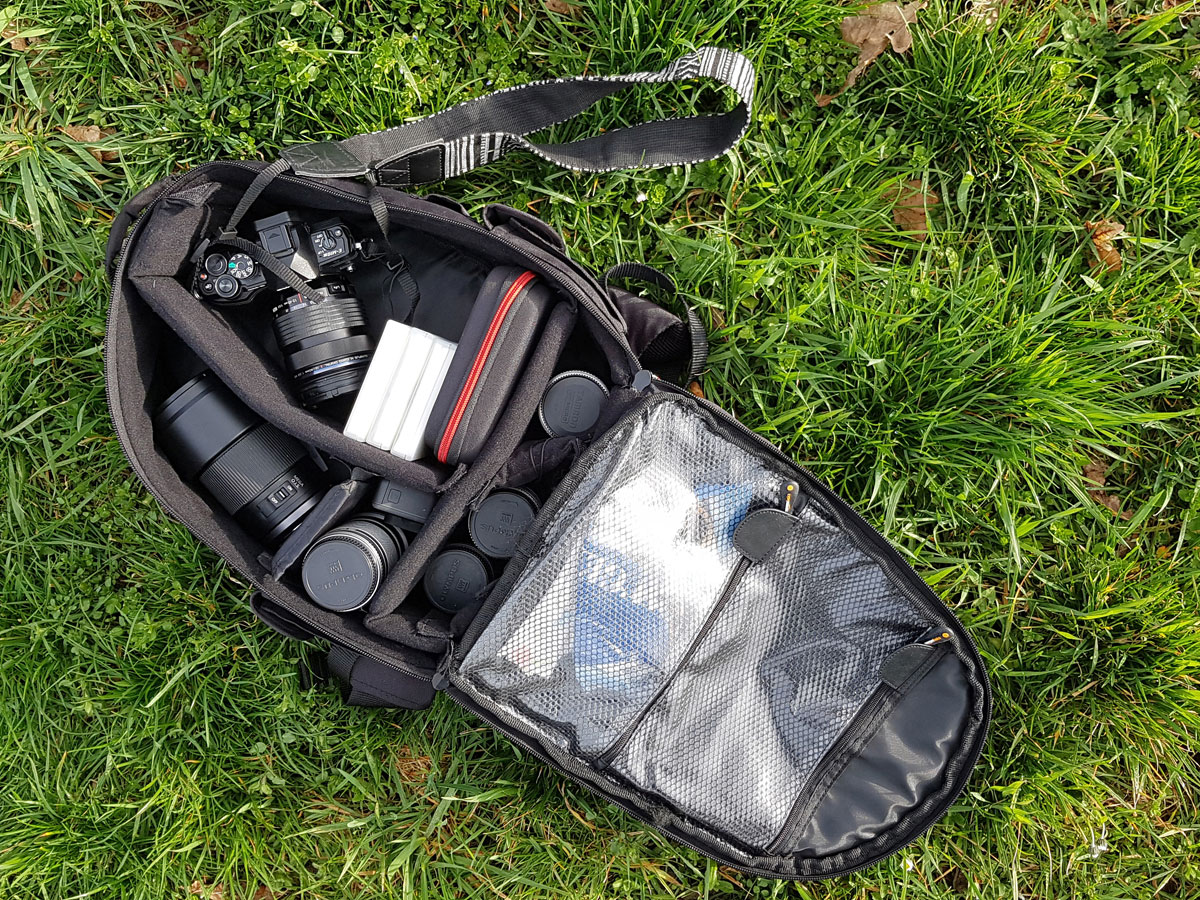 Shoulder bag
If I want to take only a part of my camera equipment with me, I usually take a smaller shoulder bag, where the camera with 2 spare lenses fits perfectly.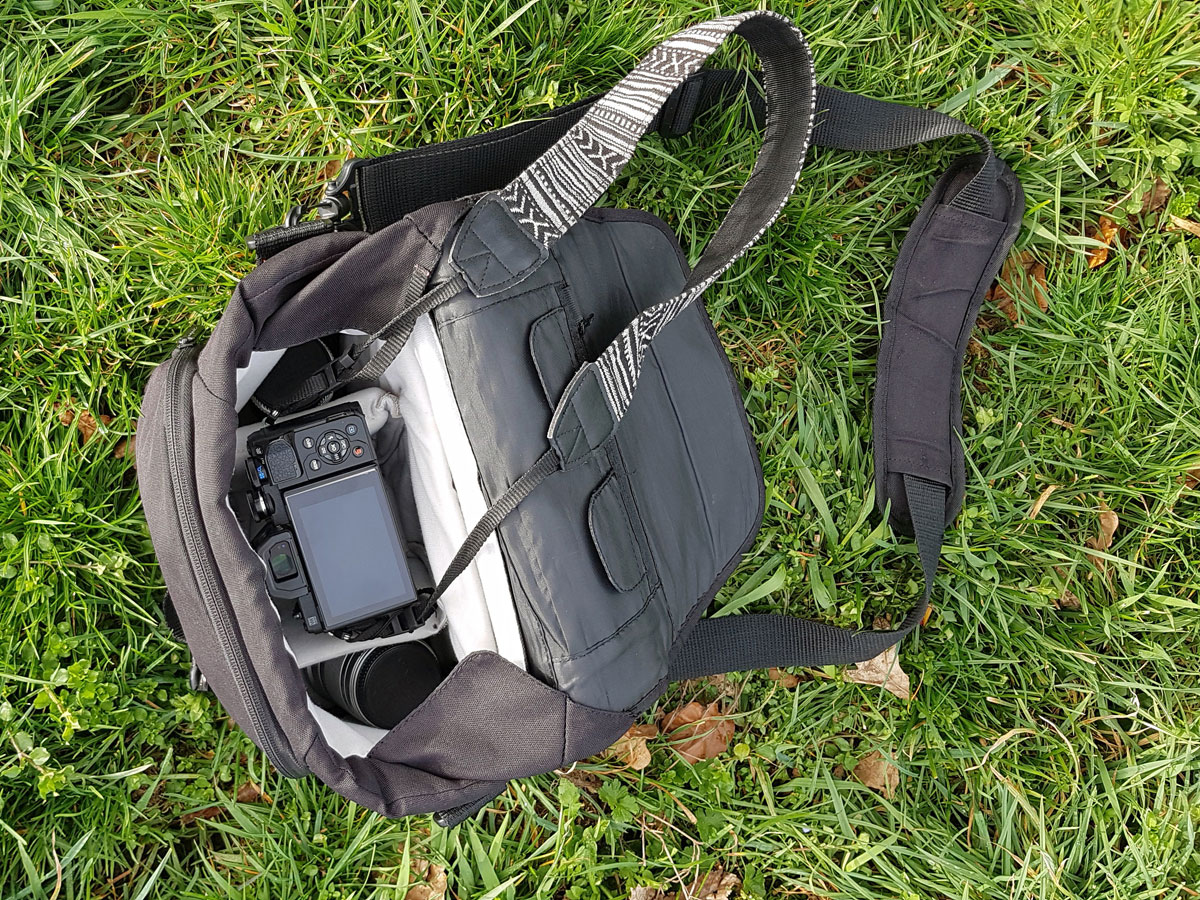 Separate bags for camera & lenses
If I want to stow my camera in a handbag, e.g. when I'm on a city trip with friends and the camera is only with me additionally, I love the camera bag made of neoprene – the camera fits perfectly and the bag is a great protection for the camera in the handbag. Additionally I use waterproof protection bags for the lenses

Camera backpack for hiking
On hikes I use my outdoor photo backpack with which I have had good experiences with. The backpack is perfect for an overnight stay in a mountain hut, because it is divided into 2 sections. In the upper part you can store spare clothes, toothbrush and much more and the lower part separates the camera and lenses. The ideal thing is that there is a lot of space for everything. Only for smaller women I can not recommend the backpack fully, because the back is pretty long and it might not suit your back. I am 1.68m tall and for me the backpack fits well.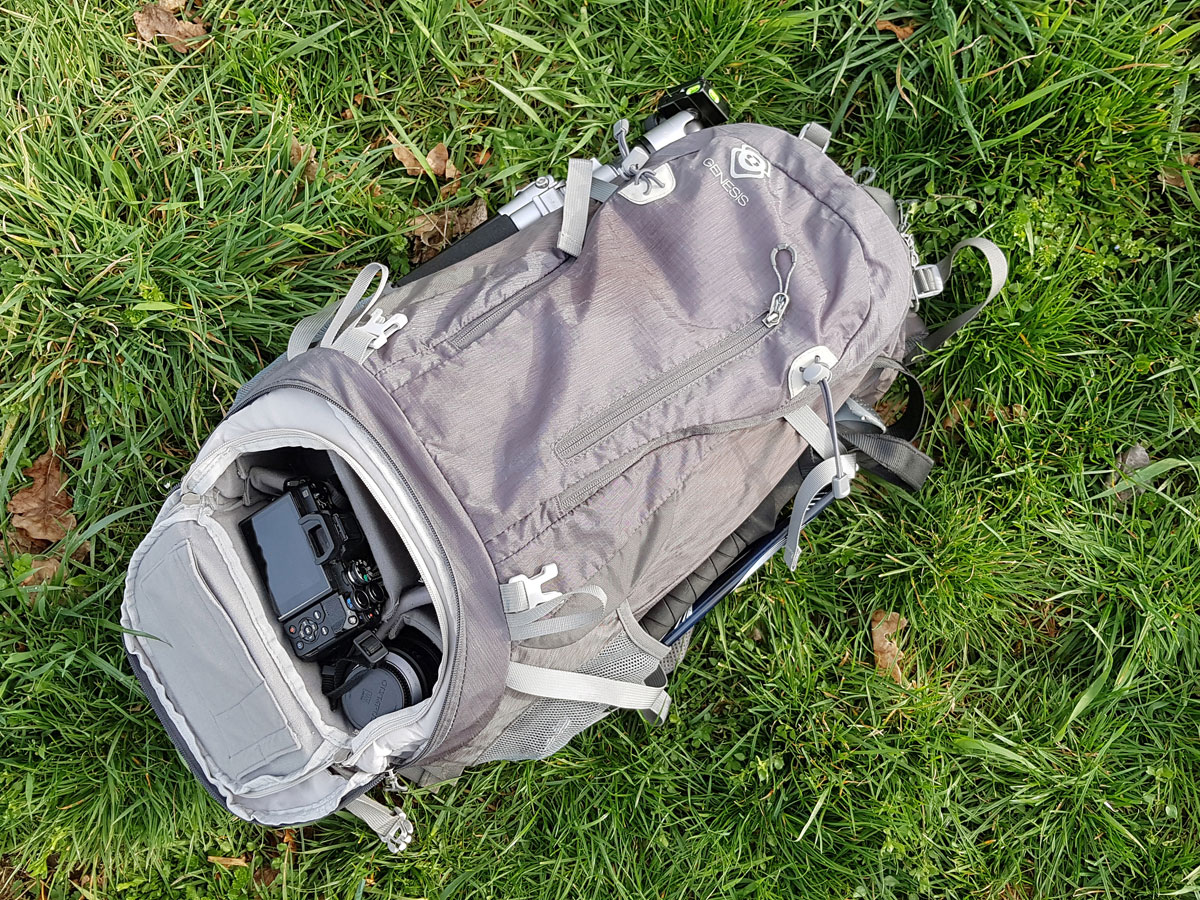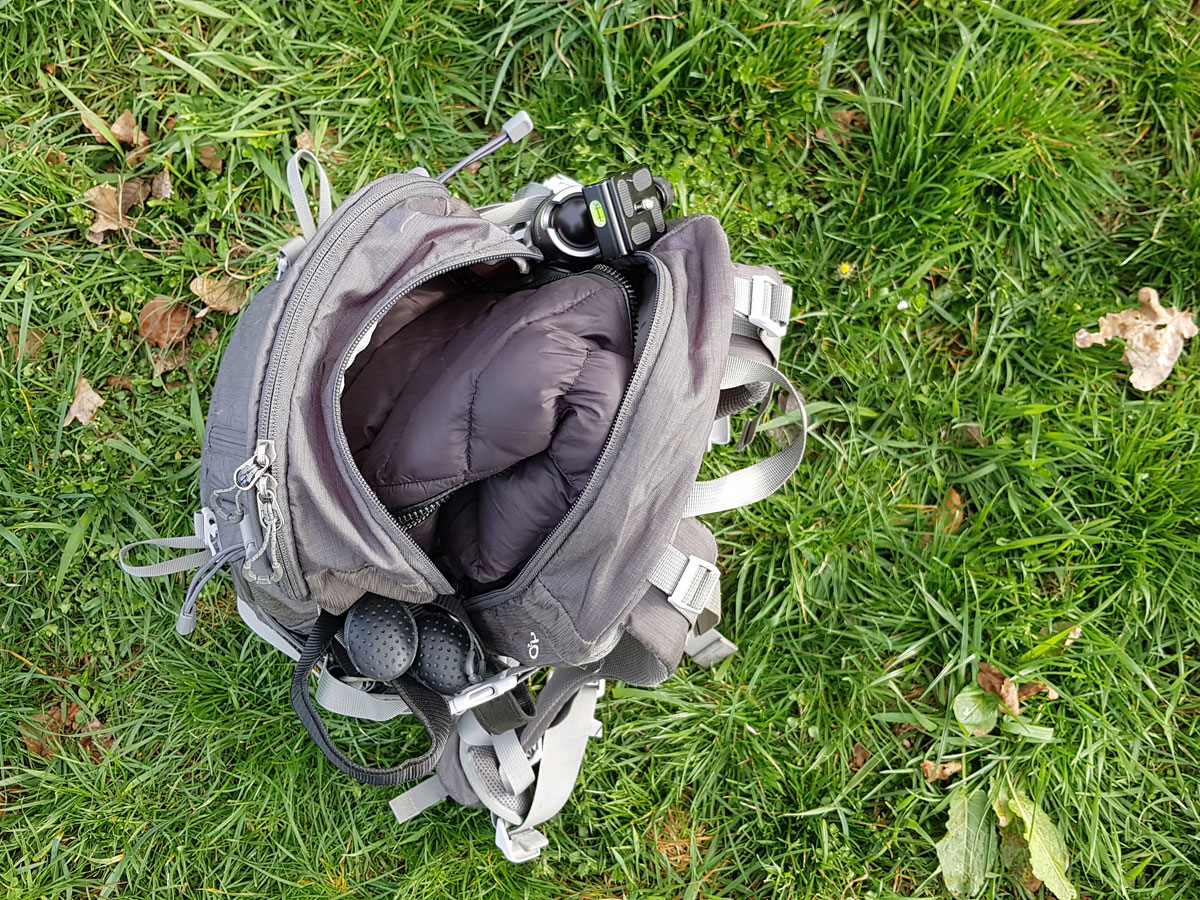 Camera strap
Since I didn't feel like running around with the basic camera strap, I bought a nice, colorful strap. You can find a link to it here, the Lens-Aid camera strap. I am very satisfied with this belt.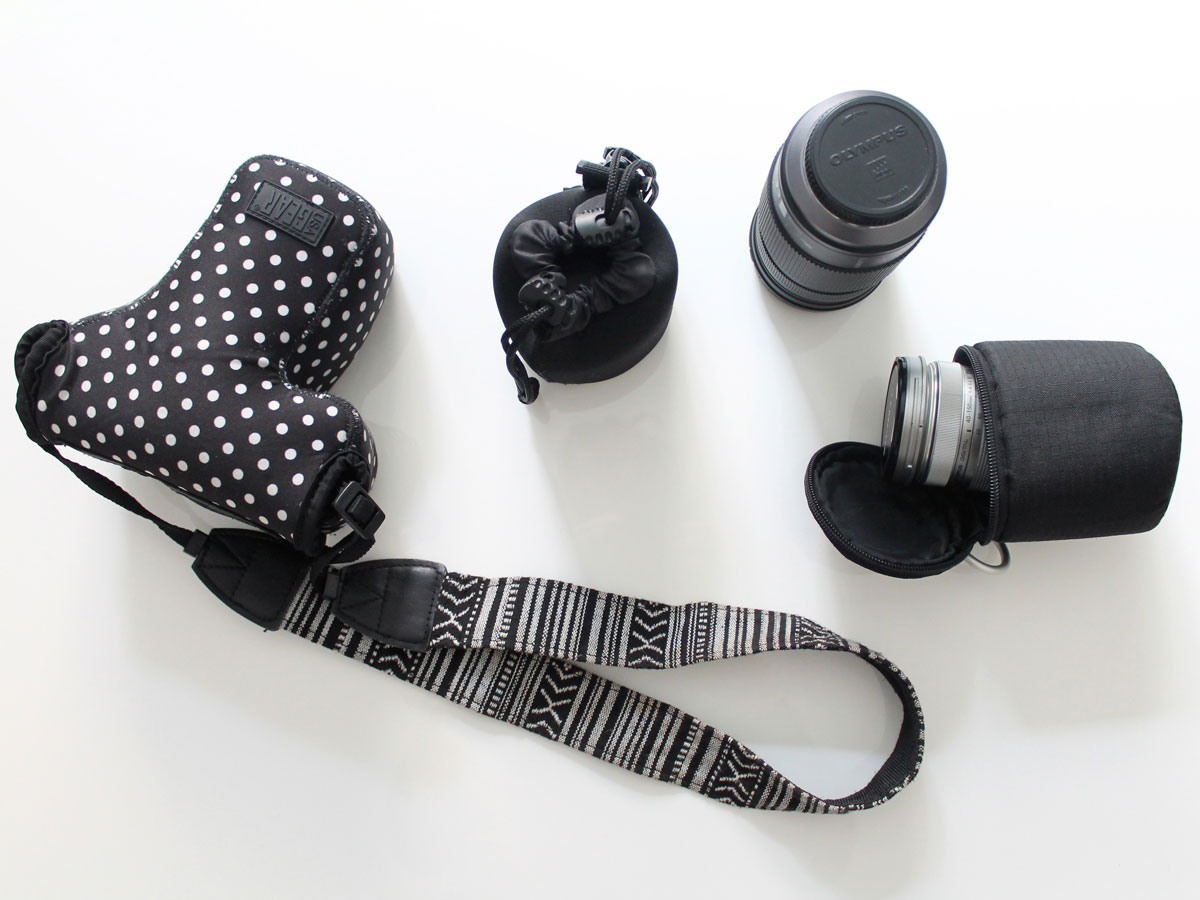 My tripod: The Rollei Compact Traveler
Especially when I am travelling alone or know that I will be taking a lot of pictures at night, I take the tripod with me. In the dark I can take long exposures and the pictures will still be sharp and when travelling alone I can take good self-timer pictures without having to ask anyone ;). I have had great experiences with the Rollei Compact Traveler, and I also have a very light, but not quite as stable Rollei travel tripod, which I am not quite so happy with due to its lack of stability.
Spare batteries
I always had at least one spare battery for my cameras. Most of the time the battery lasts at least one day (rather 2-3 days), but I still feel more comfortable with a spare battery. I ordered a replacement battery replica for Olympus, which I am very satisfied with. The original batteries are much more expensive and not necessarily much better in quality. You can find the spare batteries from Pantona here
Memory card(s)
You can never have too many memory cards, which is why I always have several. Memory cards can get broken or you can lose them due to a lot of use, that's why I always have several with me.
Protective glass
To protect the camera glass from breaking, I use a protective foil. This way I have already saved myself the one or other scratch. You can find my unbreakable protection foil for the Olympus OM-D E-M10 Mark III here
Lens cleaning wipe
Just like glasses, the lenses get dirty at some point and I take a cleaning wipe with me.