I love graffiti. Every kind of graffiti, murals, spraying, whatever. I just love art on a wall. And there is a lot of beautiful art to be found in Los Angeles.
Los Angeles is a paradise for girls to take fancy pictures with walls. I know it sounds weird, but I am not the only person who just loves to find all the beautiful murals. Most of them are not graffiti, but the outside of a shop or another place, but still – they are beautiful to see and some of them got really famous on Instagram, that's why they're called Instagram-Walls. After living 3 months in LA now, i had a lot of time to go to a lot of those places and take even more pictures.
Melrose Avenue
Some of the most famous murals are in Melrose Avenue, a shopping street with small boutiques in the heart of Hollywood. So it was clear to me that I will be going there (at least) once. Here you can find the pink Angel Wings, the Made in LA murals, the famous Pink Wall.
Abbot Kinney Blvd in Venice
Venice is a really weird area, a bit fancy, a bit hipster, colorful and loud. In Venice there is this cute street also having a lot of boutiques, cute buildings and some beautiful murals.
Art District Downtown LA
If you're interested in Downtown Los Angeles, you can find my blogpost about it here. Next to Downtown there is an area which is called Arts District and that's what it is. A lot of boutiques, cafes and some cute walls. But try to not go into a street that you don't know – in Downtown LA you might end up in Skid Row, which is the area where a lot of homeless people are living in tents on the street.
Others…
If you think that this is all too Mainstream and maybe too girly, I'm sure you'll find other beautiful murals and graffiti everywhere in LA. Just keep your eyes opened.

The best murals in Los Angeles

Paul Smith Pink Wall – Melrose Avenue
Address: 8221 Melrose Ave, Los Angeles
I still have no idea why a pink wall can attract so many people, but there are people at this wall every day, every time, even at night. I still think it's fun 😀 Sometimes you might find signs and a security that will stop you from taking pictures with a professional camera, so make sure you take your phone with you.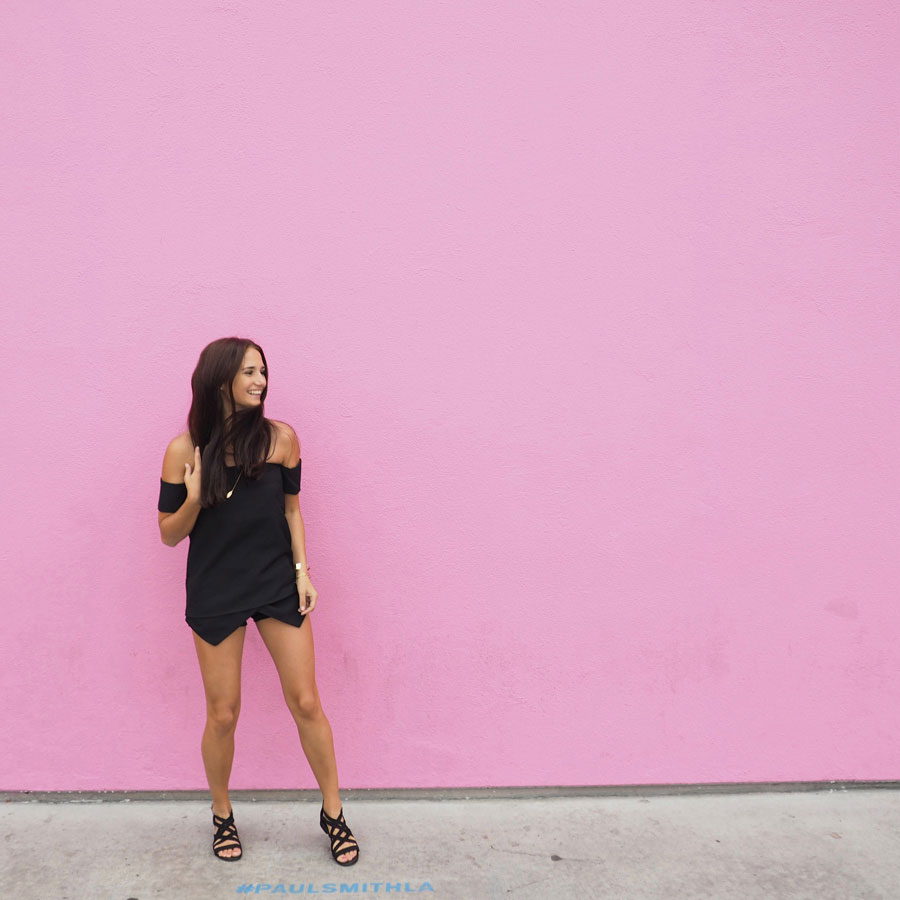 "Made in LA" Wall – Next to Melrose Avenue
Address: 714 N Laurel Ave, Los Angeles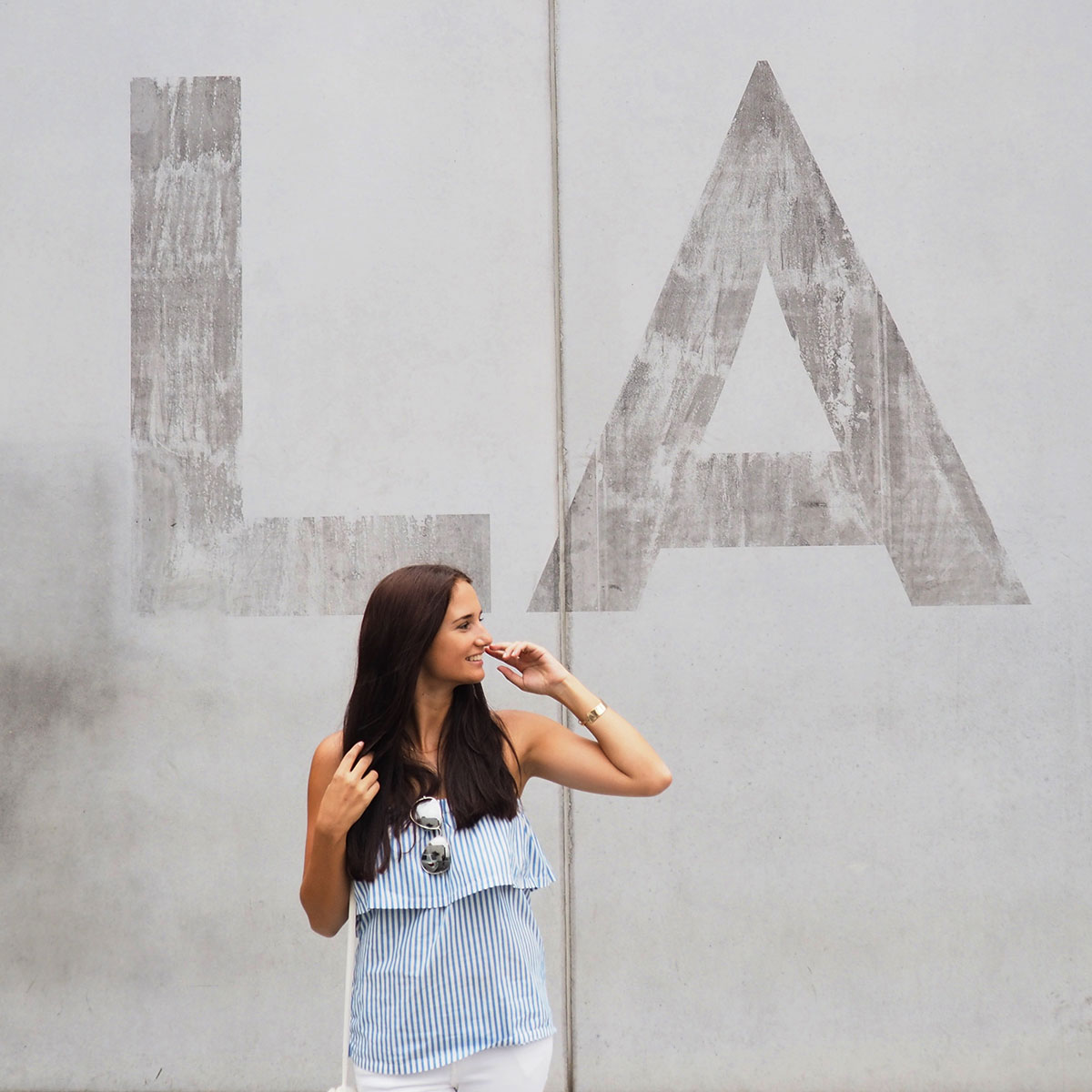 Reversed Los Angeles – Melrose Avenue
Girls Tour – Sidestreet at Melrose Avenue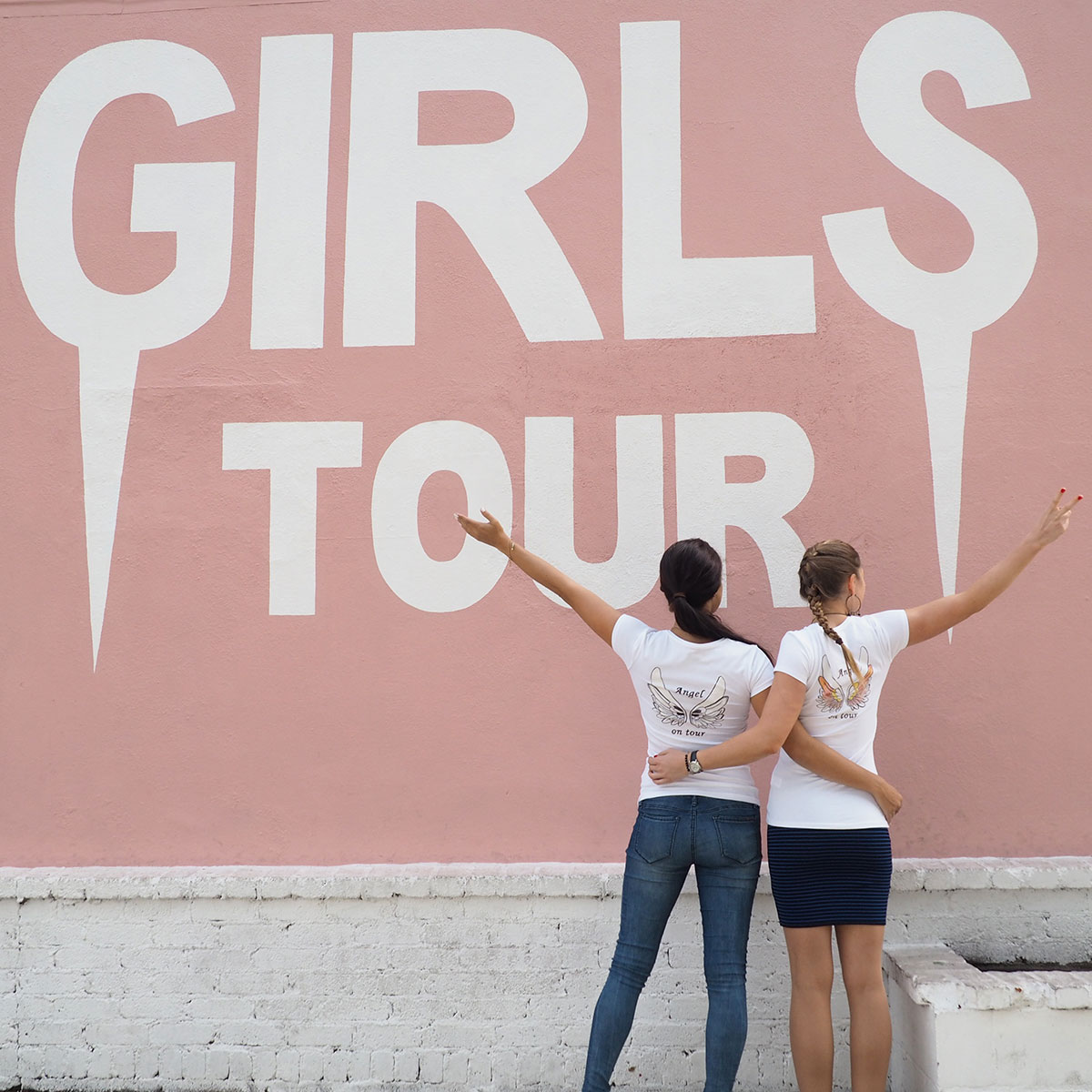 Love Wall – Abbot Kinney Blvd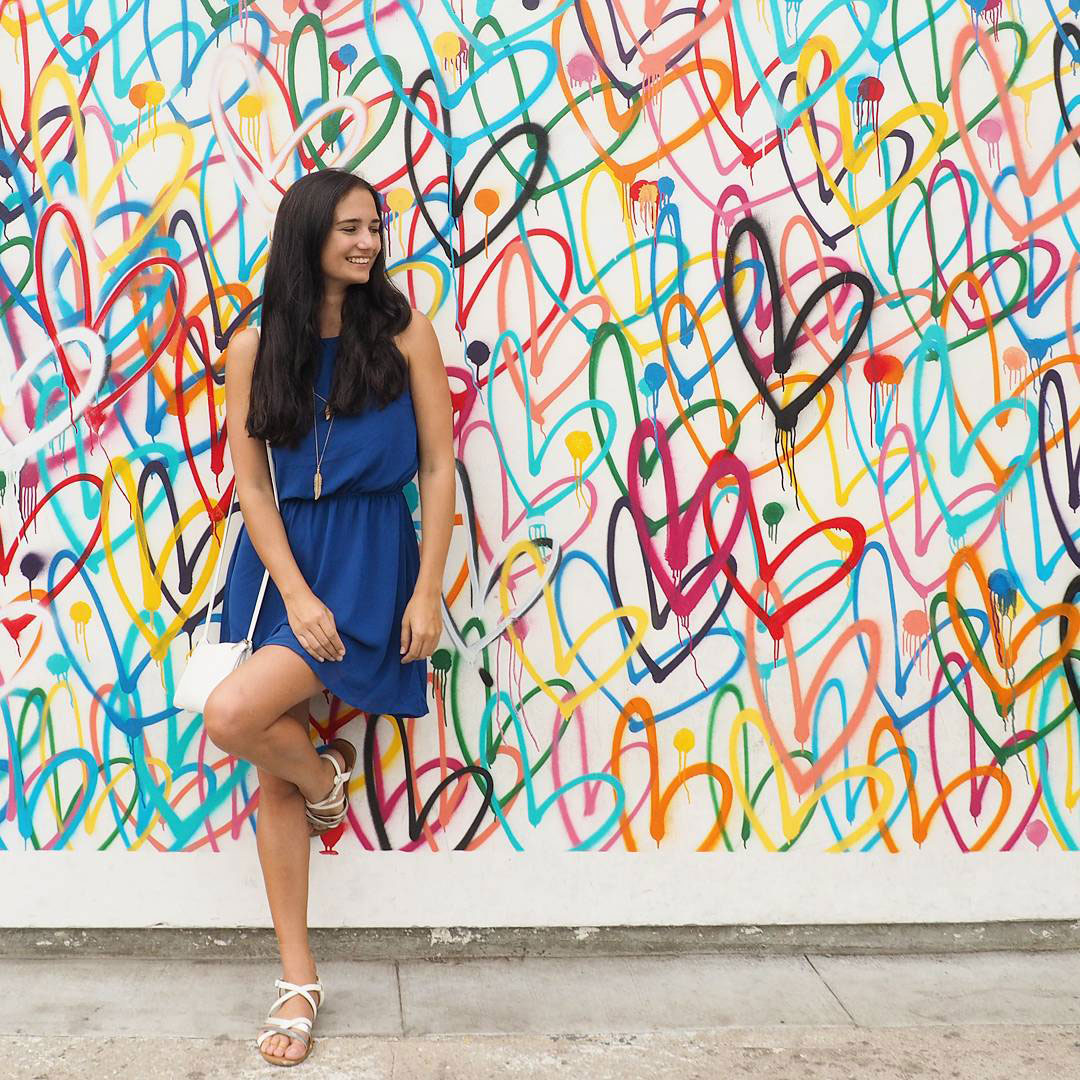 Palm Trees Wall – Abbot Kinney Blvd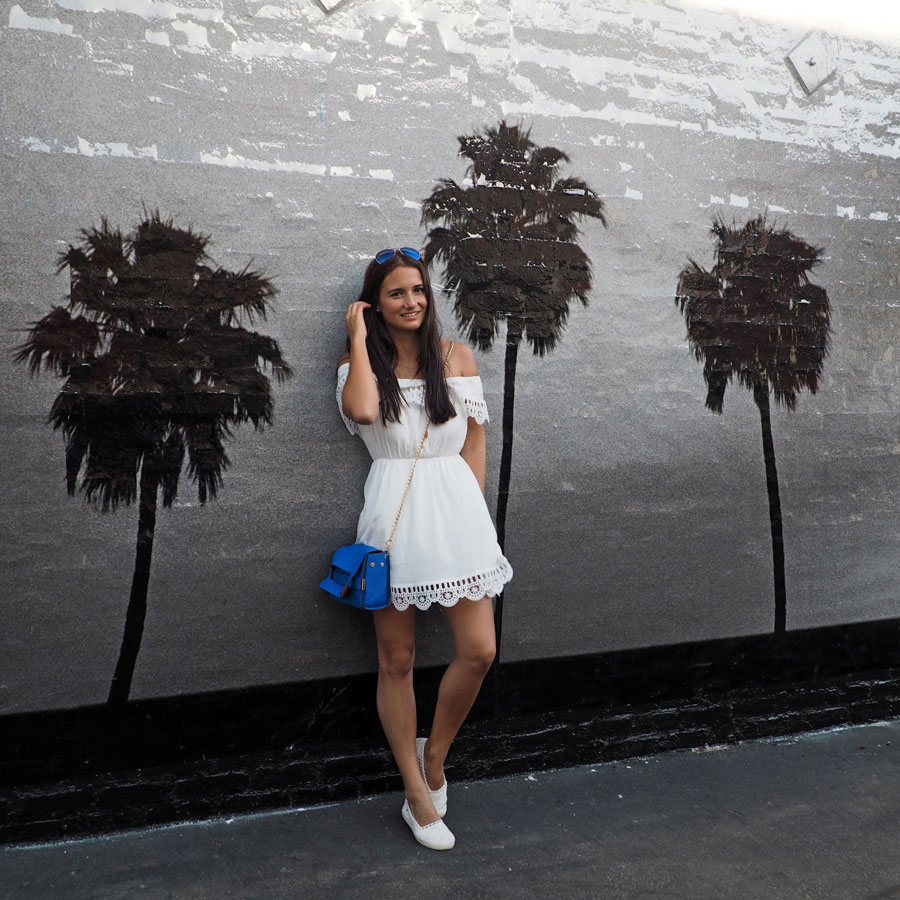 Dots Wall – Arts District
Address (Behind a cute little cafe): 608 Mateo Street / Los Angeles, CA 90021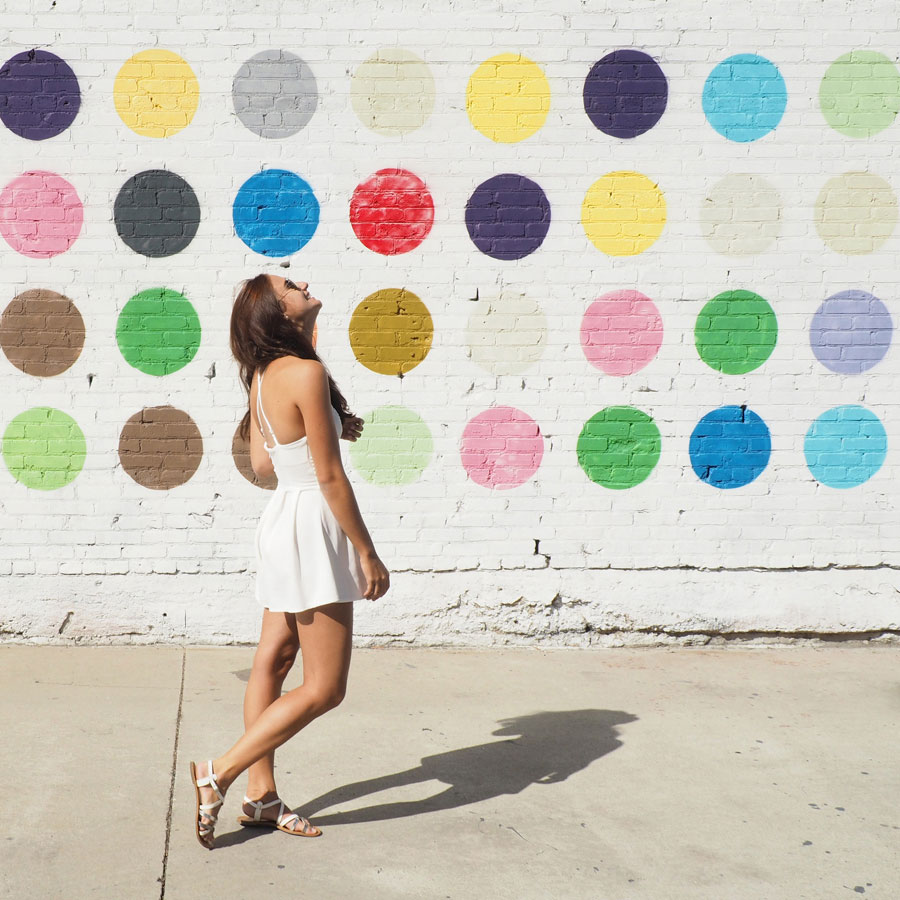 Dream Big Butterfly Wall – West Hollywood
Address: 621 N La Cienega Blvd, West Hollywood, CA 90069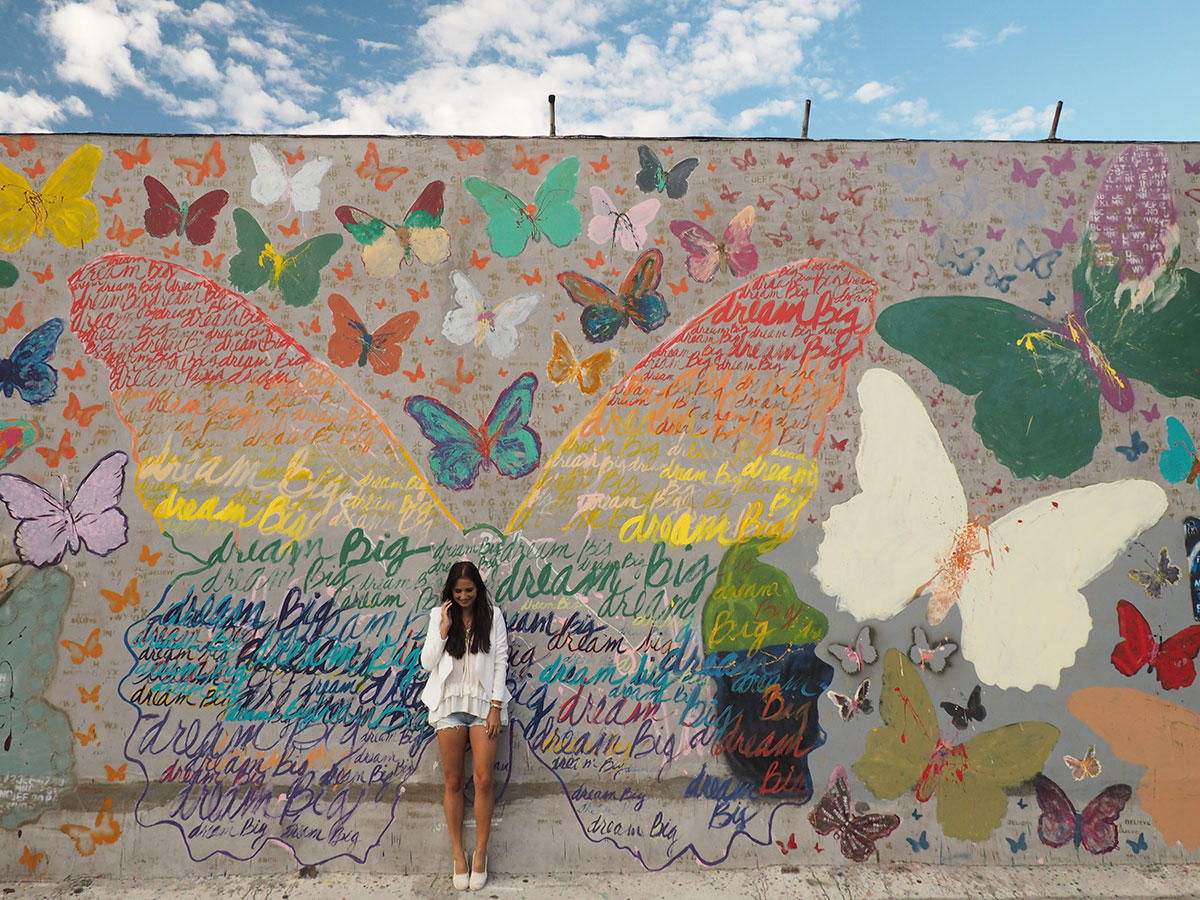 Colette Miller Angel Wings Project – Melrose Avenue, Arts District uvm.
The artist Colette Miller got really famous with her Angel Wings project which should let you think about more humanity and that everybody deserves a good life and treatment.
There are a lot of wings around the globe and some of the most famous ones are in Los Angeles, where she started this project some years ago. The most famous ones at the moment are probably the pink ones in Melrose Avenue, but you can also find really beautiful ones in Downtown, Hermosa Beach, Malibu and i've heard that also in Koreatown there are some.

Pink wings, Melrose Avenue
Angel Wings im Arts District, Downtown Los Angeles
Address: 453 Colyton St, Los Angeles, CA 90013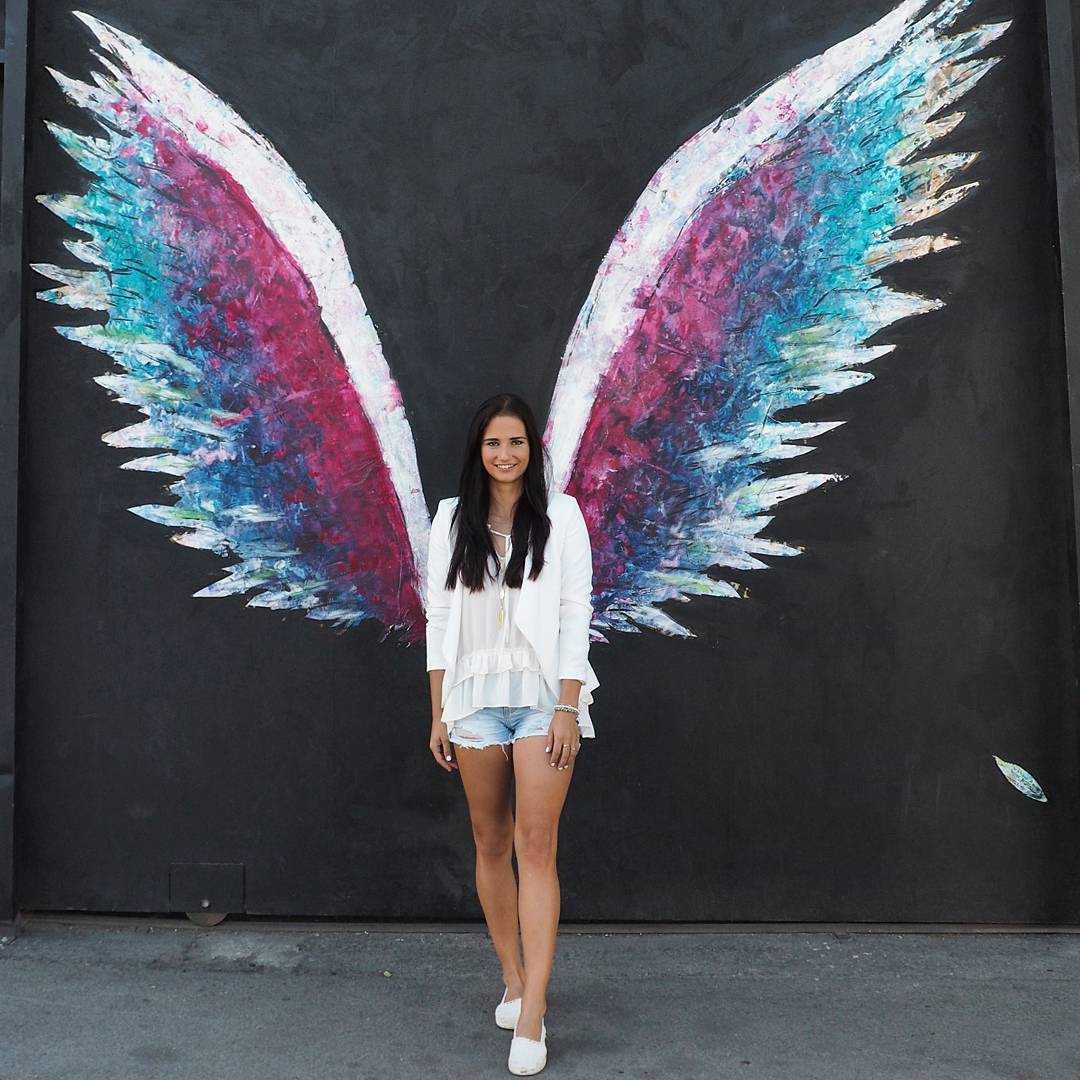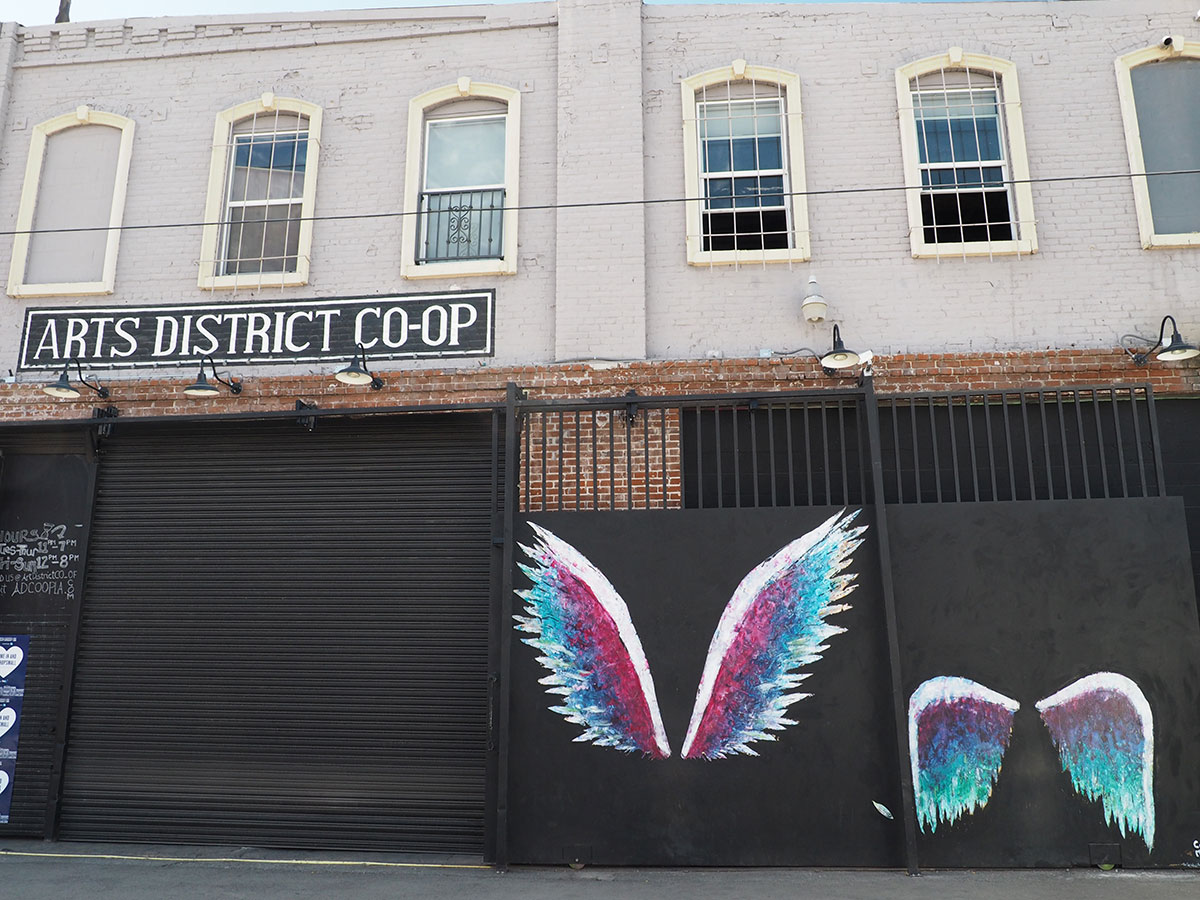 Angel Wings Angel City Brewery, Downtown Los Angeles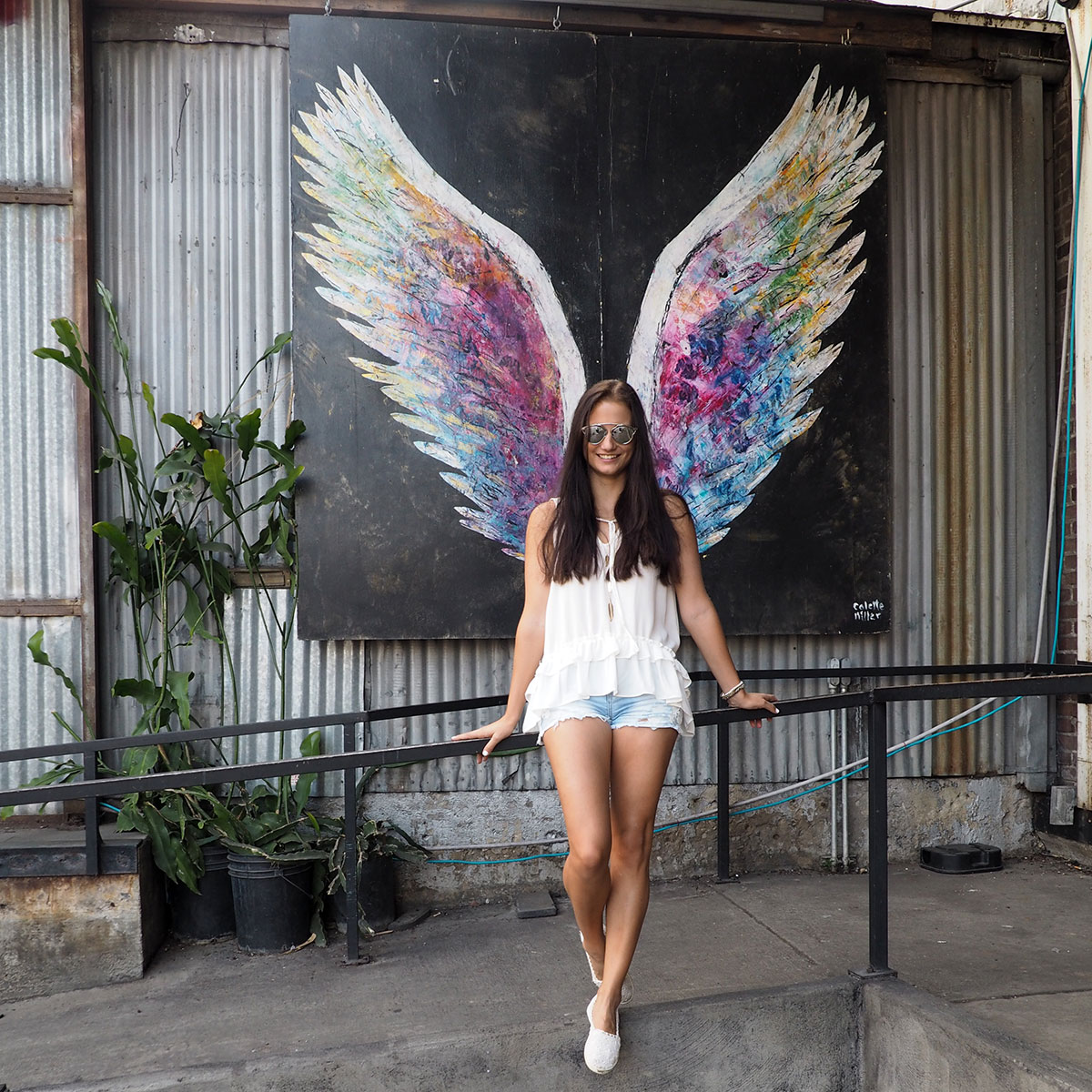 Westfield Topanga Shopping Center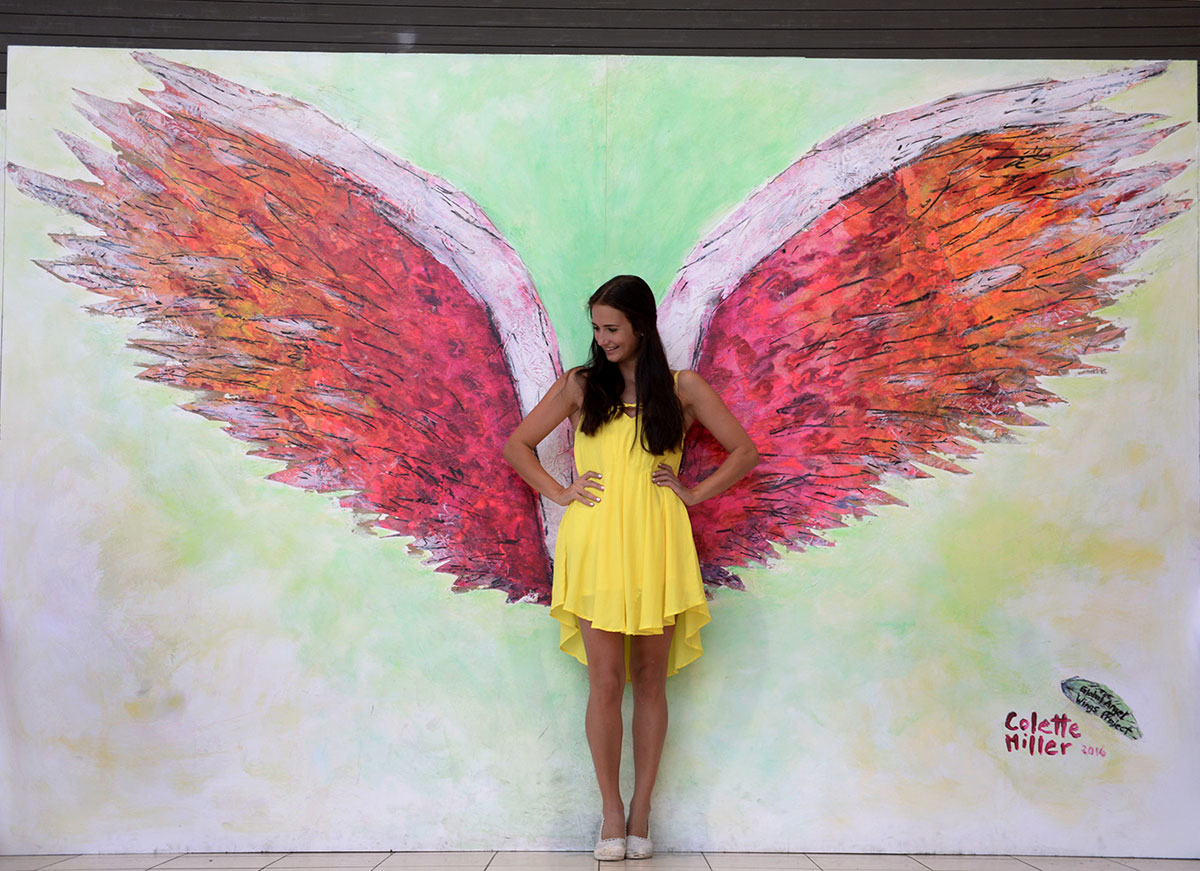 Angel Wings Hermosa Beach