A product could not be loaded.
A product could not be loaded.
Traveling alone is a fear that many do not dare to overcome. Traveling alone as a woman seems to be an even greater hurdle. No wonder, as women very often do not have that much self confidence because of how society does make us feel as the weak ones. I have made the experience as a girl traveling alone and I want to give you a little insight into such an experience.
Why you should go travel alone as a woman
Traveling alone has many positive aspects, whether as a woman or a man. Maybe your friends are not interested in traveling in general, they may have a different interest of how to travel or maybe you don't feel comfortable spending time with someone for a longer timeslot. Why sitting at home if you can easily experience something different in your annual vacation?
Wenn ihr meine generellen Erfahrungen und die Vor- und Nachteile einer Reise alleine lesen wollt, dann würde ich euch meinen ausführlichen "Alleine reisen – warum tust du dir das an?" Beitrag empfehlen.
Actually, you are never alone, even if you travel solo
In hostels all around the world away you will be addressed easily by someone after an hour at the latest. Mostly it's Europeans traveling alone or Americans or Canadians seeking contact with other backpackers. Where do you come from, what are you doing, where are you traveling to? There is a lively exchange and even friendships can be made. So you are never really alone, you can always have other people around you and learn a lot about other cultures and places.
The first journey travelling alone
The first solo trip is a big step for many, including me. Starting small can help adjusting to the situation better. During my studies I was often traveling alone in Austria. On those microadventures you can learn how comfortable you are with spending time with yourself, experience your personal limits and learning which situations might let you feel uncomfortable. You can then slowly go on longer and more distant trips and i am pretty sure at one of those journeys you will find that women certainly are not weaker than men. At some point you will realize that you don't need a man to carry your backpack or drive your rental car and that you can also spend the night in a tent without immediately being slaughtered by a bear.
Courage does not mean that you are not afraid, courage only means that you do not let yourself be deterred from your actions.
Suitable travel destinations for your first solo trip
Do you want to try it and start solo on a trip? It all depends on your travel experience, your thirst for adventure and your interest in cultures, but I can recommend many countries as travel destinations for solo travelers:
Most European countries, especially the capitals. London, Paris, Rome, Prague, whatever it may be, all these cities are great for the first short trip alone
Well developed, perhaps more touristy areas for the first long trip. For example Thailand, Bali, Singapore, Hong Kong, America, Peru, Chile, Argentina, Australia, New Zealand.
I've been travelinig solo to Patagonia, Buenos Aires, England orthe United States
Accommodation as a woman traveling alone – women only rooms
If you are going solo on a backpacking trip, you will very often look for accommodation in the cheaper price segment, probably mostly in hostels. In addition, hostels are perfect for getting in touch with other travelers and for making friends. Most hostels offer separate women's bedrooms. These are usually only 1-2 Dollar more expensive than a normal bed and offer a bit of security for female solo travellers. But be careful: You might feel more save, but that does not mean, that people won't steal your gear. Be sure to lock your valuables in these rooms as well.
How save is it to travel alone as a woman?
"Take care of yourself" – This sentence is one that solo female travellers hear over and over again. Mothers are concerned about their daughters, friends are worried about a friend. It's no surprise if you read about all the crimes happening to women in general who very often get to be victims of violence. Unfortunately, brutal attacks happen way too often and mostly to women. If you are abroad alone, the risk of getting a victim of a crime is increased.
In general, as a tourist you are always an easy target for rip-offs or raids, because being a stranger in a foreign culture it will take time for you to adjust to the living and the surrounding. Additionaly to not knowing the save or dangerous areas, not knowing which places to avoid there might even be a language barrier. Also, as a tourist you stand out from the crowd in many countries, be it because of your size (maybe you're taller than average), your skin color, the clothes you wear or the street map that you are so desperately trying to read. As a person traveling alone, they might focus even more on you as a potential target. As a woman traveling alone, of course, even more.
Show self confidence to not attract attention for crimes
I can't deny that I also feel this feeling of insecurity now and then. The thought that you could be attacked immediately should be pushed aside. It has often happened to me that I suddenly had the feeling that everyone around me was a thief (or worse) and I was on the verge of being attacked. In doing so, you may suddenly increase yourself into a fear that is not rational at all. Take a deep breath, think about why you suddenly consider the situation threatening and come to rest. In general, the more inconspicuous you are and the more you integrate into the life of a city, the less you stand out as a victim.
Connect to a group
If you feel insecure, just join a group. In many cities there are free walking tours where you can explore the city in a group and usually learn a lot about the history of the city and the country. Especially in less safe areas you can feel much more comfortable. In Buenos Aires, for example, I joined a free walking tour in La Boca, learned a lot and felt more comfortable than walking around alone.
Inform yourself in advance about the destination
In order to avoid stupid mistakes and not to get stuck in a dangerous trap, which you as a woman travelling alone might want to avoid, I recommend that you read about your destination in advance. If an area is not recommended walking alone on the streets at night as a woman, you should also refrain from doing so. If certain areas are classified as potentially dangerous, then consider whether you want to visit this area and if so, whether there might be a group tour.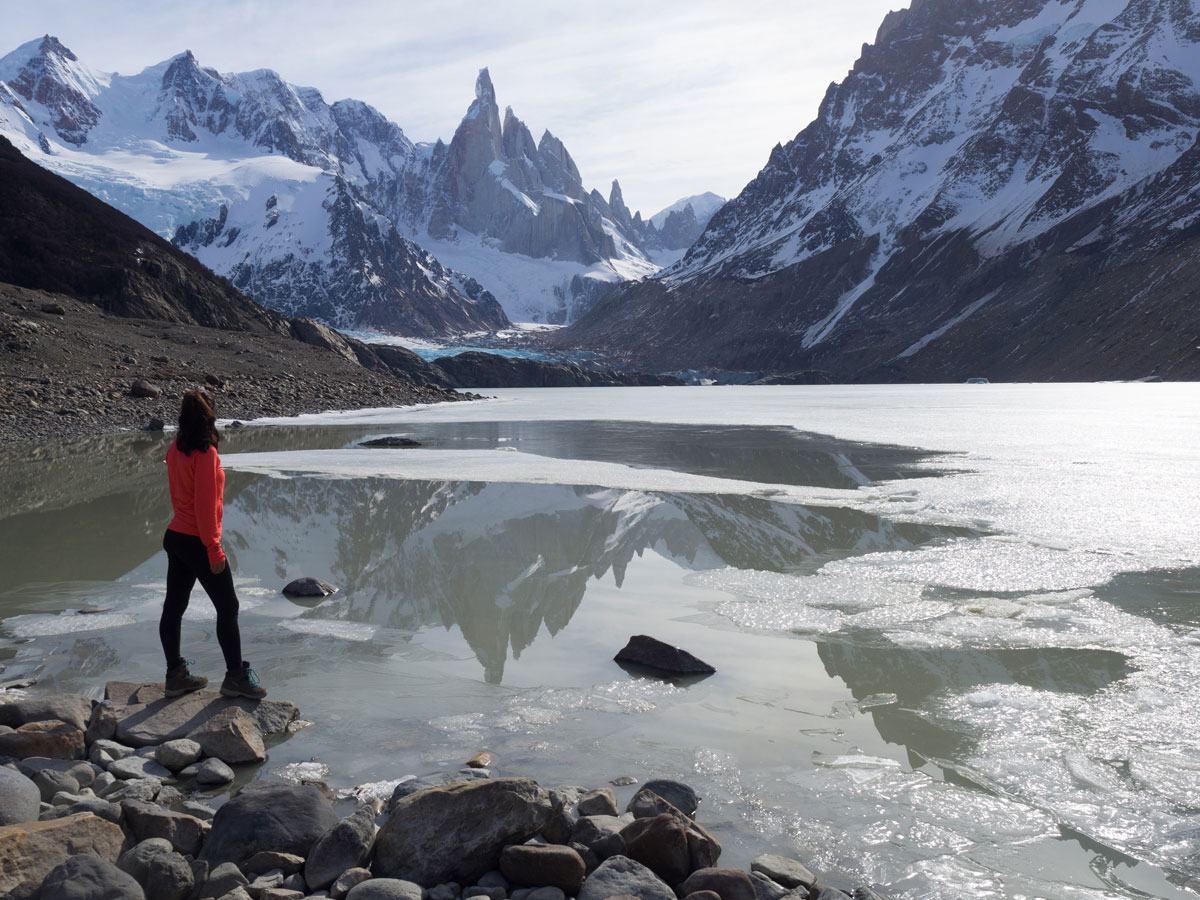 Useful gadgets for women traveling solo
Pocket alarm
In Buenos Aires and in Lima I carried a small pocket alarm with me. If someone wants to rob and threaten me, i would always give to the person what he wants to not take any risk. But if someone would attack me, the pocket alarm could make a hell of a noise, maybe shock them and maybe make others on the street aware of the situation.
Invisible money storage bag
In order to never be without money when travelling, you should always carry your money and credit cards in different pockets. If you get mugged and your whole wallet is gone, it can end badly – being abroad without a cent certainly isn't fun. That's why in cities I use the slim belt, which you can tie under your clothes like a fanny pack, to store credit card, cash and a copy of your passport. There are also many other products that can work as a money hiding place. Belts with a built-in pocket, money safe in the form of a sun cream, or even hygiene products can be prepared in such a way that money can be hidden there.
Safe and lock for the laptop / camera
Unfortunately, people do steal things in the hostel. Therefore it is worth taking a lock for the locker with you and there are also security bags that can protect a laptop and / or a camera. The only downside is, that those bags are pretty heavy.
Etiquette for traveling women – Dress according to your surroundings
This rule applies not only when travelling alone as a woman, but in general when travelling. Some countries have rules and religious believes that should not be ignored. Flying to a muslim country and walking around in your hot pants is not a good statement, it is disrespectful and mean towards the culture and people. I know it's uncomfortable and very hot to walk around in a long dress and cover the shoulders, but if it is their tradition you should accept and follow those rules.
Now: Go and pack your bags for your first solo trip
Of course, as a woman travelling alone, you should follow certain rules, enjoy things with caution, avoid some areas and dress accordingly. But basically there is only one thing to do: enjoying the journey with all your senses. If you get into the spirit, you will take the most beautiful experiences with you.