Oahu is only the third biggest island on Hawaii, but it's definitely the most famous one because of the city Honolulu and Waikiki Beach. We were staying 5 days on Oahu, sleeping in an Airbnb in Waikiki Beach. The beaches on Oahu are the best of all the islands we've seen, they're white sand beaches, coming together with turquoise sea. Oahu is also famous for surfing and if you're up to a holiday with shopping, restaurants, bars and going out, Waikiki Beach on Oahu is perfect.
Honolulu & Waikiki Beach
Waikiki Beach
Waikiki Beach is similar to some of the italian villages we Austrians visit for holidays in summer. There are a lot of shops, restaurants and even more people. The beach itself is beautiful with turquoise water and white sand. although I didn't like staying there, because of all the people. I'm more the kind of a person who'd go for a beachday on a quiet beach. On Waikiki Beach you can go surfing – just be aware that it might take 5 minutes for a wave to arrive and the waves are small.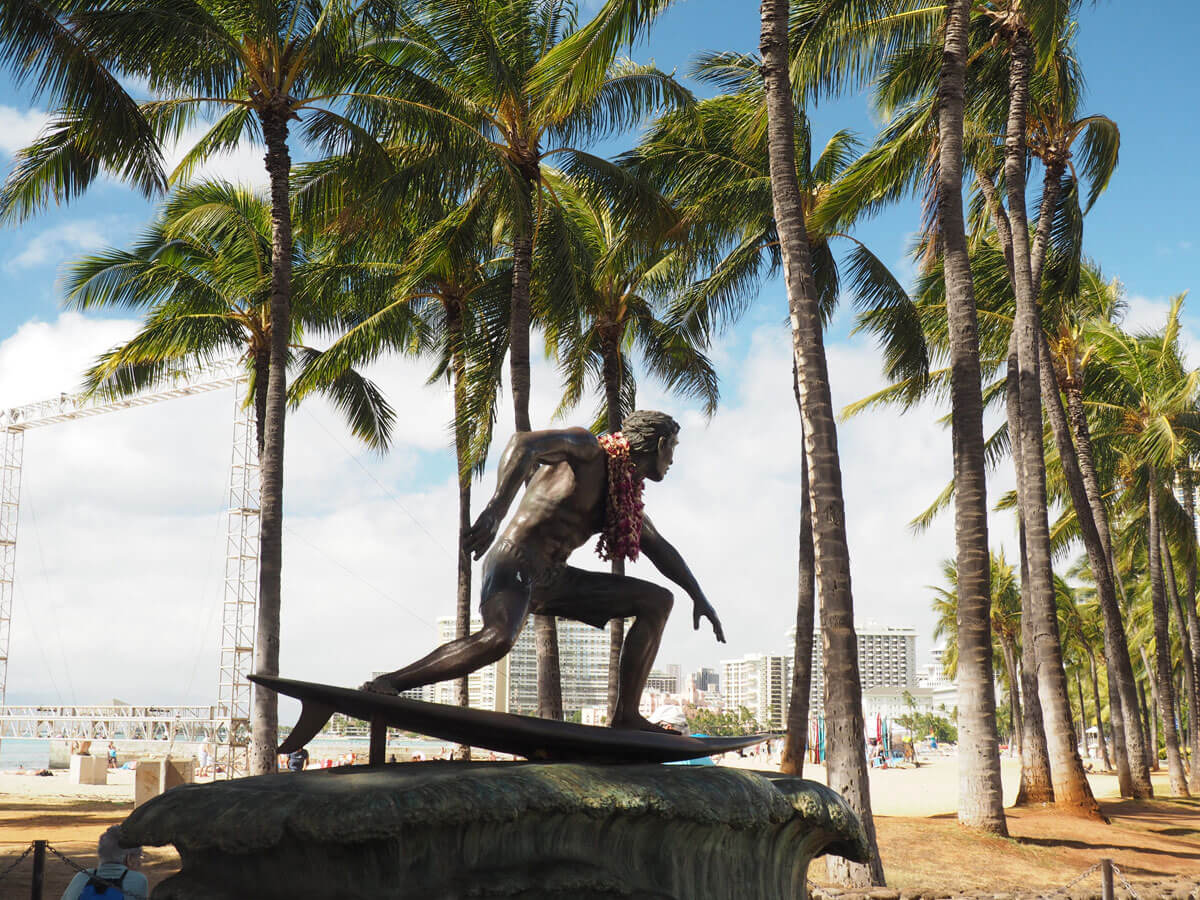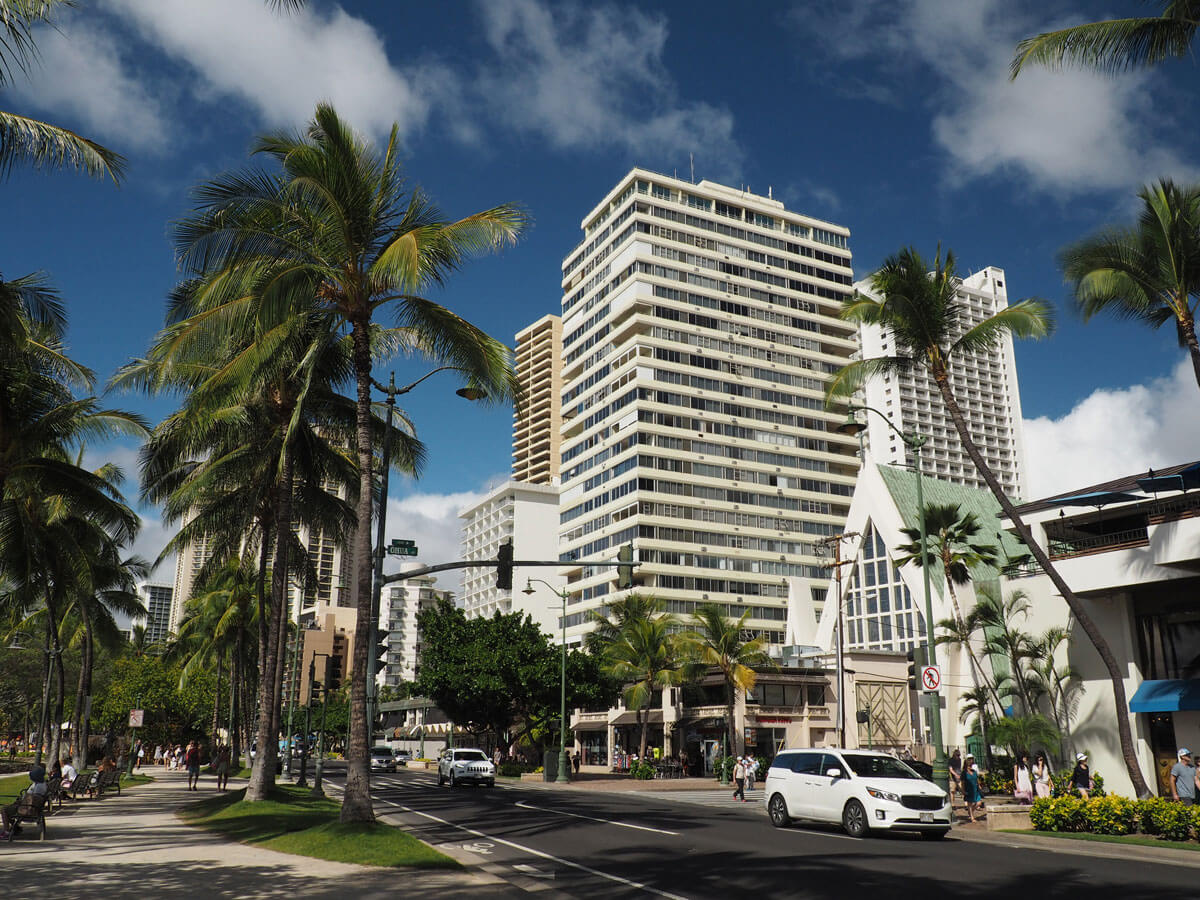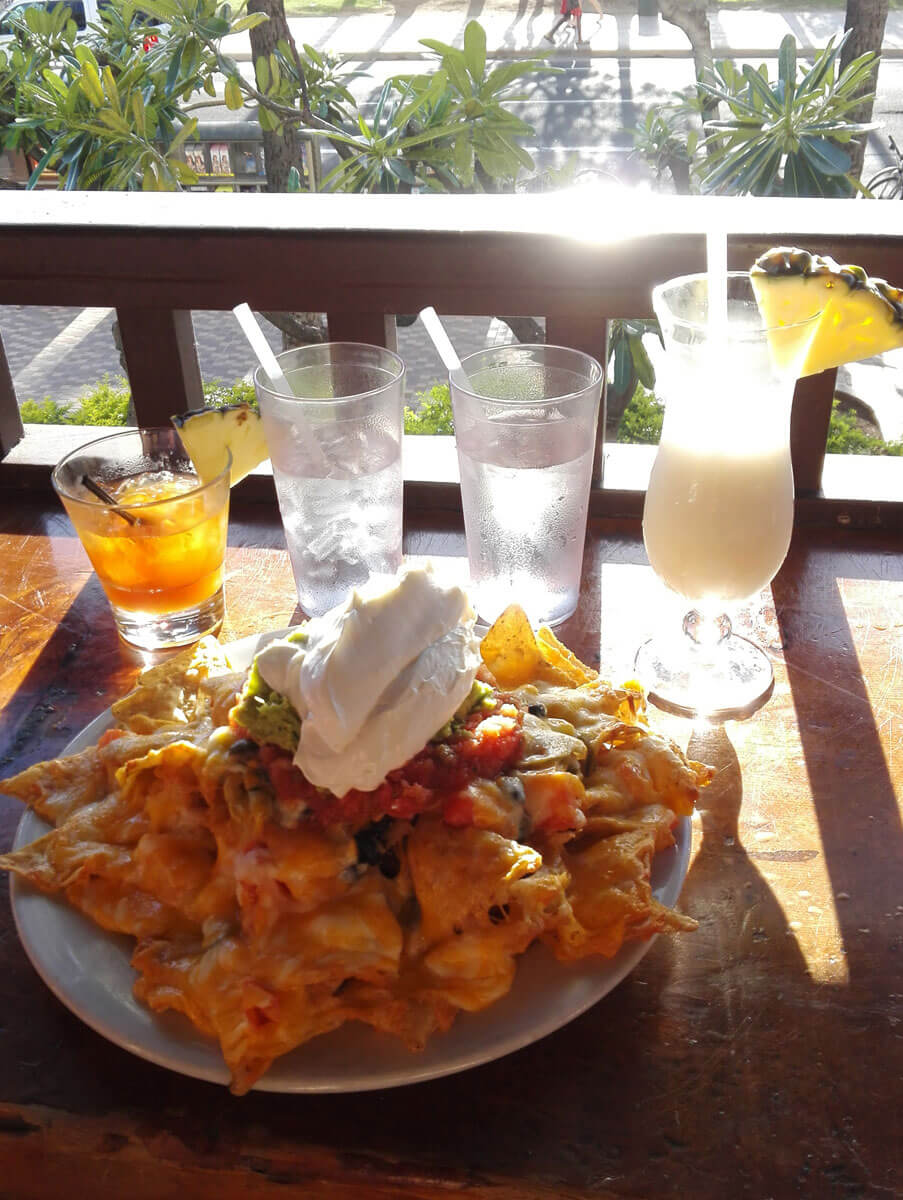 Honolulu Arts District Kakoo – Pow Wow
As I've already mentioned in some of my previous blogposts, I love Graffiti. In Honolulu there's an area similar to the Arts District in Los Angeles, where you can find a lot of Murals on the walls. Every year they're adding new ones from famous street artists all over the world. The project is called Pow Wow and you can find it in the District Kakoo.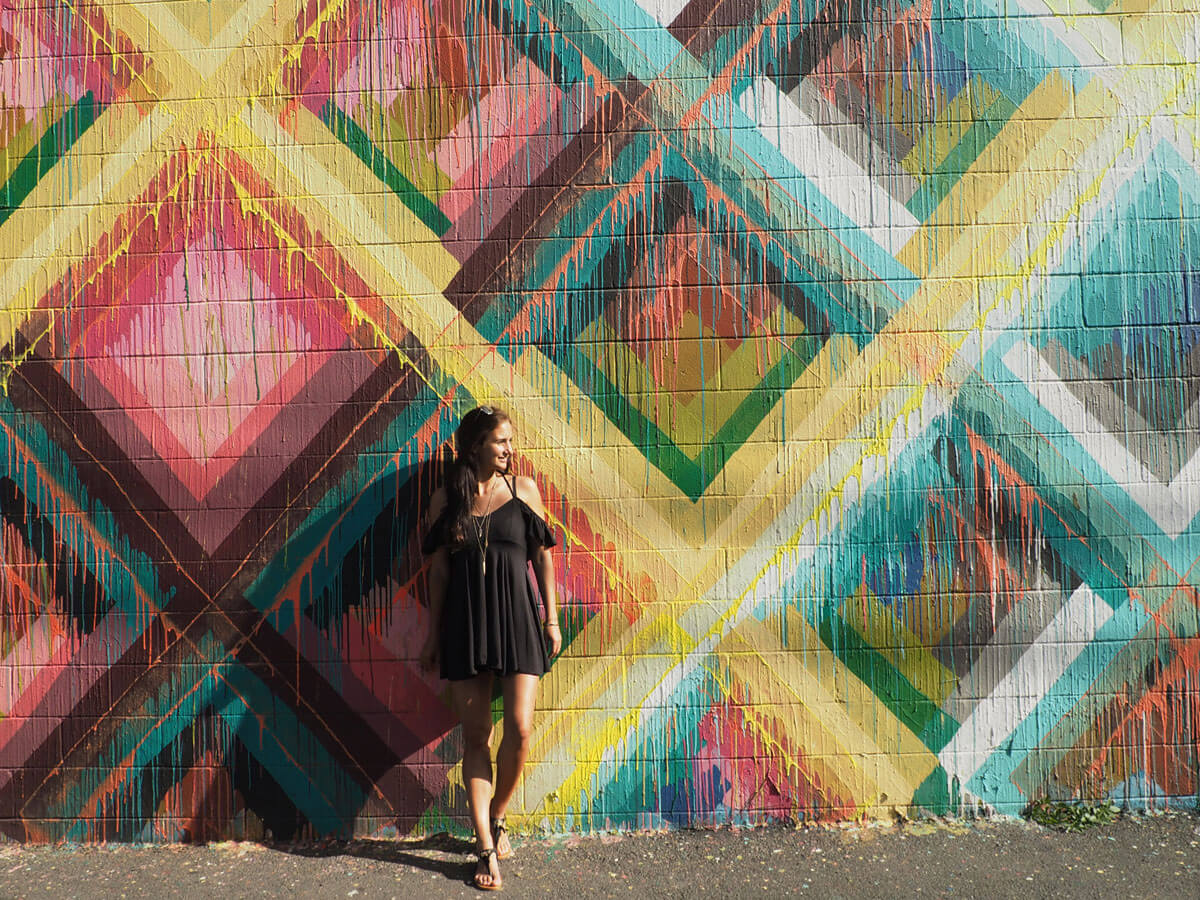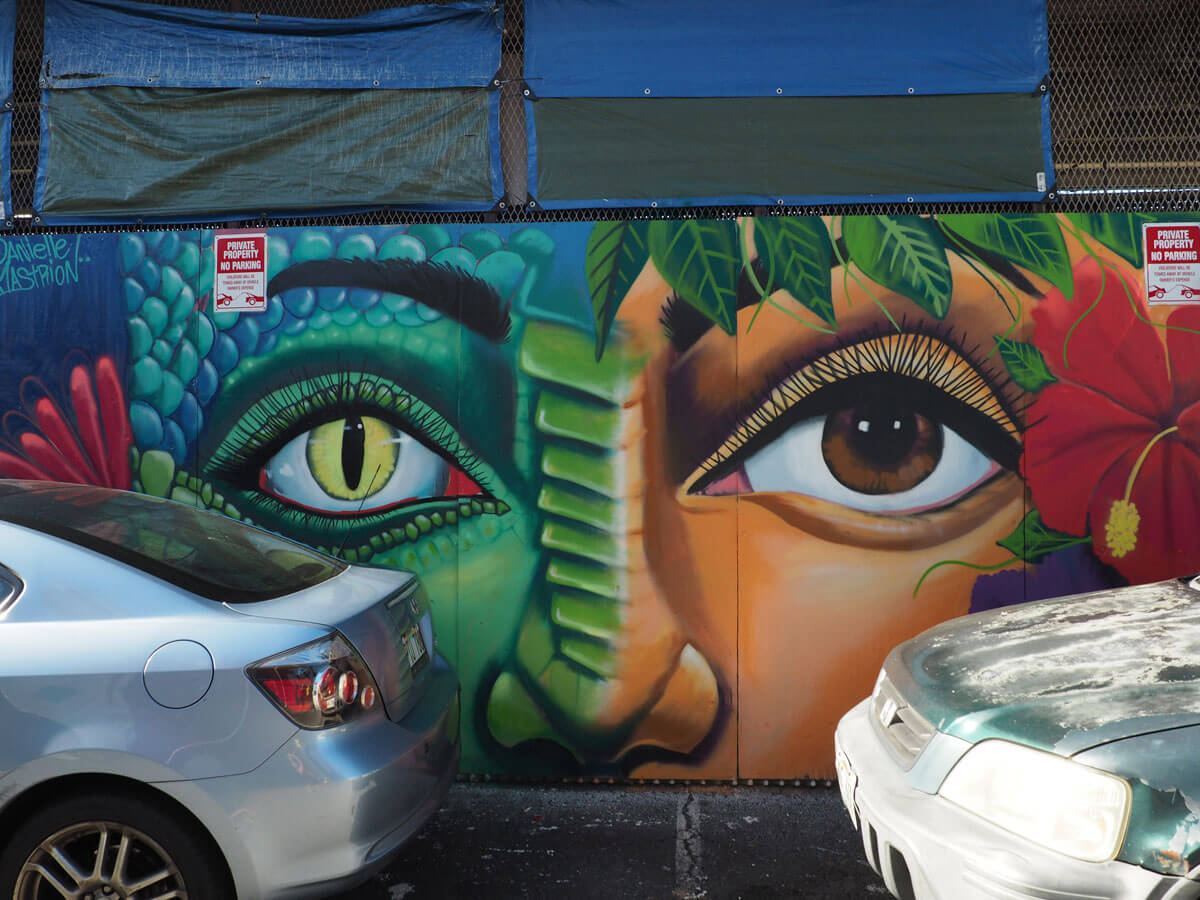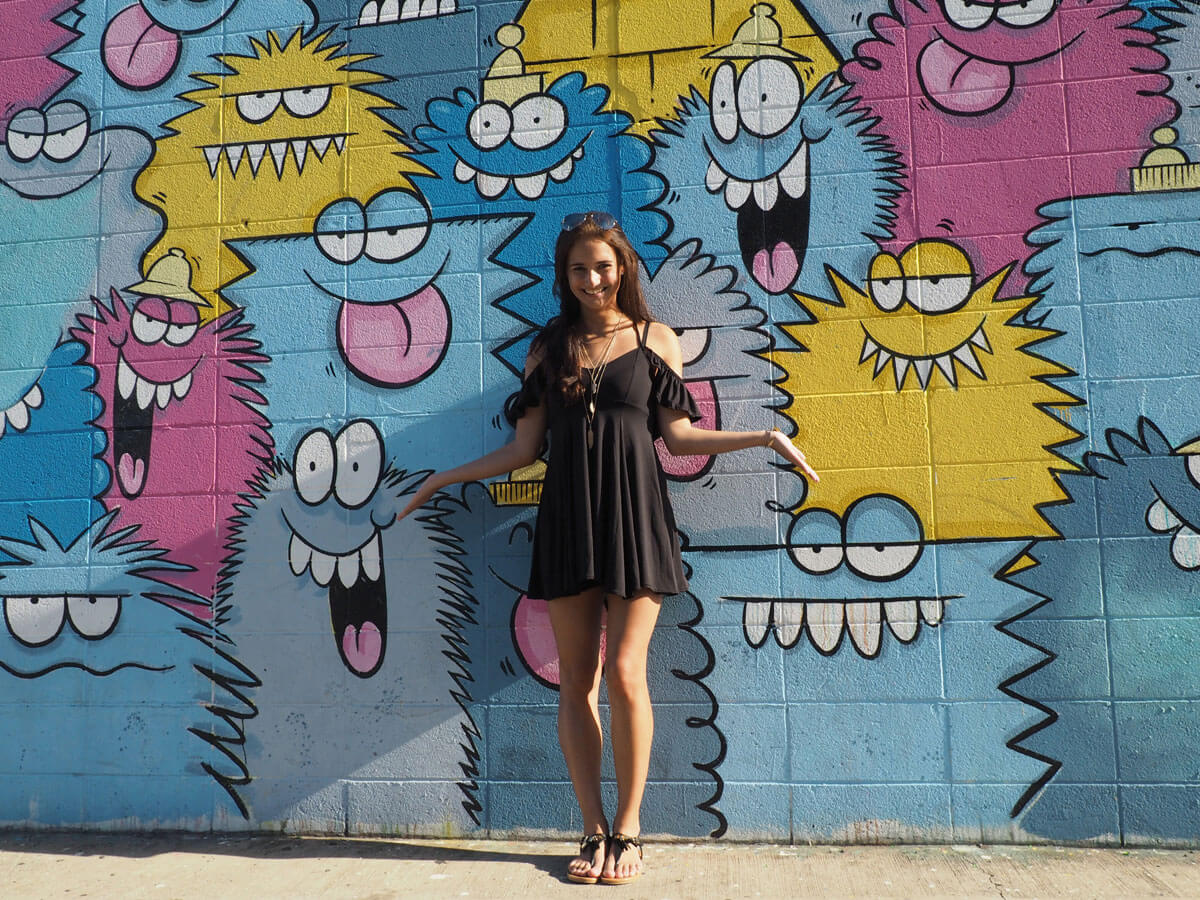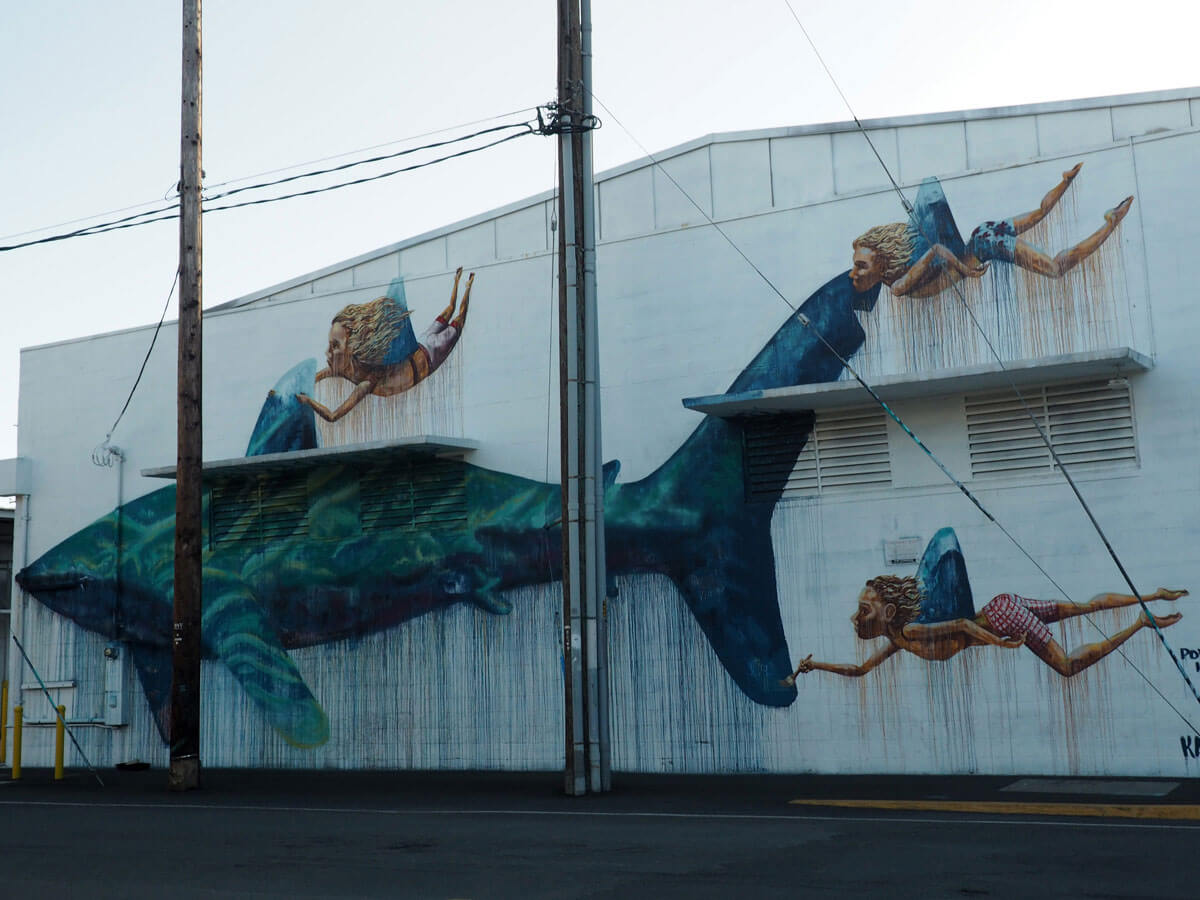 Diamond Head
Diamond Head is an old navy base (I think it was navy, correct me if i'm wrong), next to Honolulu on the hill. Hiking up there doesn't take too long (signs said it's 1 1/2 – 2 hours, it took us 1 hour up and down) and is easy for everybody. At the end of the hike there's a fantastic view on the city Honolulu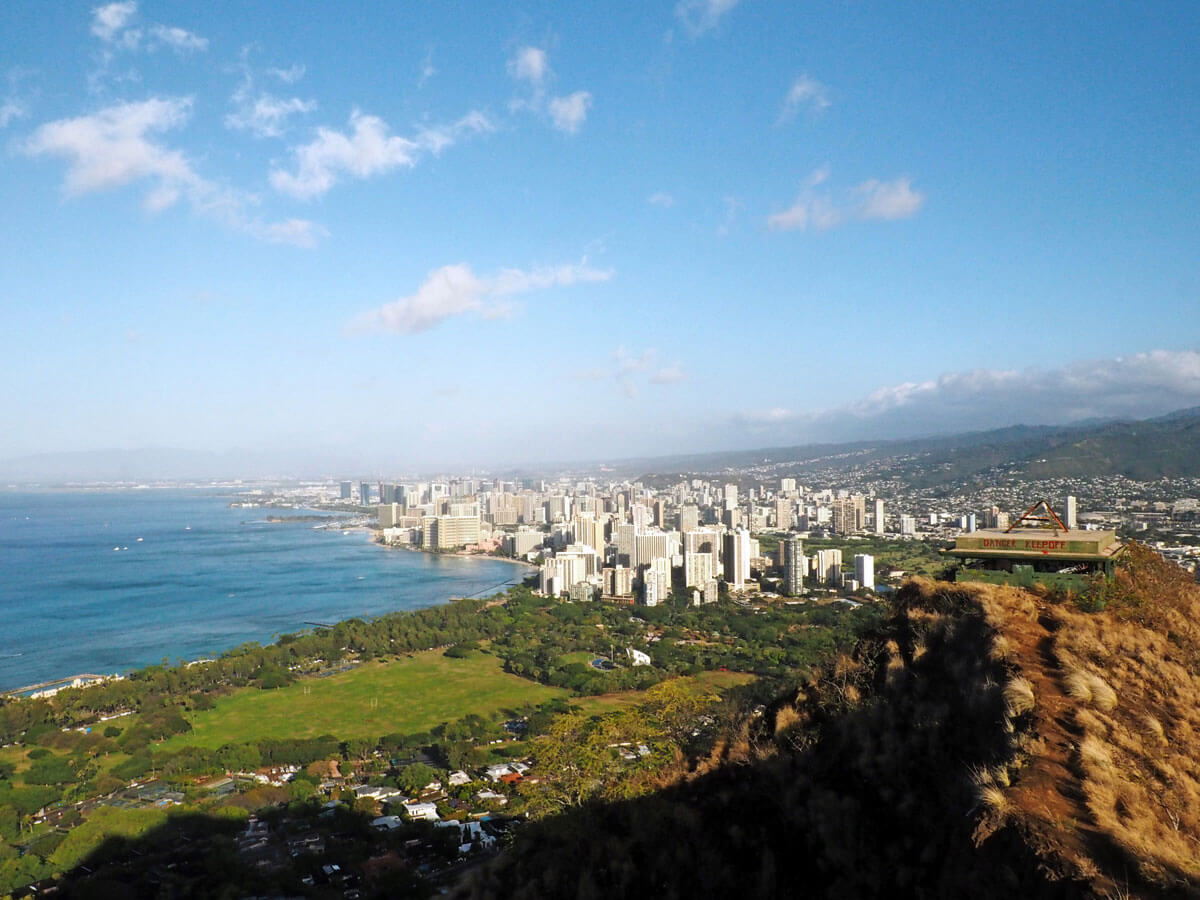 Beaches
Lanikai Beach
This one was my favorite. A beautiful beach with white sand, turquoise water and palmtrees you would usually only find on the Maldives or at other exotic places. The view on the two tiny islands makes it even more special and there are not that many people, specially if you're arriving early on a weekday.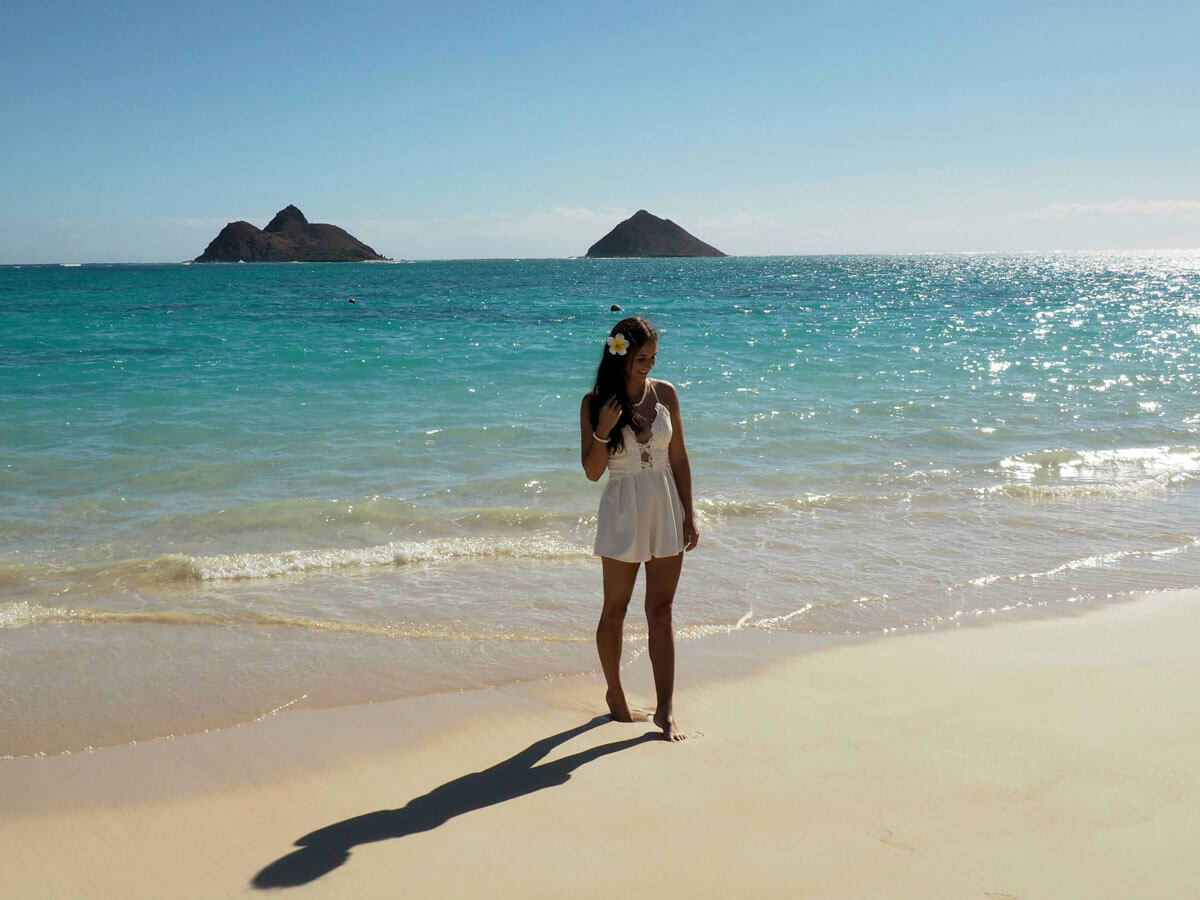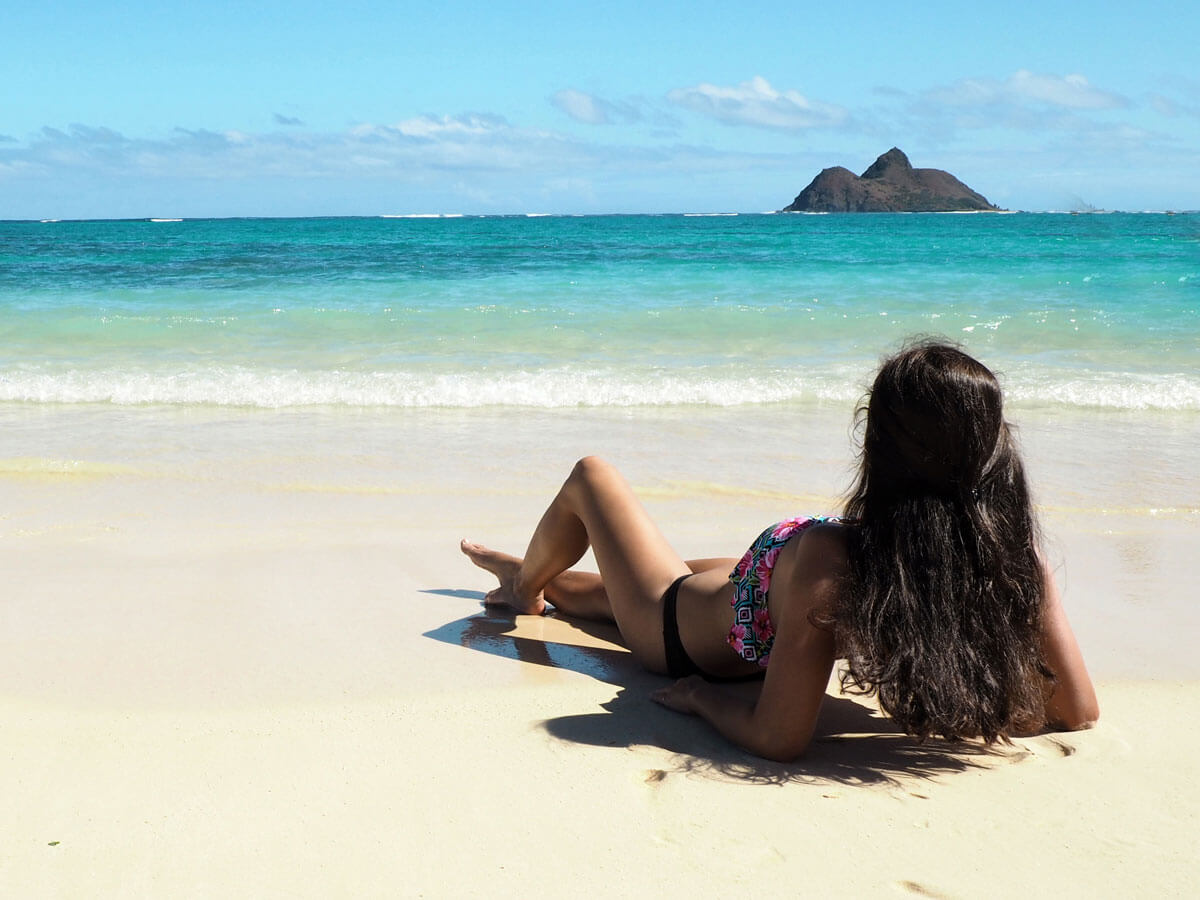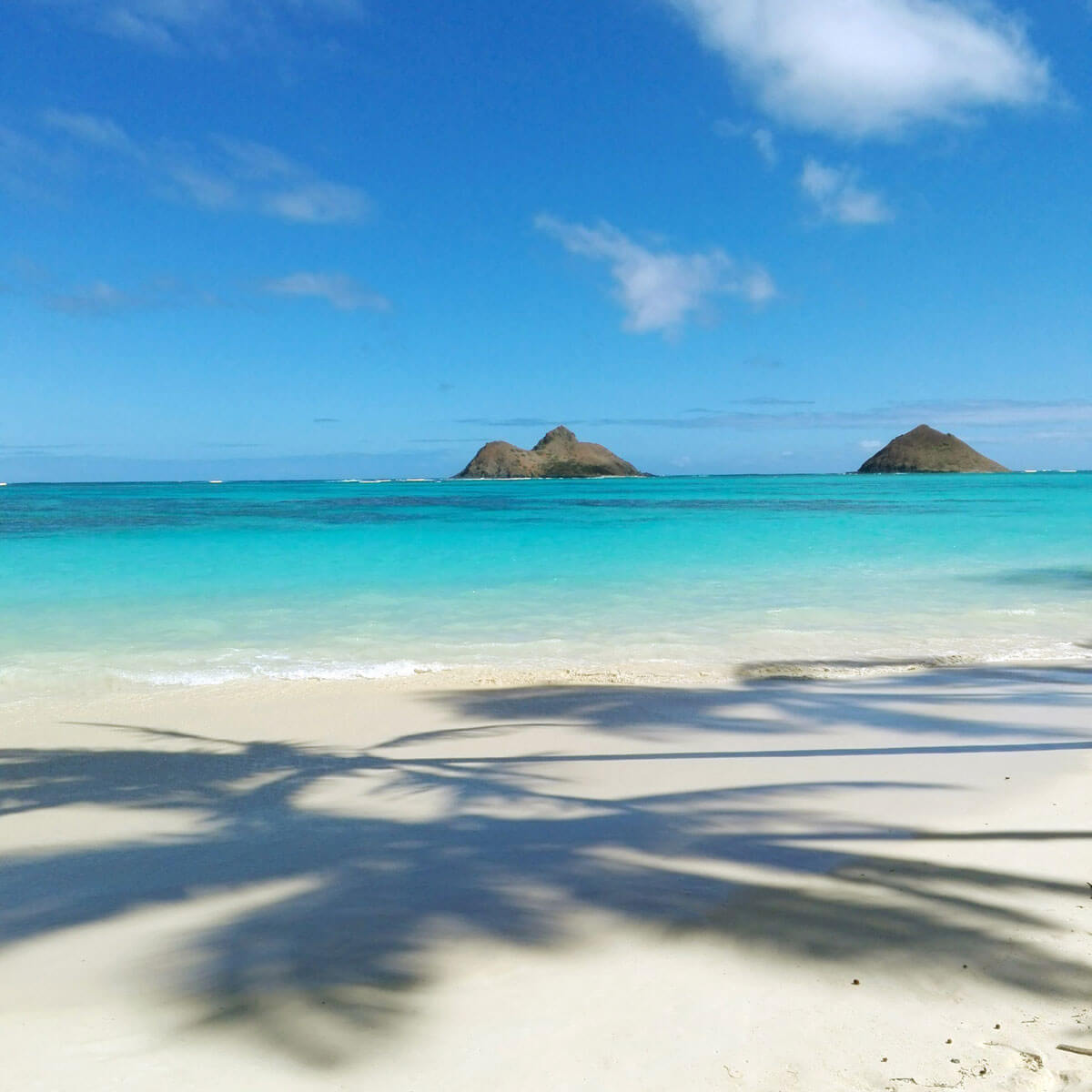 Lanikaea Beach with turtles
If you're up to seeing turtles, you should go to Lanikaea Beach. There are always turtles there. Just make sure you're not touching or disturbing them, as they need the sleep!! We've seen a guy touching the turtle and you could literally see how scared the animal got. Leave them their privacy.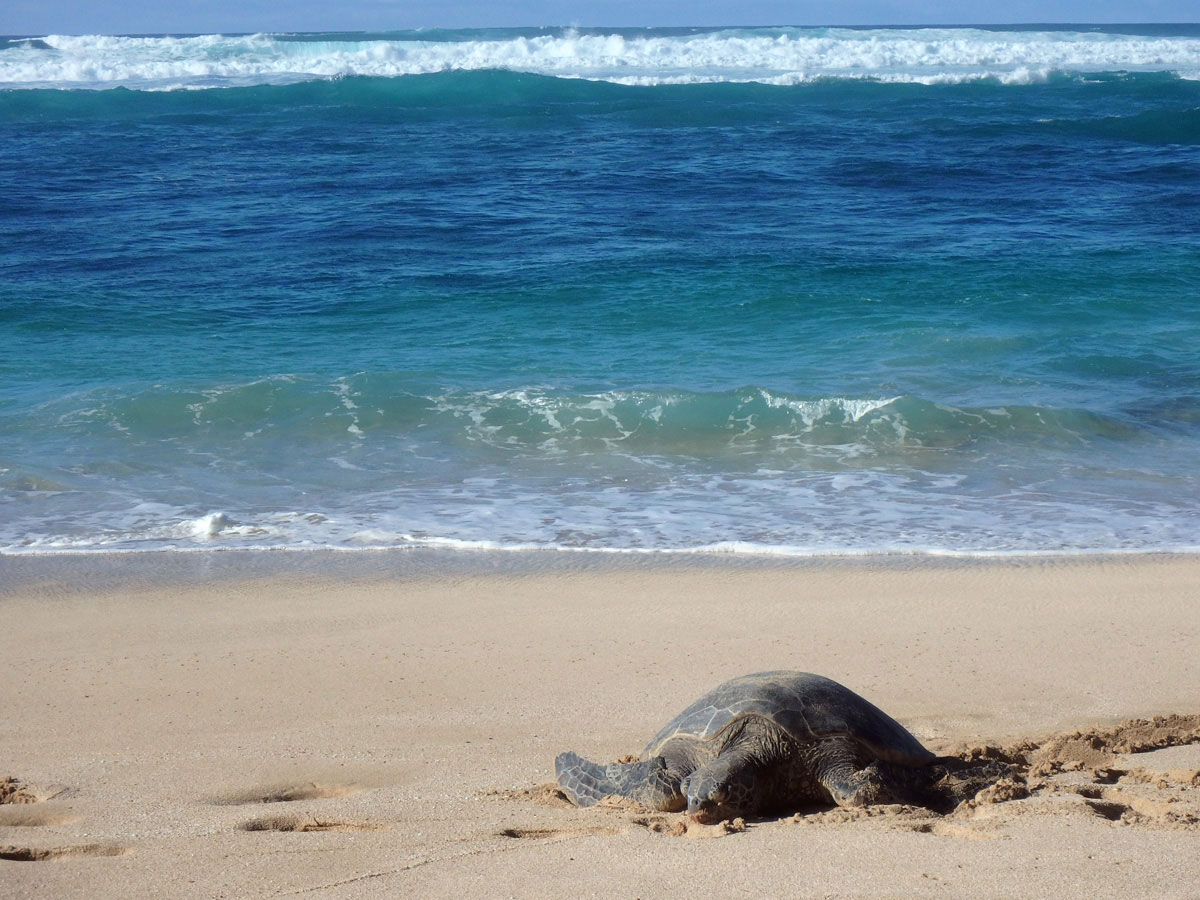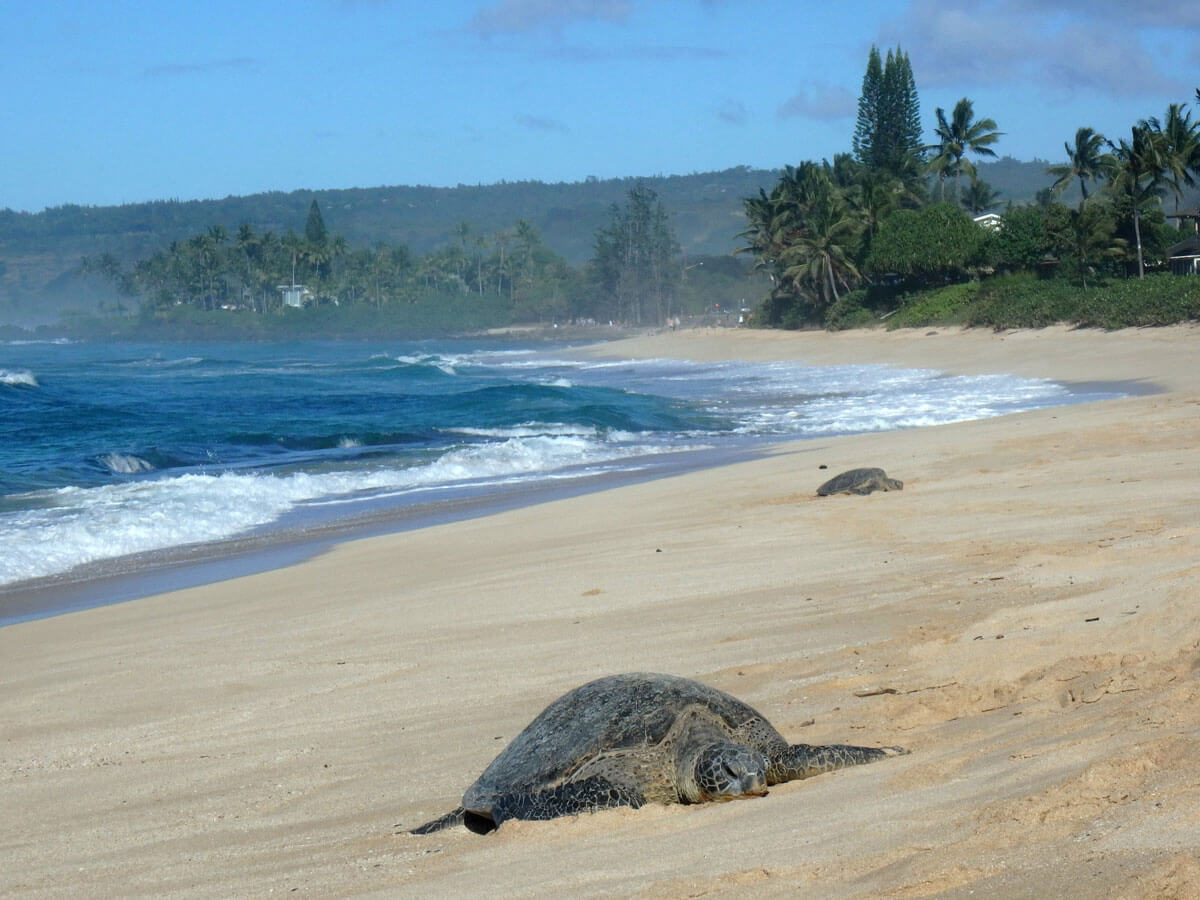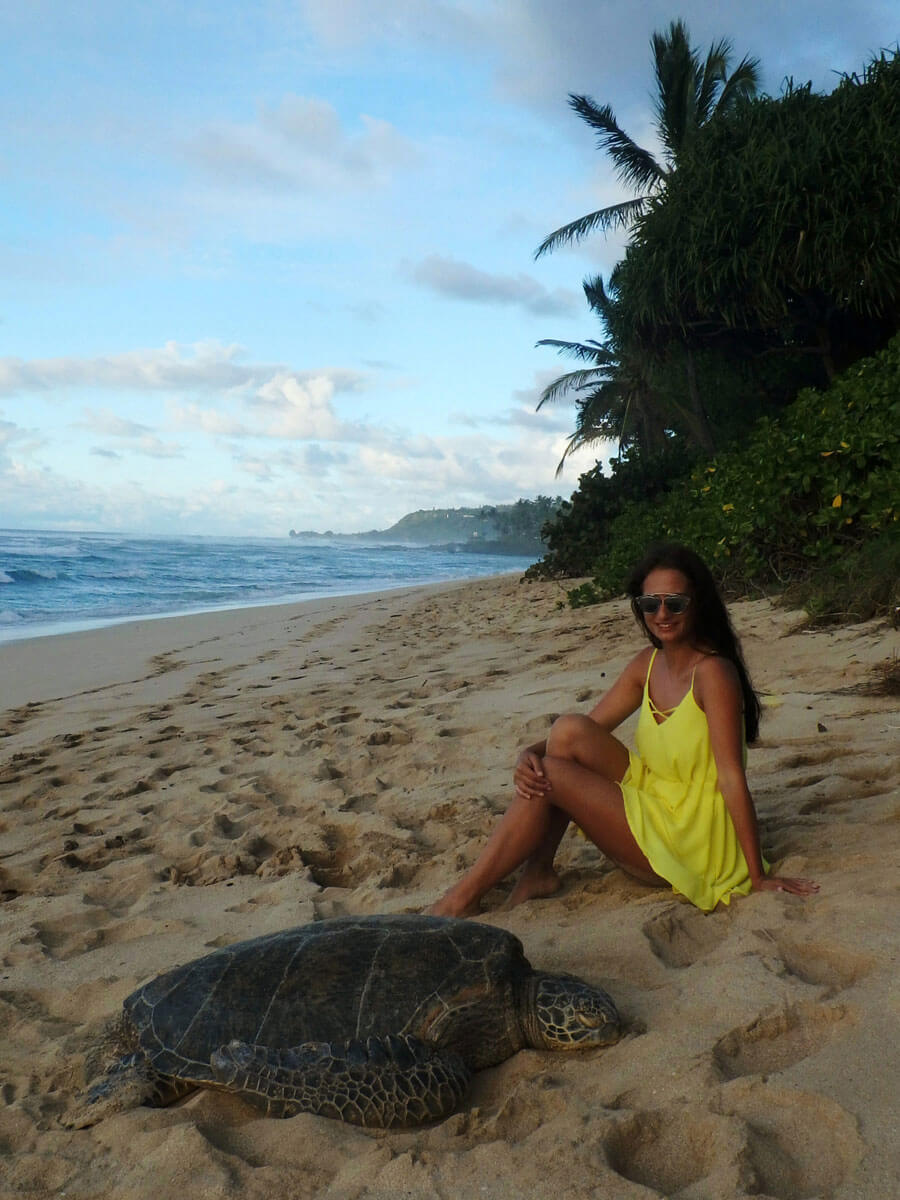 Makapu'u Tidepools
Makapu'u Tidepools on the eastside of the island are an insidertip and perfect for adventurers. Tidepools are natural rock-shaped pools next to the sea. The water inside is coming from the waves of the sea. Be careful when swimming in one of those pools, the waves can be strong and easily draw you out, specially when it's high tide.
If you want to visit those pools and swim in them, you will have to hike there. The hike is strenuous, because you're walking on rocks. Getting there is easy – just park at the parking spaces made for the lighthouse at Makapu'u Point and hike up the hill to the lighthouse. After 2 viewing points you'll find a sign, which is explaining the whales. On the left handside of the sign is a way down to the pools. On the way you will also find a blowhole, which might blow out some water when you are passing, be careful and don't walk on it.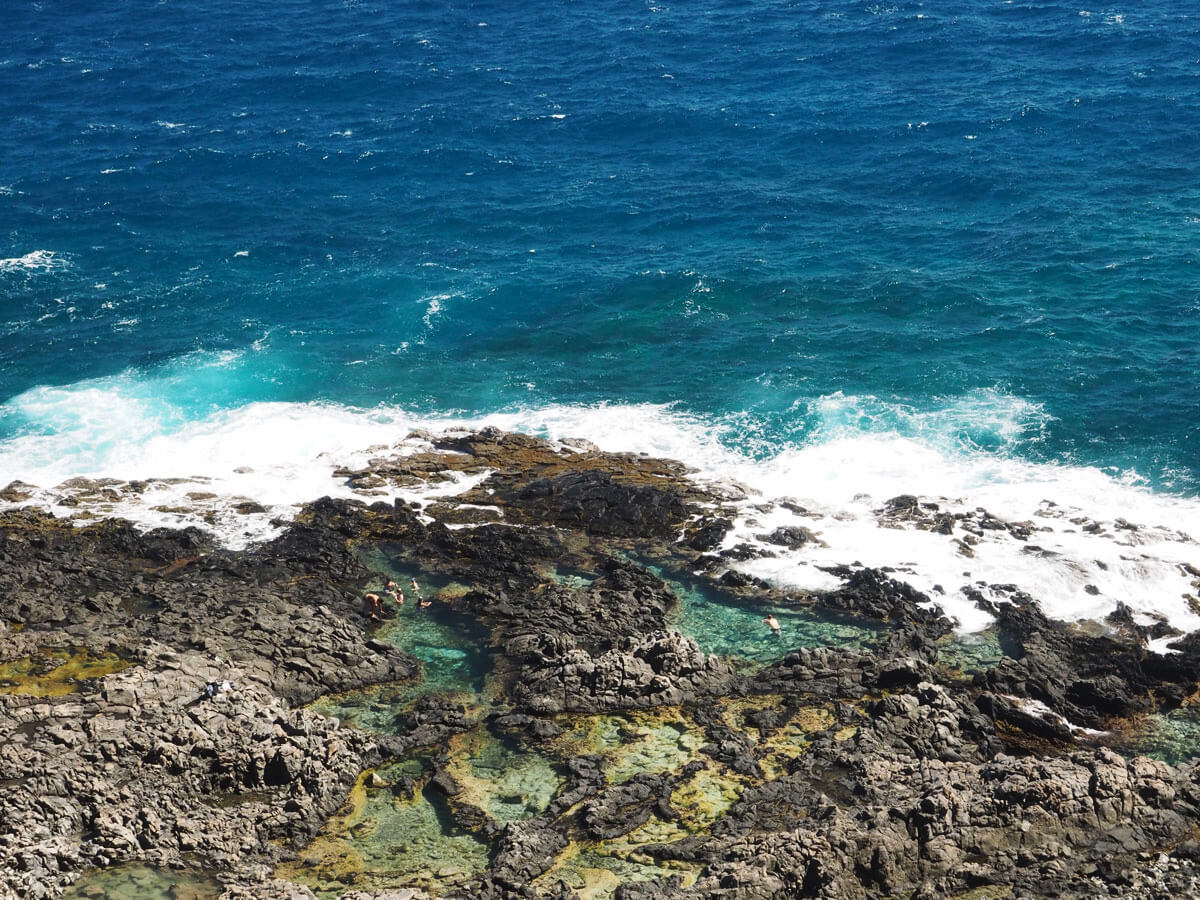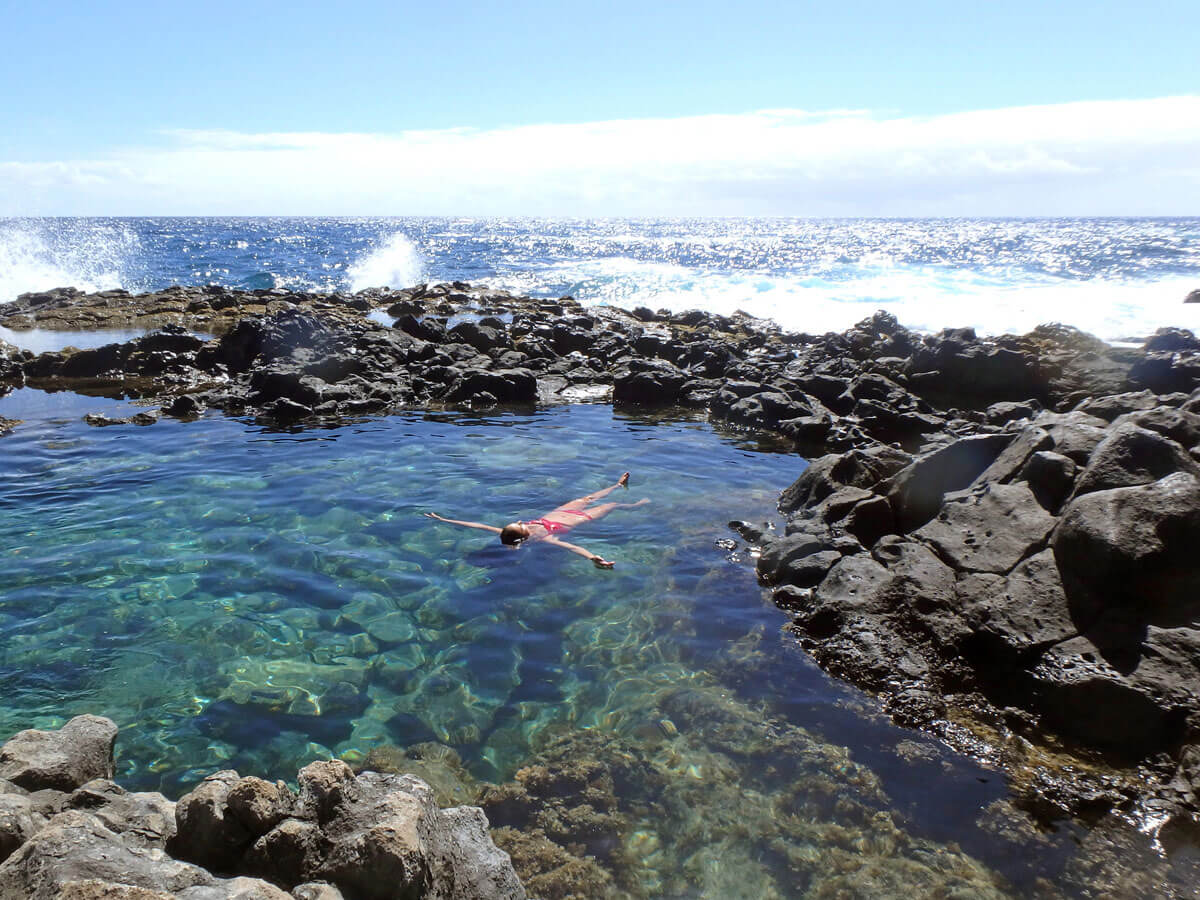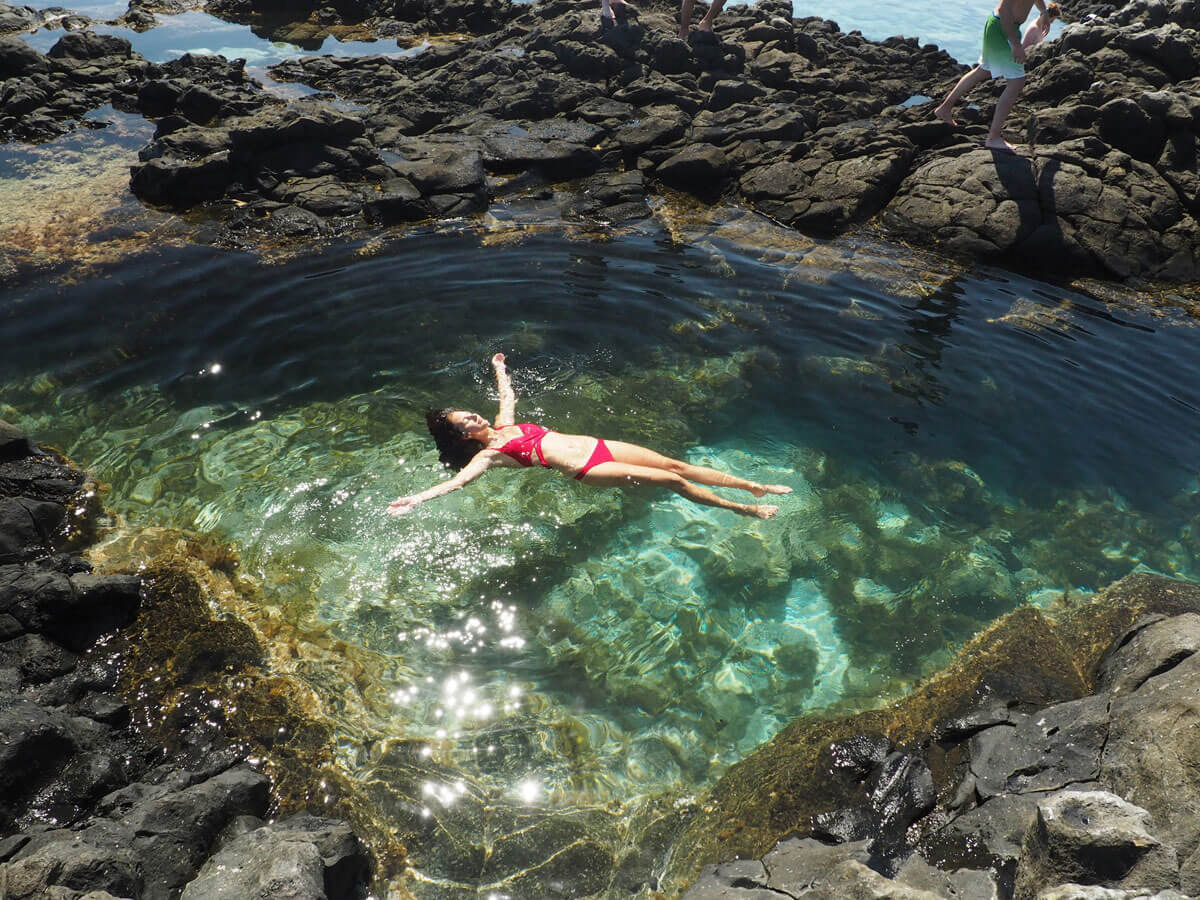 Pearl Harbor
I can understand that not everybody is interested in visiting a war monument on a holiday in paradise, but me and my boyfriend are both interested in history, so we were going to Pearl Harbor. We were pretty surprised by how expensive it can get, visiting this place, but we wanted to see the submarine Bowfin and the battleship USS Missouri. For me as an European Pearl Harbor was pretty interesting, because we hardly learn about the American history in the world war, because we're already having so much European history in this time.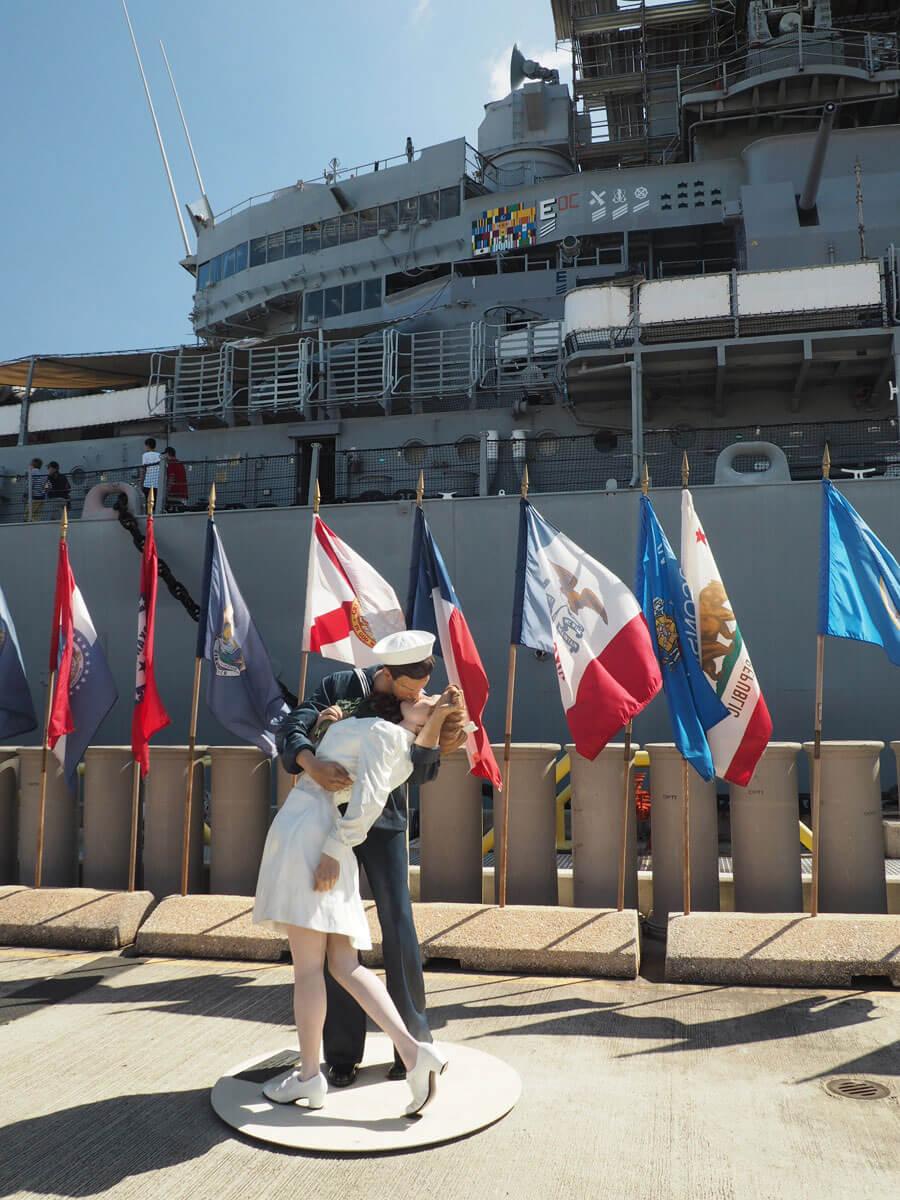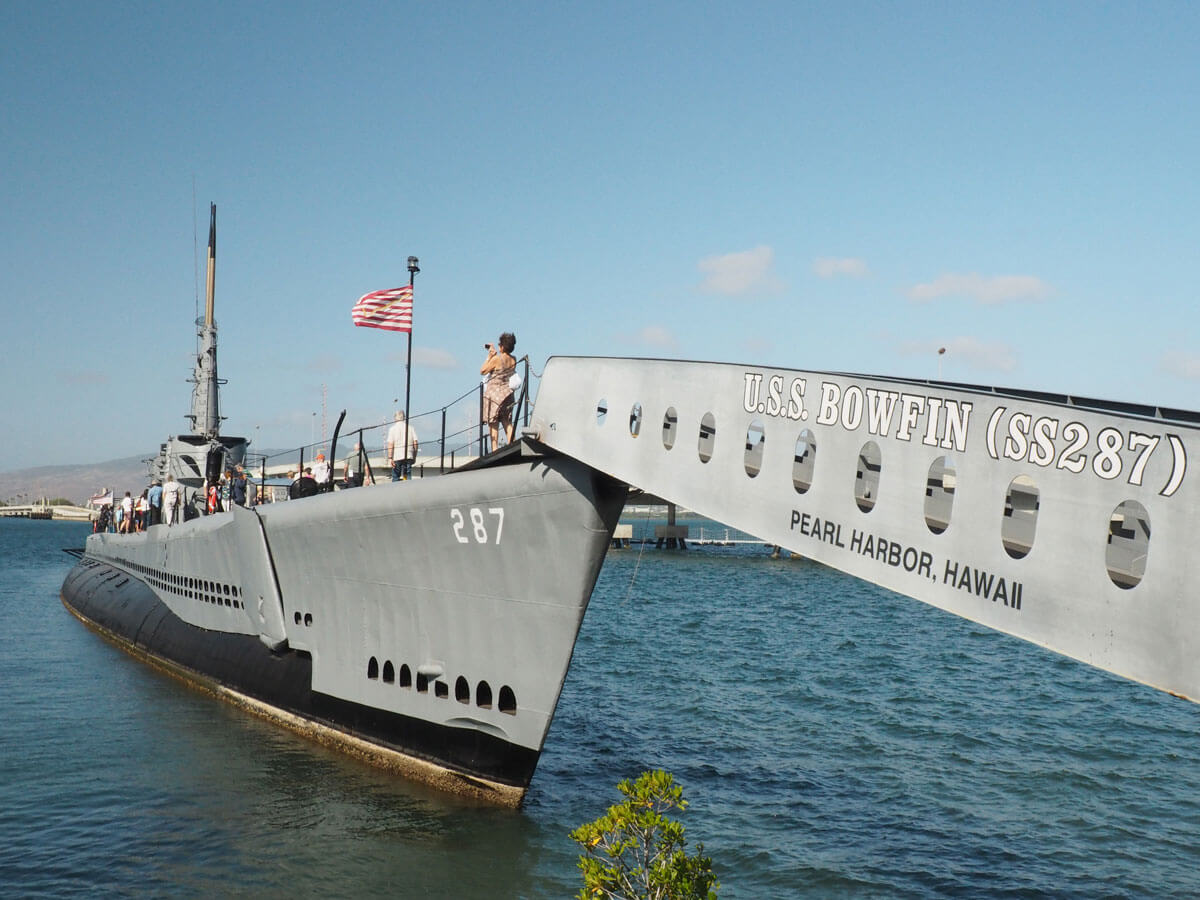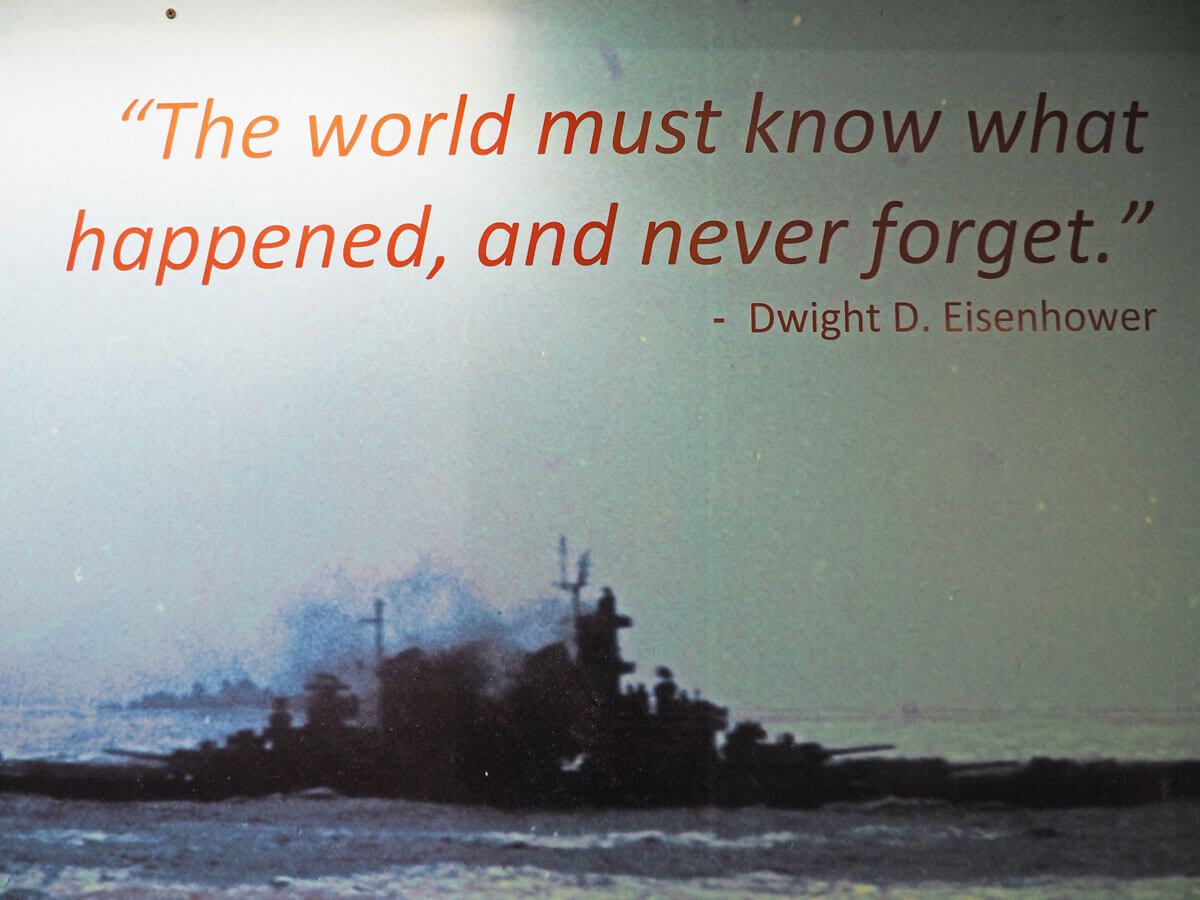 North Shore
If you want to see good surfers, visit some surf stores and just chill out for a day, you should go to the North Shore. The best waves on Hawaii can be found there. If you're brave enough you can try it yourself (and tell me how you did :D)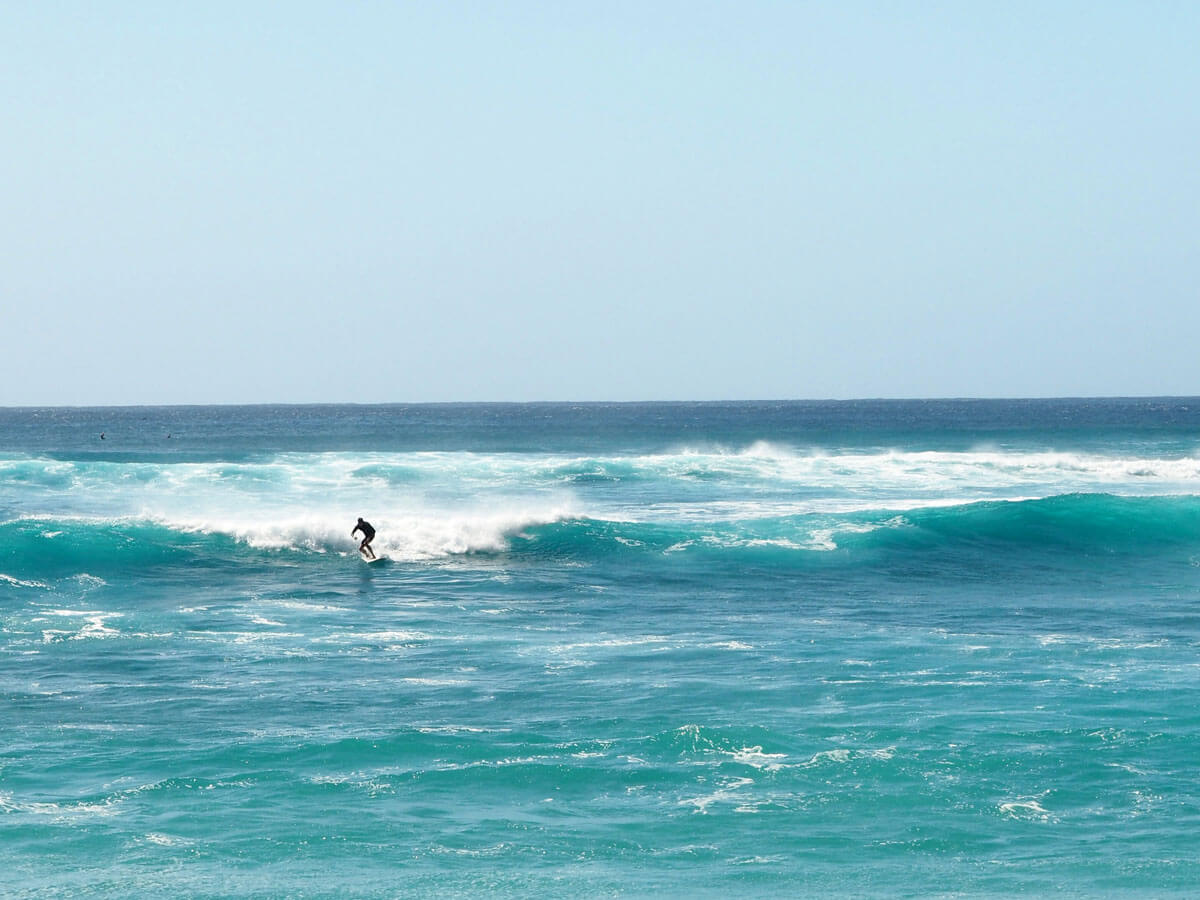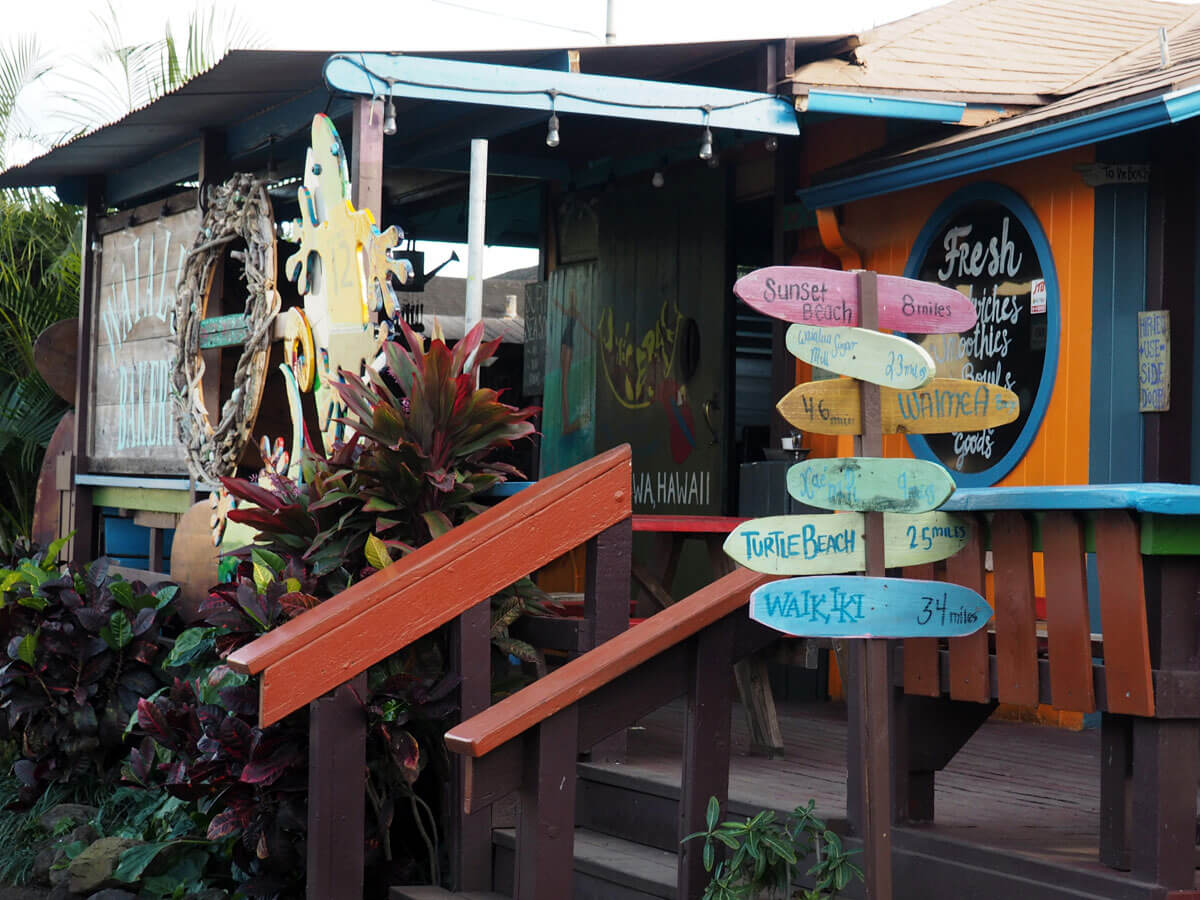 Pineapple Plantation
I've never seen a pineapple bush (or however it's called) before and when we were passing the Pineapple Plantation, I wanted to visit it real quick. It was really interesting to see where one of my most favorite fruits is coming from.
Activities Oahu
Hiking Oahu
Oahu is having some nice hikes such as the Pillbox hike, Stairs to Heaven, Diamond Head and many more. My boyfriend doesn't like hiking that much, so we only did the Diamond Head hike.
Whale Watching, Dolphin Watching, Swimming with Dolphins and Snorkling Oahu
I'm this kind of a girl who has always been dreaming of swimming with dolphins – in their natural environment. On Oahu you can book some tours where you will have the chance of Swimming with Dolphins. On our first trip we did see dolphins jumping around the boat, but we couldn't find any dolphins we can swim with, so the company offered us to go on a second trip with them. It was lovely, although we had a better experience with dolphins in a bay on Big Island in the end. We were lucky seeing some whales, a shark and turtles on our Dolphin Snorkling Experience. I can really recommend the tour, the team was fantastic and the whole trip really made me happy.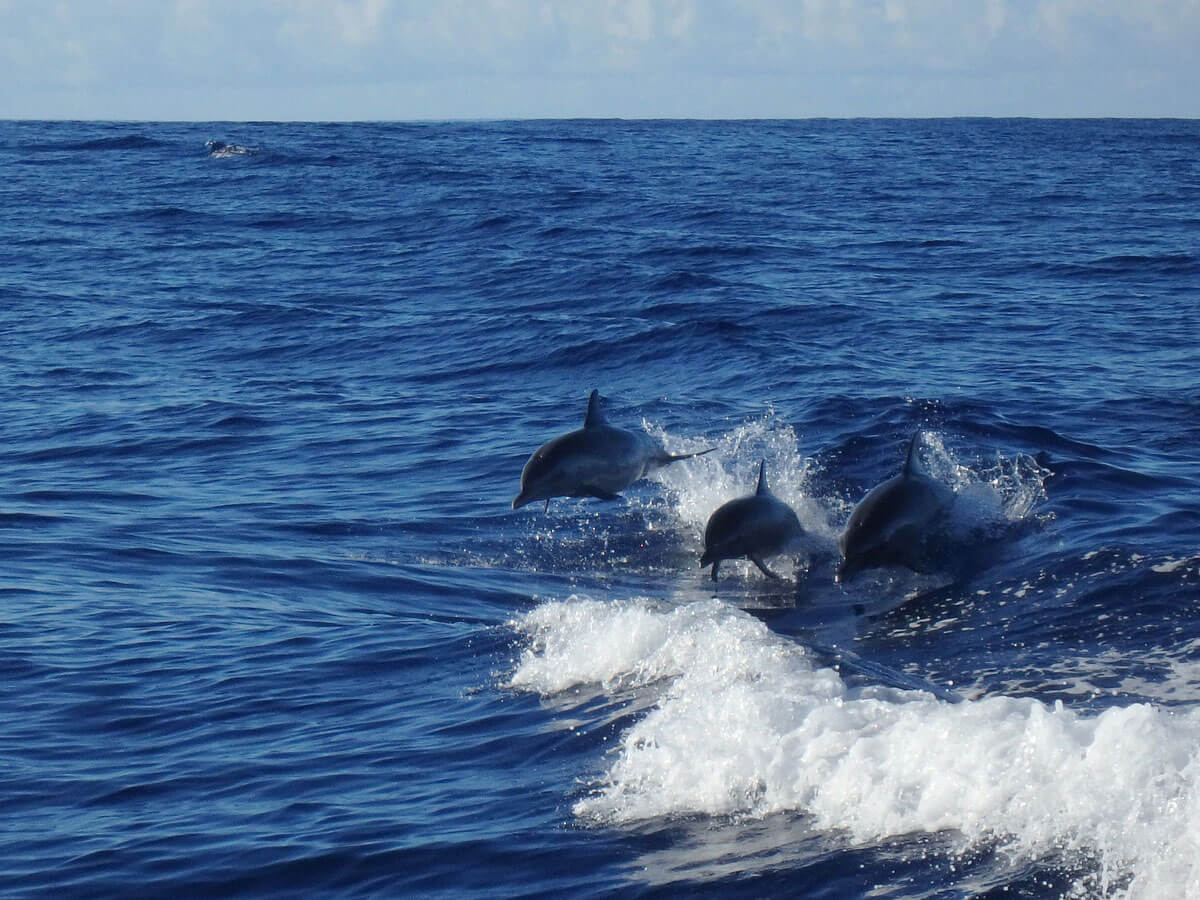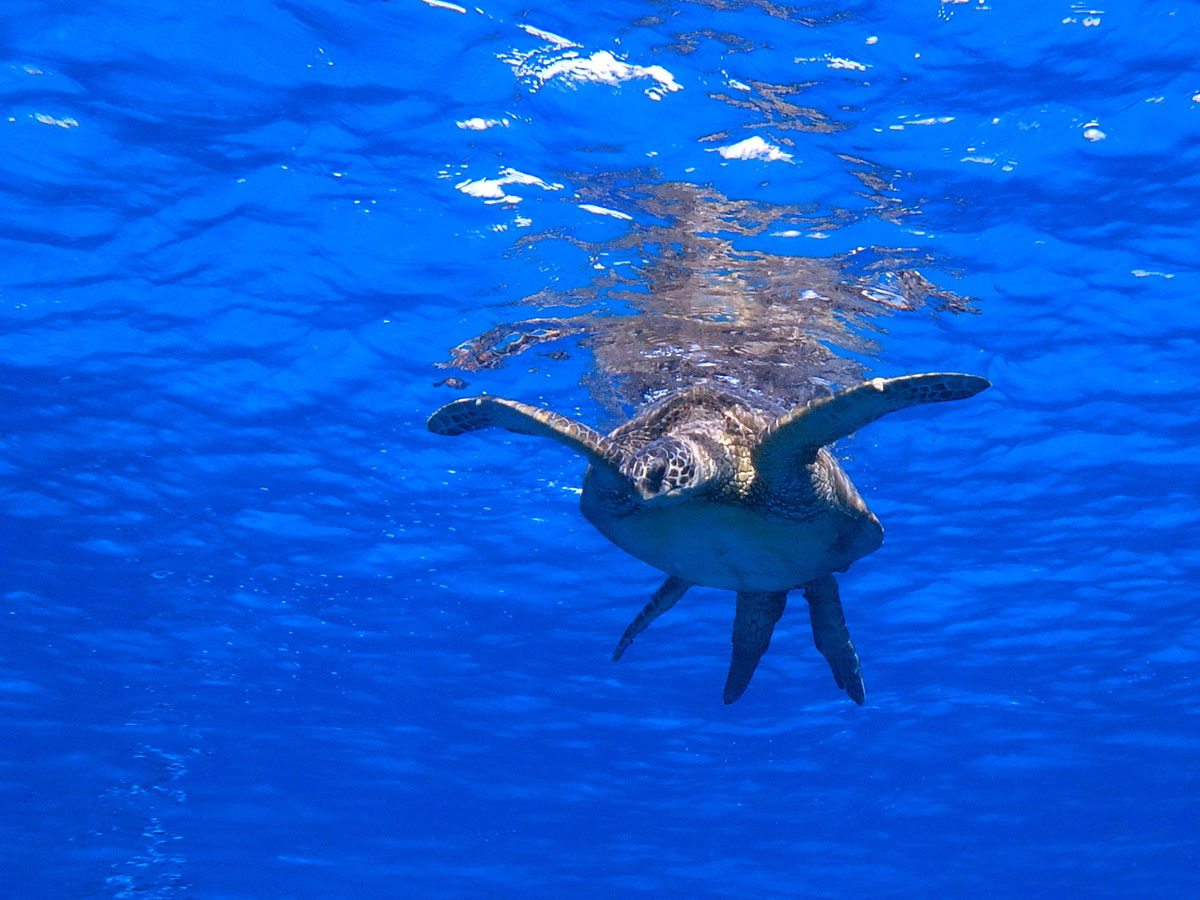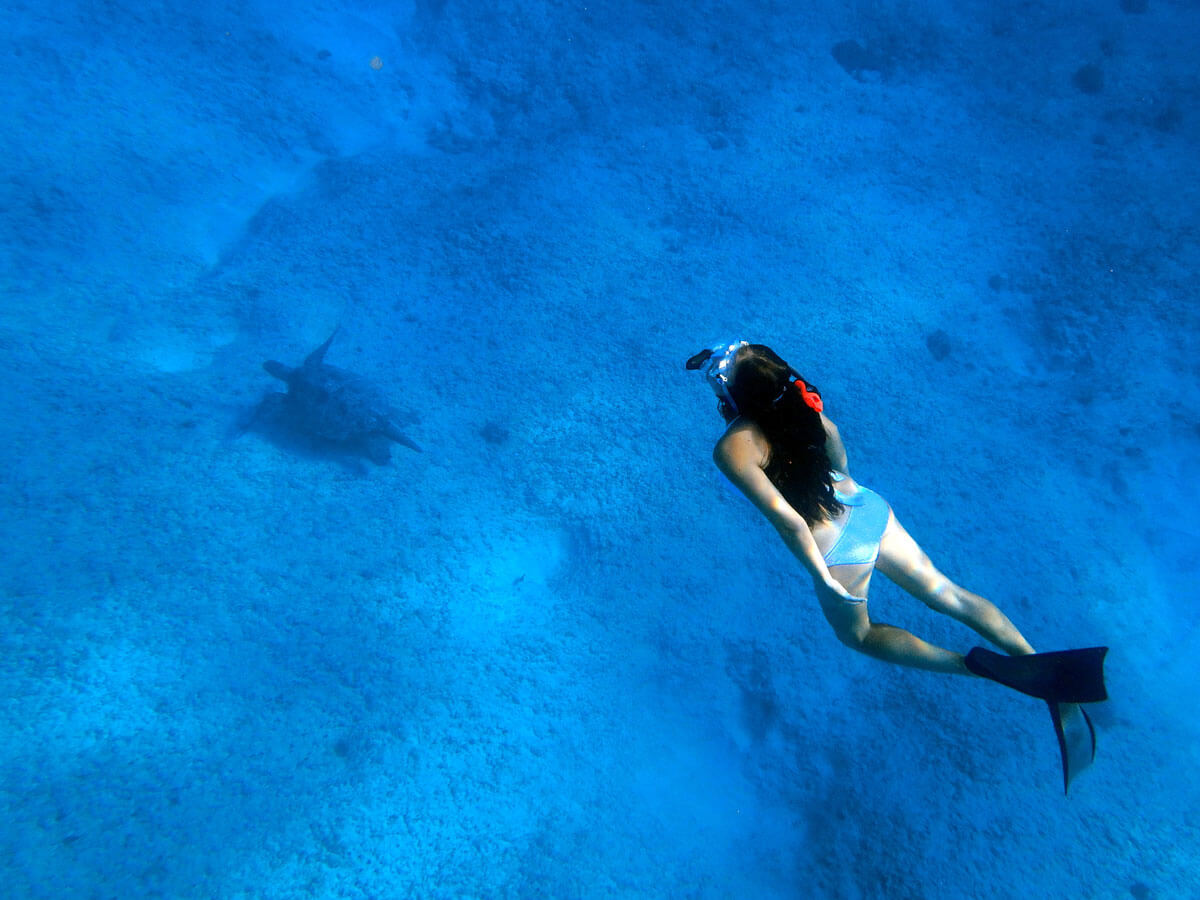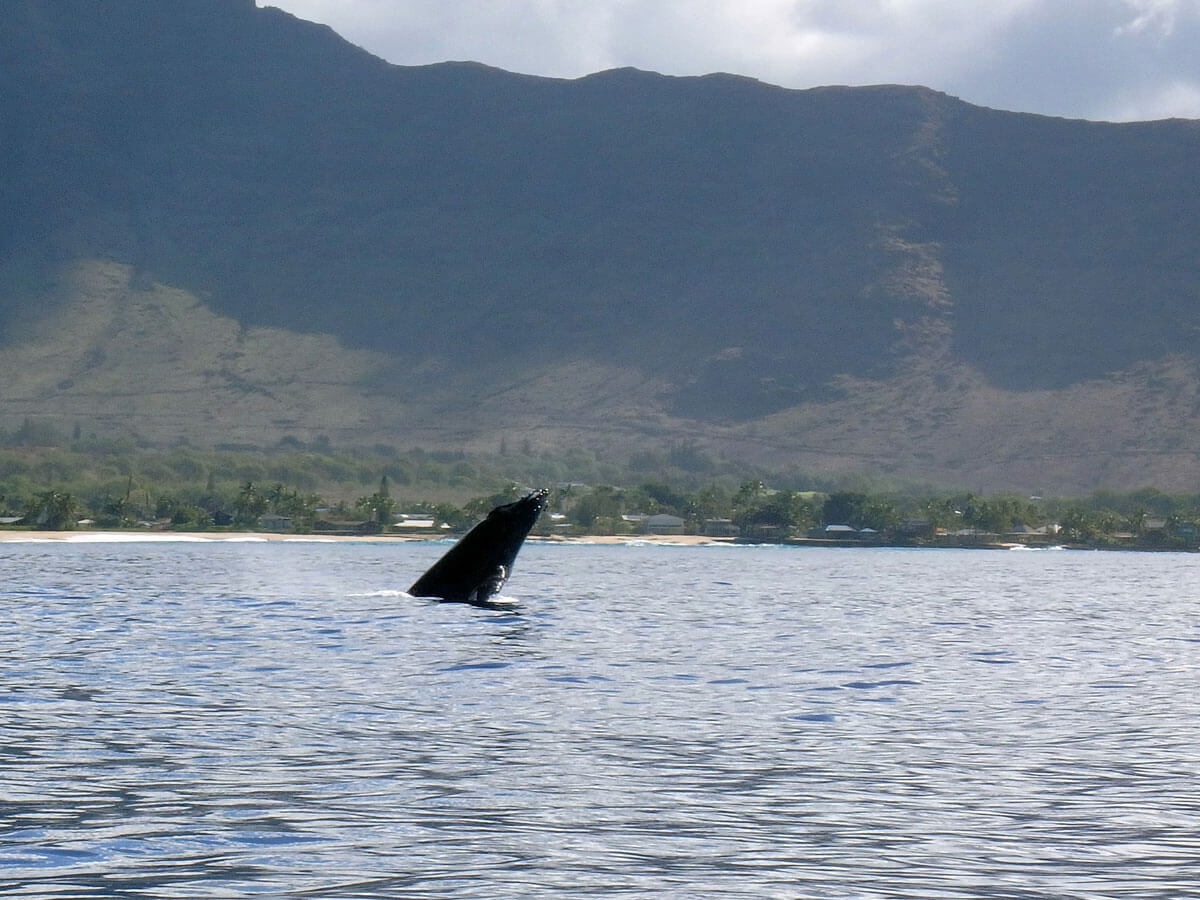 Stand Up Paddling
I've always wanted to try Stand Up Paddling and on Oahu at Uncle George's i was finally able to try it.
Read more about Activities on the different hawaiian Islands here.
Snorkling in Hanauma Bay
I would NOT recommend snorkling in Hanauma Bay. I was so disappointed. First of all you have to pay for even getting down to the beach, second you have to watch a video about security and so on and third the underwater world is not that good as I've already seen it at other places such as Egypt, Australia and Maldives. Another reason for not going there is, that there are way too many people in the area and specially way too many people that are not respecting the nature at all. We were getting there really early to be able to be one of the first in the water, but even at this time it was already pretty crowded. I would not go there again and I wouldn't recommend it to anybody who was been snorkling before. If it's your first time snorkling you might want to give it a try, because the fish are lovely (but the corals are dead).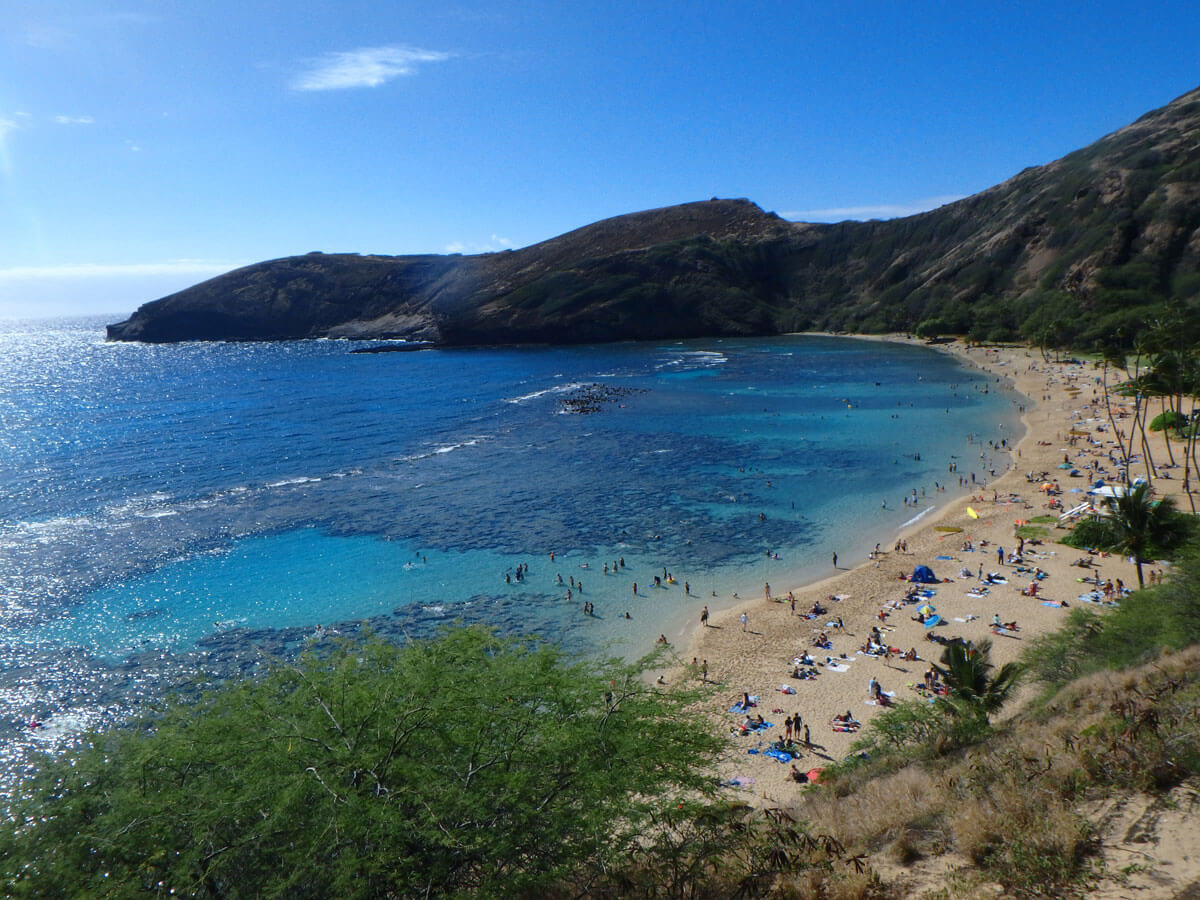 Accommodation Oahu
If you're on the island for more than 4 or 5 days, I would recommend 2 different accommodations. Getting a room in Honolulu area is lovely for a few nights and the location is pretty good as it's somehow in the center of the island. I loved staying in Waikiki, because even if i didn't enjoy Waikiki Beach during the day, it was nice to have restaurants and some shopping in the night. Getting a second accommodation for 1 or 2 nights on the North Shore might make life easier, because you won't have to drive that much. Specially if you're going for one of the snorkling boat tours I would recommend an accommodation not far from Wai'anae where the tours are departing at.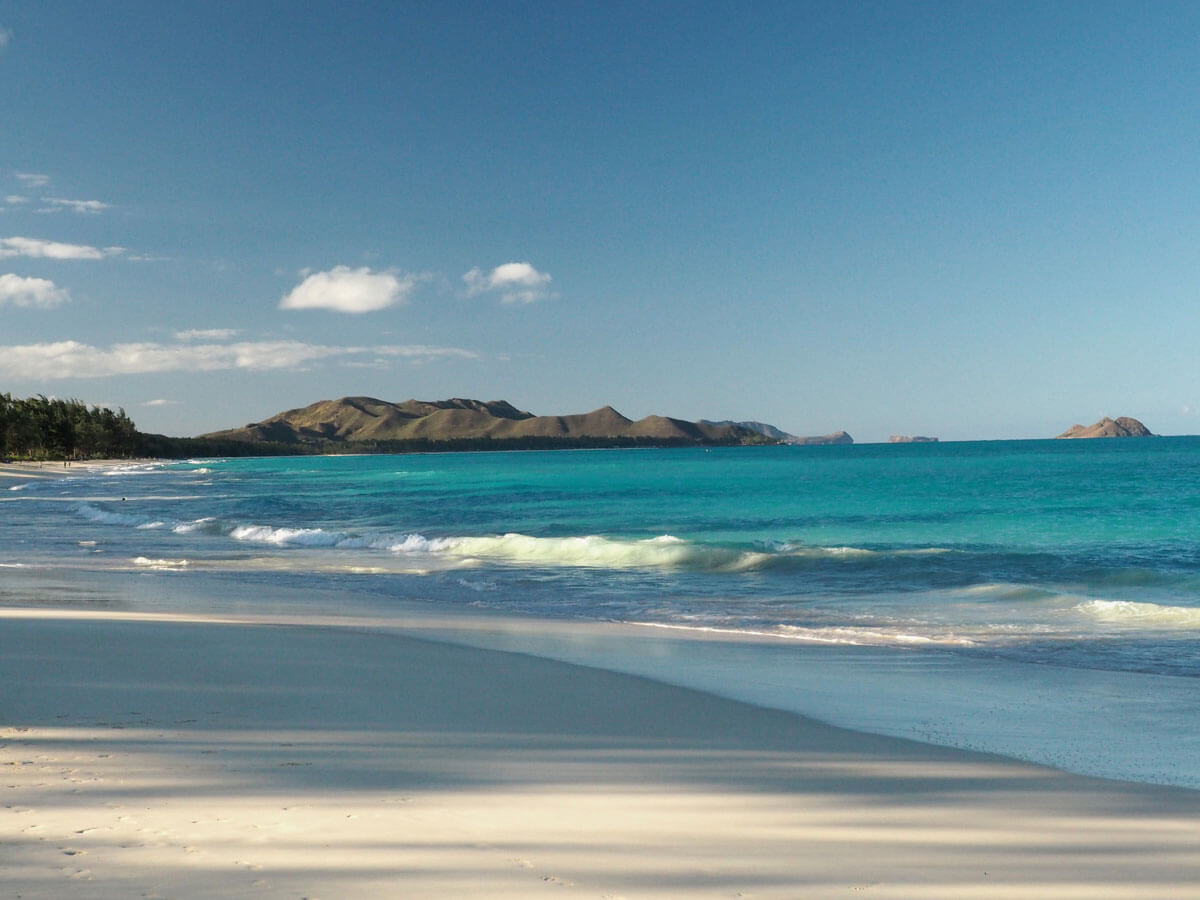 Merken