A product could not be loaded.
A product could not be loaded.
The Greek island of Mykonos in the Cyclades is not only a party hotspot but simply a beautiful island with great beaches and many cute little streets and places. It's a clear paradise for amazing photos for your Instagram channel. I want to introduce the most beautiful places to you.
The Cyclades are a Greek archipelago, to which not only Mykonos, but also Milos, Naxos and Santorini belong. I have been writing about Santorini before. You can read the best tips for Santorini and the most beautiful sunset locations in Santorini on the blog.
Mykonos Town
Mykonos City is THE place to visit in Mykonos. It is also the place where most people and parties take place, but the place is really super beautiful and has so many alleys, churches and windmills.
The old town of Mykonos
The old town of Mykonos City is definitely one of the highlights. The many small, narrow streets are enchanting, as are the small churches and the many flags.
Very cute and photogenic in Mykonos City are: Agios Nikolaos Church and the harbor, the #Happiness Store, the Metropolitan Church or the church Αγία Κυριακή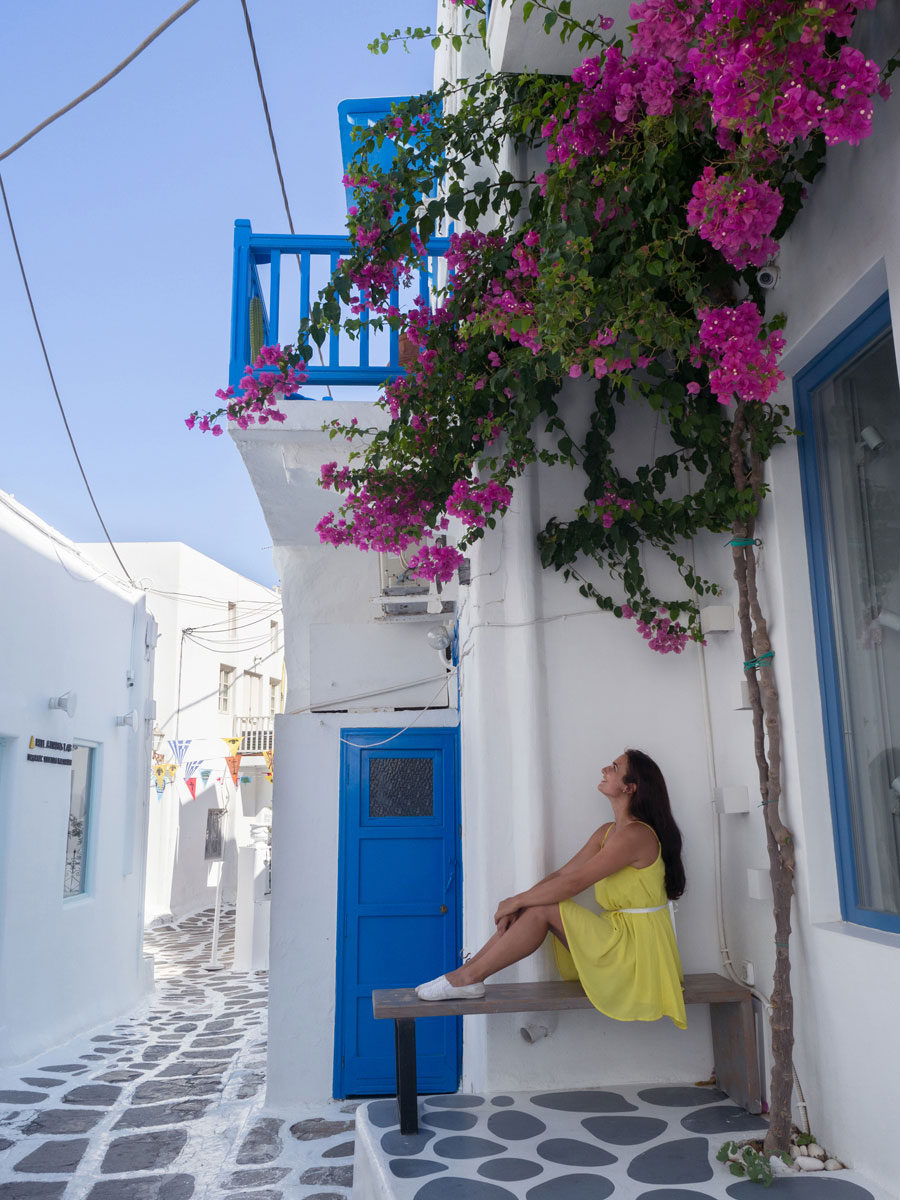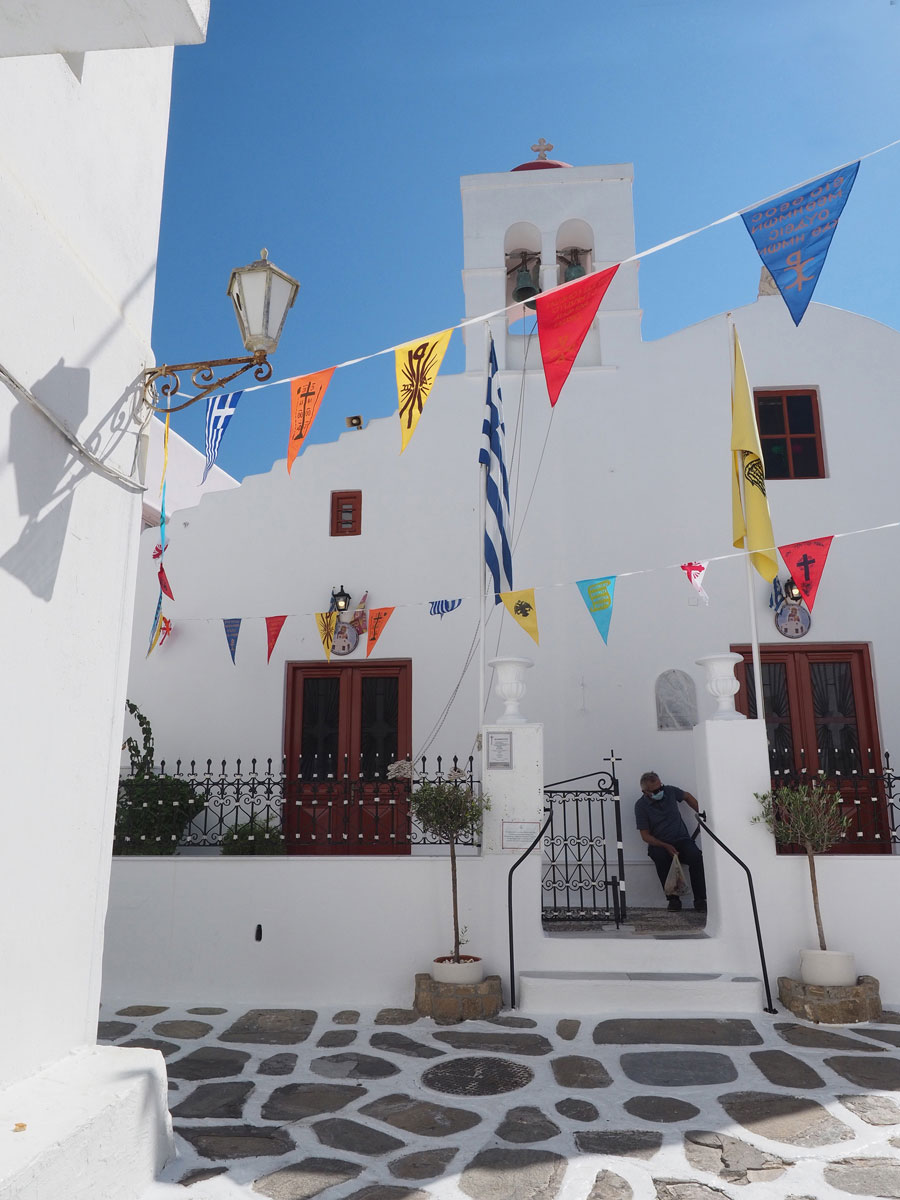 Windmills Kato Milli
The 5 famous windmills, which stand side by side on a small headland towards the sea, are one of the most popular destinations. The sunset at the windmills is very beautiful, but it can get quite crowded here. I would recommend an early excursion, like everywhere else in Mykonos city, if you want to take pictures without a lot of people around. Sunrise is wonderful here as well and the place is pretty empty. I do recommend going for sunrise as the light will hit the windmills in a nice way.
Little Venice
Little Venice was one of the places in Mykonos City that are recommended everywhere. I wasn't quite sure if this place wasn't a bit overrated, but then I was really excited. The view of the slightly sloping buildings built directly above the water is really great. I was surprised here by the restaurants in the area. The prices arent that much more expensive than many other restaurants in Mykonos and the food was good.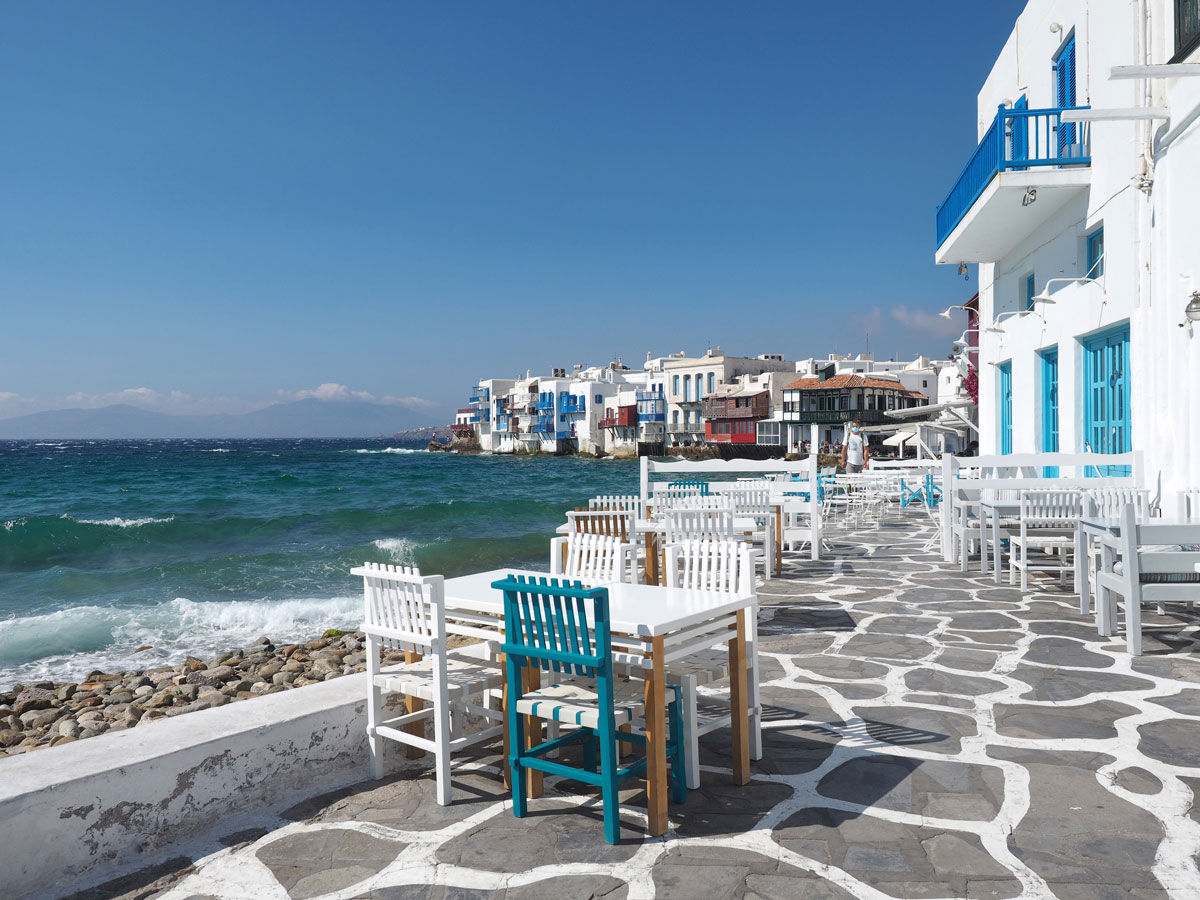 Boni's windmill
Windmills can be found all over the island of Mykonos. But one of my favorites was definitely Boni's windmill, because the view is just fantastic.
Until recently an insiders' tip for sunset, there are a lot of people around here at sunset, making it almost impossible to get a good spot or take nice pictures of the windmill. So this turned out to really be a spot for sunrise now. From the windmill you are having a great view over the whole town of Mykonos and you also have a great view over the windmills Kato Milli.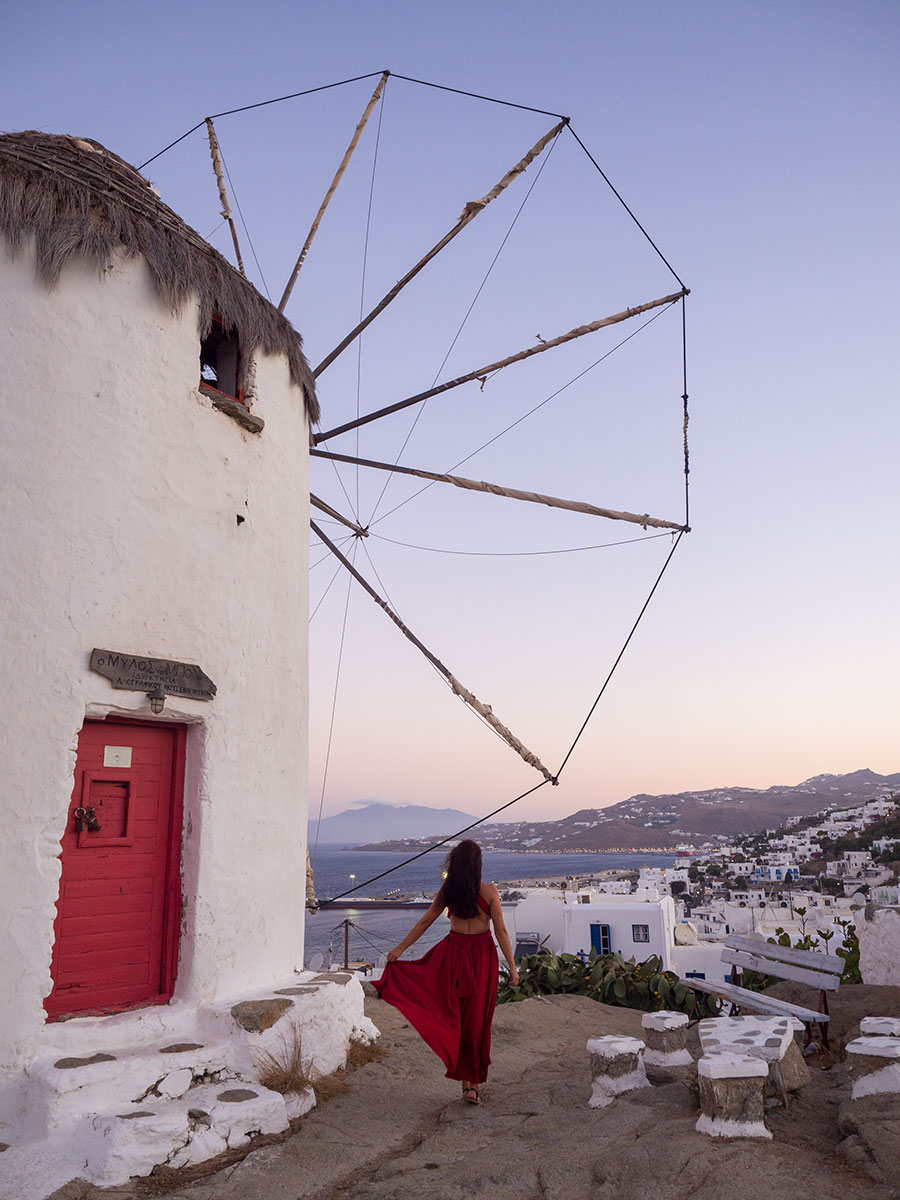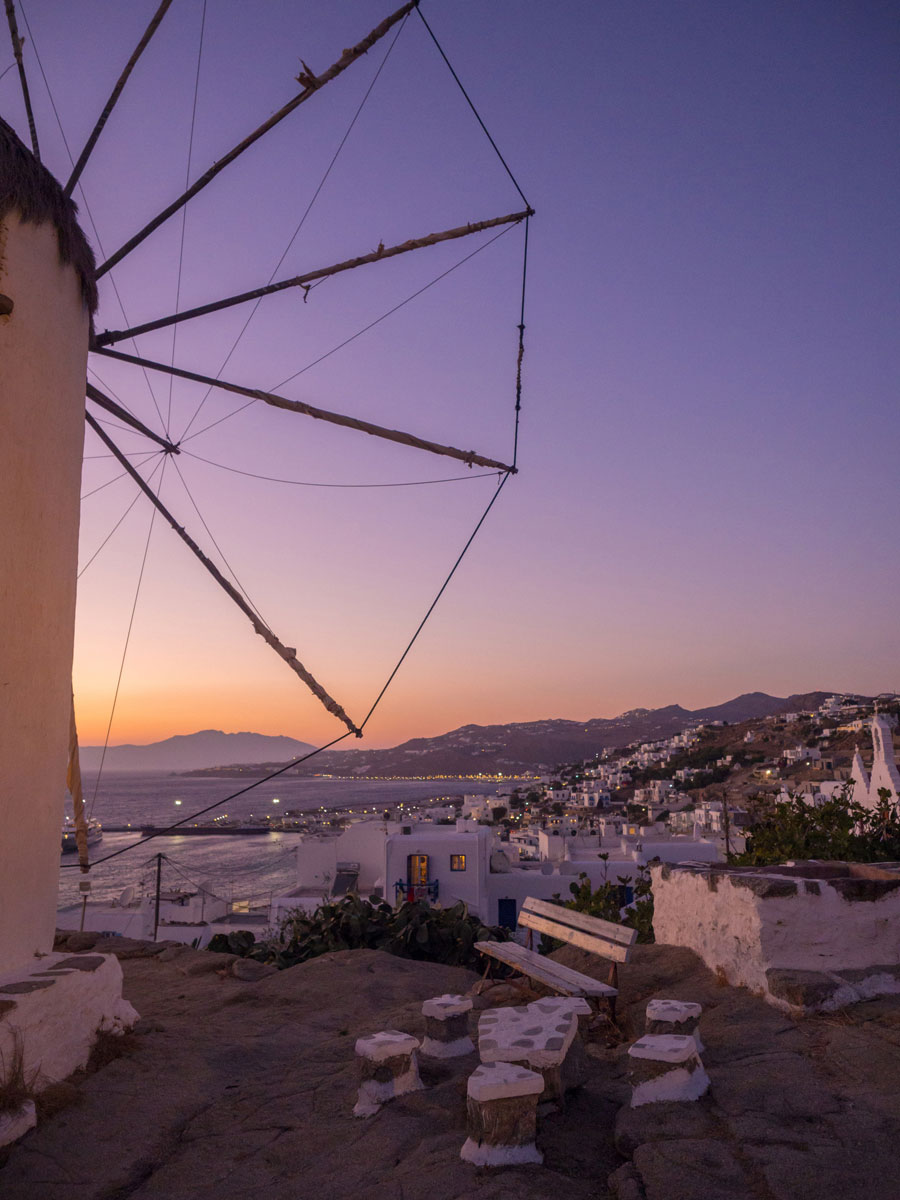 Paraportiani Church
The white orthodox church, located not far from Little Venice, is an extraordinary highlight. A white building doesn't really stand out in Mykonos, but this church stands out because of its strange shape. By the way, the construction of the church started in the 15th century, but it was not completed until 100-200 years later.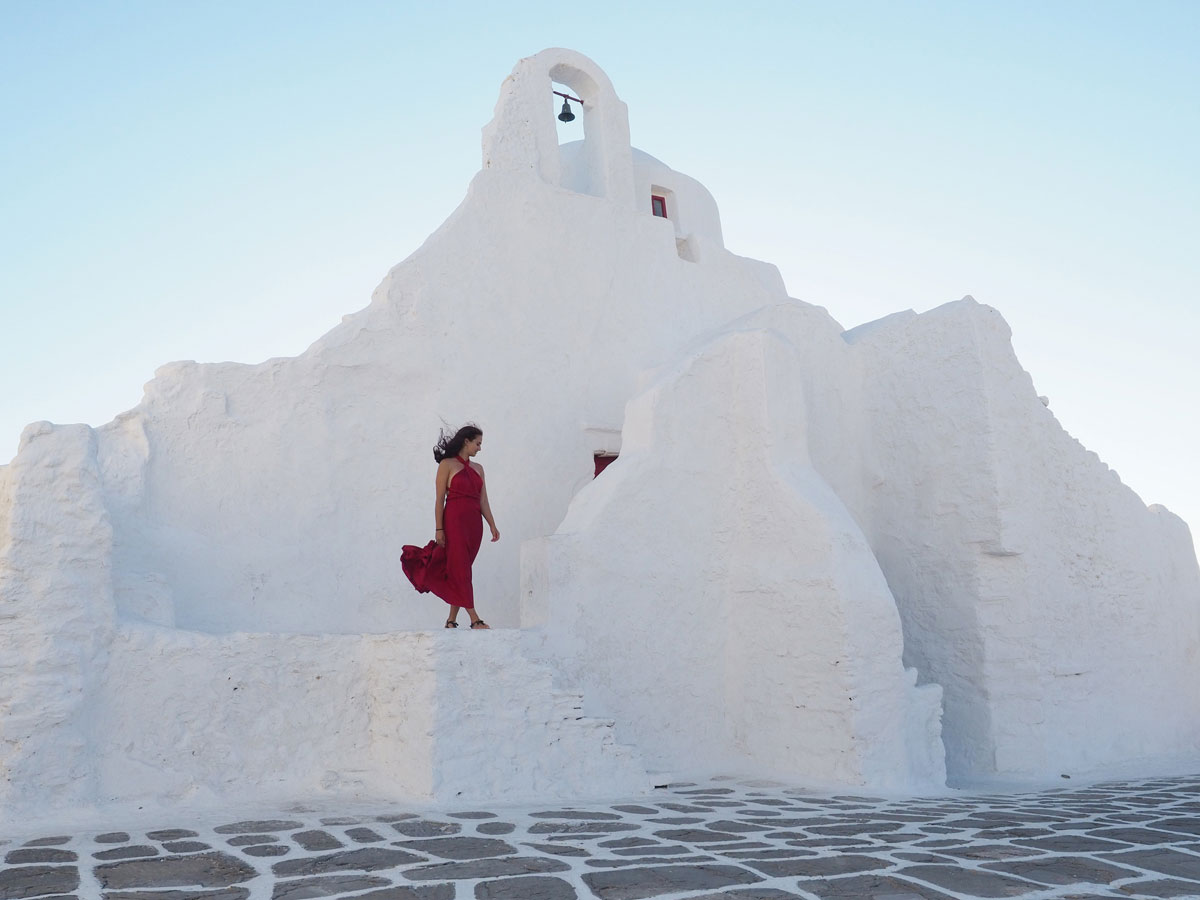 Reiseführer für die griechischen Inseln, Amazon
Ano Mera – a beautiful and more traditional village
Mykonos is a very wealthy noble island and therefore a rather less traditional island in many places. If you want to visit an even more quiet, more traditional place, I recommend Ano Mera. The place is not very big, but you can find some good restaurants and it is just a bit more Greek and charming. I can highly recommend a trip in the evening here!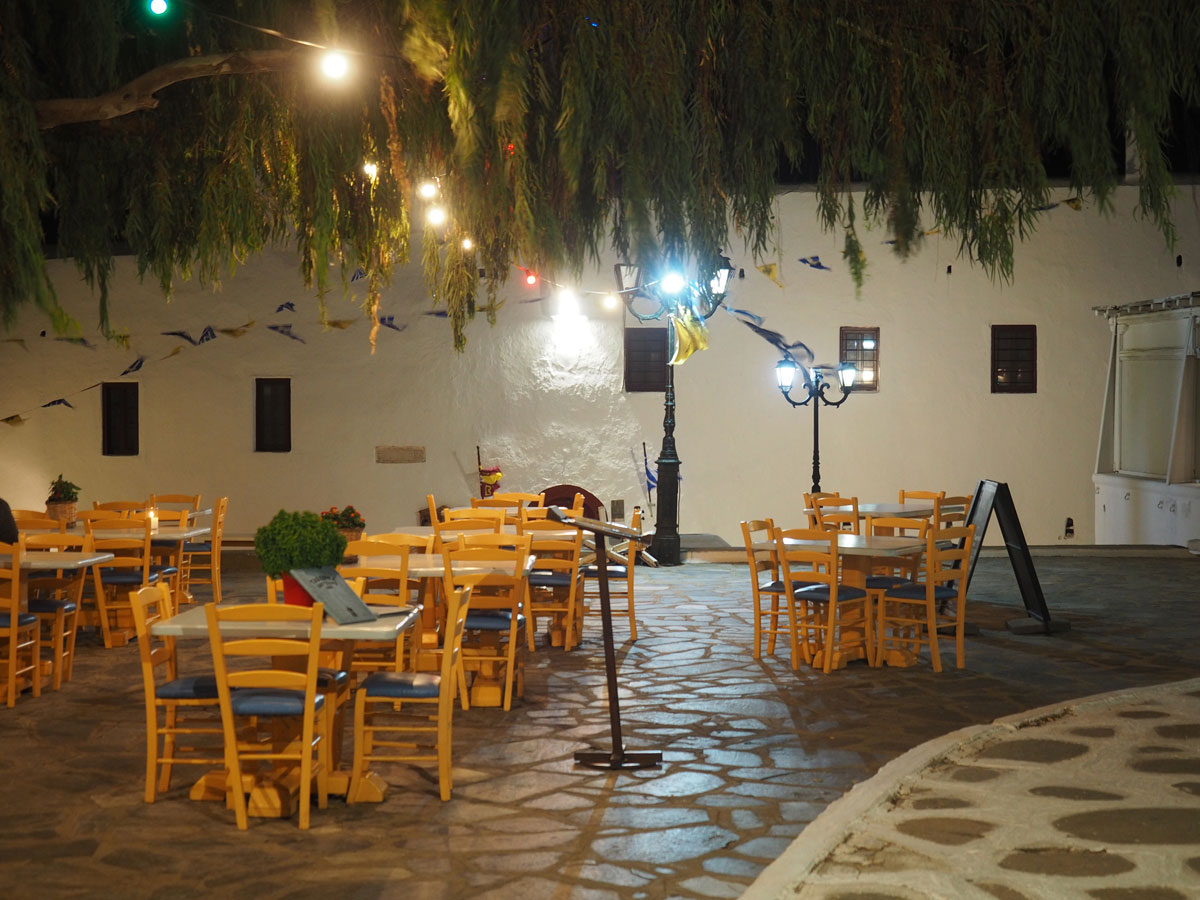 Sunset at the Armenistis lighthouse
One of the best sunset locations in Mykonos is definitely the place where the lighthouse is located on the cliff. The lighthouse does not stand directly on the cliff and you can even walk around it. The lighthouse is located in the northwest of the island. Without a car or a quad you can't get there. If you are afraid of driving in the dark, you should leave early after sunset to drive back to the interior of the island, because the street is pretty steep and curvy in the beginning.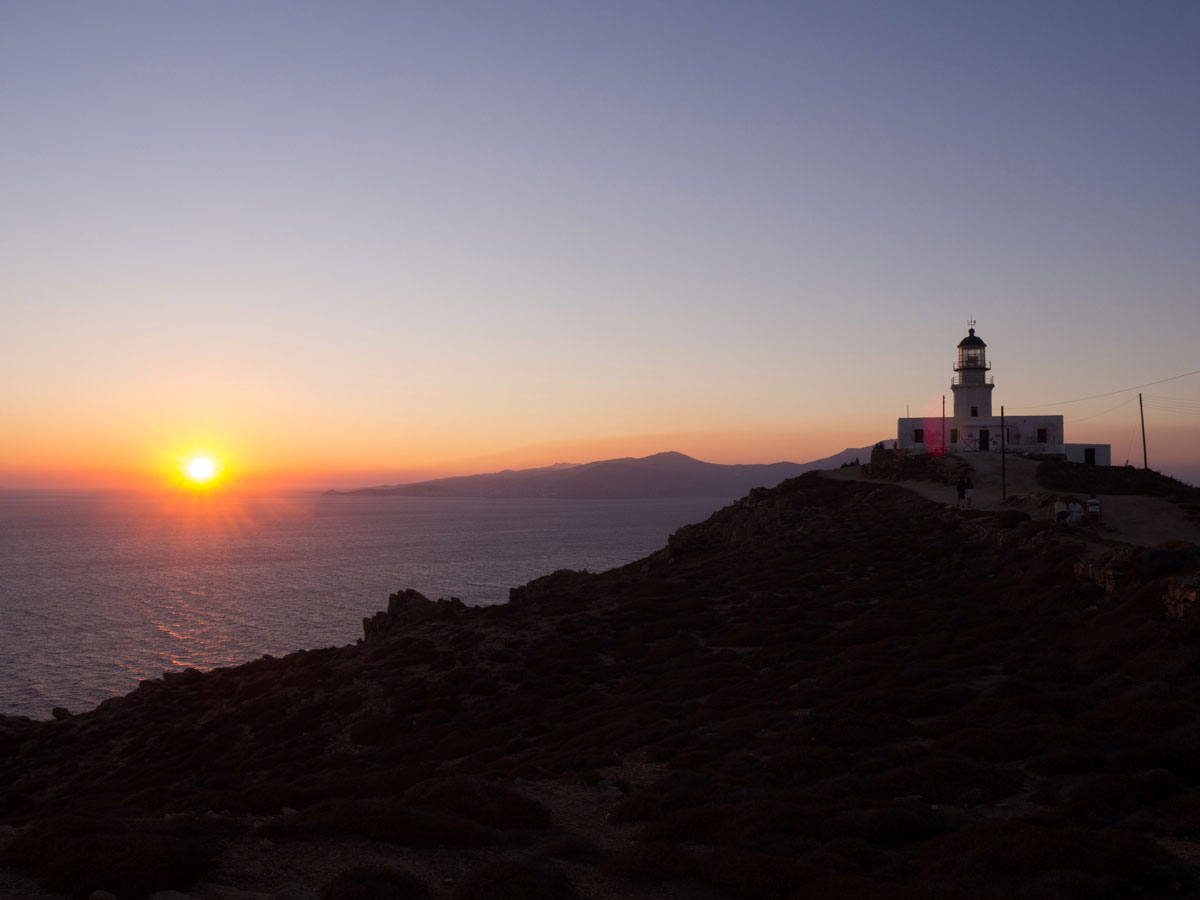 The best beaches of Mykonos
Kalafati Beach for sun seekers
Our absolute favorite beach was Kalafati Beach in the east. Here you have everything you could wish for – sunbeds, sports facilities and also a large area for those who don't want to rent a sunbed & umbrella.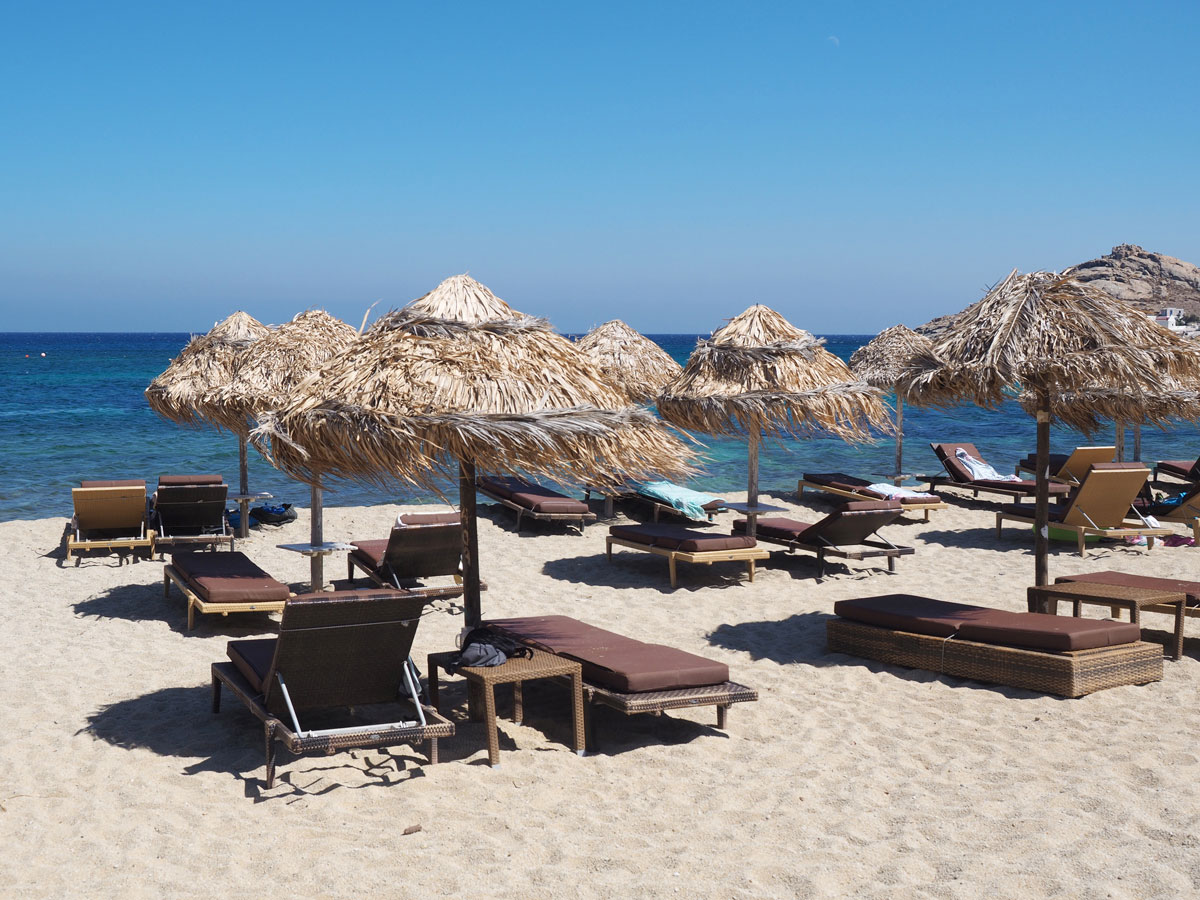 Ftelia Beach for loners
A completely deserted beach is located in the north of the island, the Ftelia beach. Getting there is a little adventure, the road suddenly ends and you have to drive on a gravel / sand road (it is easily doable, still, we were surprised). The beach was almost completely empty during our stay.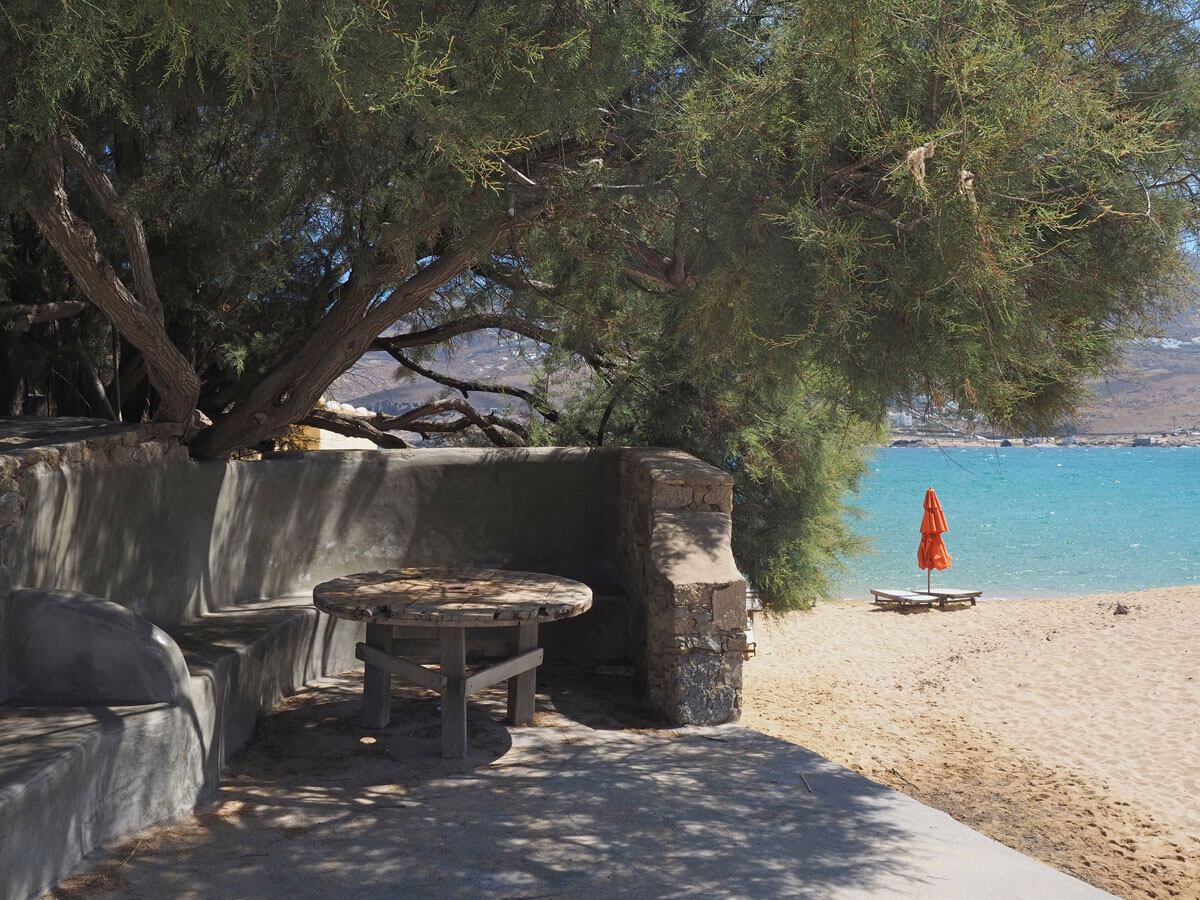 Ornos Beach for kiters or noble guests
If you are looking for something more noble, the beach on the southern side of Ornos is the place to be. There are many chic bars, restaurants and sunbeds with umbrellas as far as you can see. For the sportsmen the northern beach of Ornos is a good place to go kiting.
Palaria Psarou for sun lovers and noble guests
Another favorite beach we visited was Palaria Psarou. Here is also a relatively large area reserved for those who don't want to rent a sun bed and umbrella and there were hardly any guests when we were there. With a noble shopping center next door, there is also an area for those who prefer something classy. What I was missing here, however, were the showers and public toilets – at least we couldn't find any.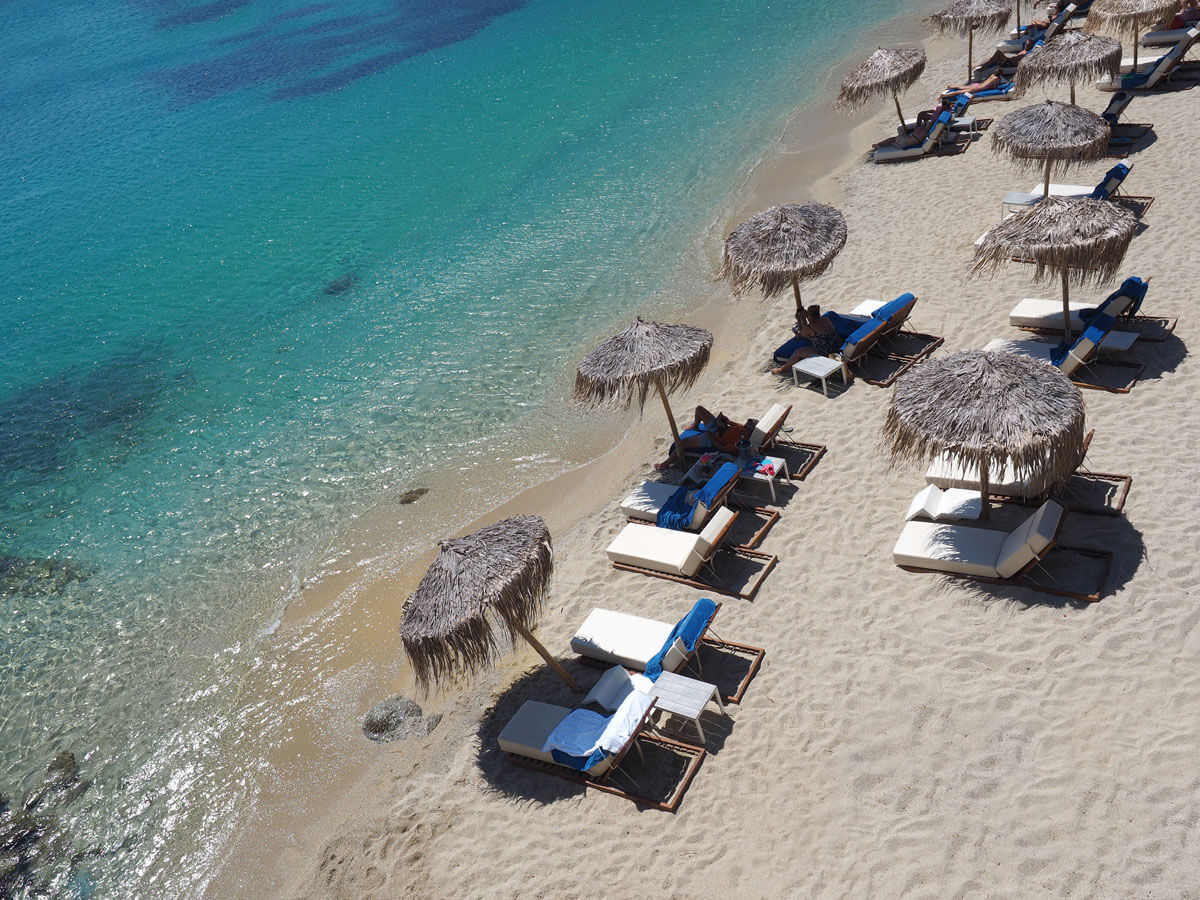 Paralia Megali Ammos for those who wish for an amazing view
The Paralia Megali Ammos, located right next to Mykonos City, is the beach with the best view – from here you can directly see the windmills. It is also not far from the center of Mykonos City.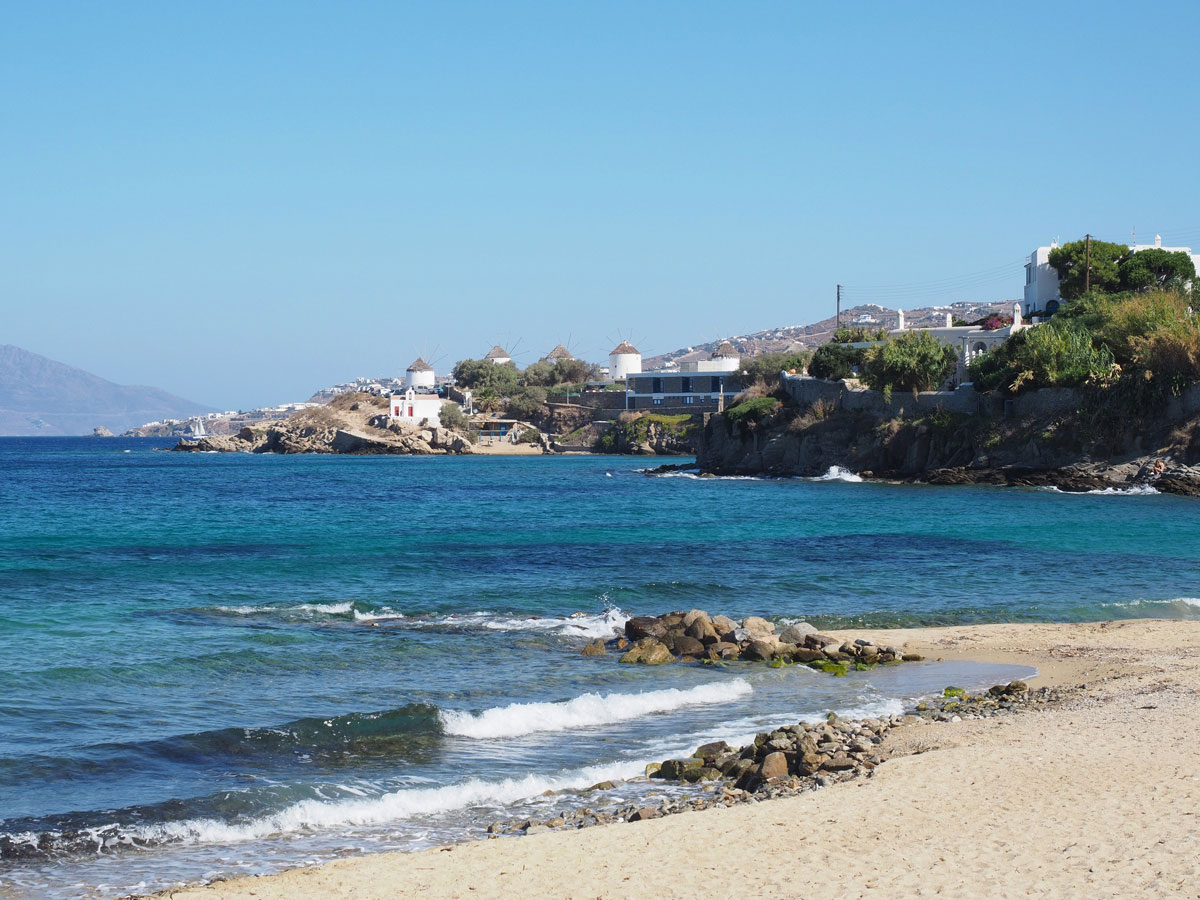 General tips for your stay in Mykonos
Mykonos is a party place
By now it is well known that Mykonos is a party island. I would describe it as the Ibiza of Greece – the parties are a bit more classy, the high heels higher, the makeup more and I feel like a lot of girls have been working on their bodies and lips together with a plastic surgeon…. But you can also avoid the parties and visit the beautiful places the island has to offer.
Mykonos is not necessarily cheap, although it's in Greece
If you're thinking of Greece as a mostly cheap place, you will be surprised by the more pricey Mykonos. As I've mentioned before, Mykonos is a party place and therefore the prices have been rising. You can get a glass of housewine at a bar for around 7 euros if you're not searching for cheaper places. But there are also much cheaper restaurants and bars, you just have to keep your eyes open. Especially Ana Mera is not that crazy expensive.
Hotel recommendation
If you're renting out a car or a quad, I can recommend staying in Ornos. We've been staying in Ornos in Anixi Studios, which I can recommend. It's a cute place to be with a small pool.
In Mykonos town you will find many more hotels, which might be a little more pricey.
Get yourself a drivable vehicle
By bus you can explore many places of the island, but it is worth it having a car to discover some of the most beautiful corners. There are many car-, moped- or quad rental agencies in the area, I recommend booking in advance on the internet.
Renting a car
The easiest, cheapest and safest way is booking a car online in advance. We have made the experience that unfortunately the cars have a very bad insurance and that you always have a deductible of 800 Euro – there is no insurance at the providers in town that would cover the whole deductible. This can be very expensive, because greek drivers are crazy and if someone causes you parking damage, you will have to cover the costs. It is better to book a car in advance that has no deductible, even if you are a good and safe driver yourself because you never know if others might damage your car.
Quad / Moped rental
If you don't have a car, you can rent a moped or quad bike in Mykonos. The price is similar to the car, about 30-40 Euro per day (for several days it will be much cheaper), deductible is also usually 800 Euro, but with a quad chances are less that somebody will crash into it when parking. I think a quad is a lot of fun, but is less safe than a car, because it can fall over in curves if you take too much weight on one side. It is important to know that for renting a quad or a moped you need a moped driving license. The normal B-class car driving license is not sufficient for this.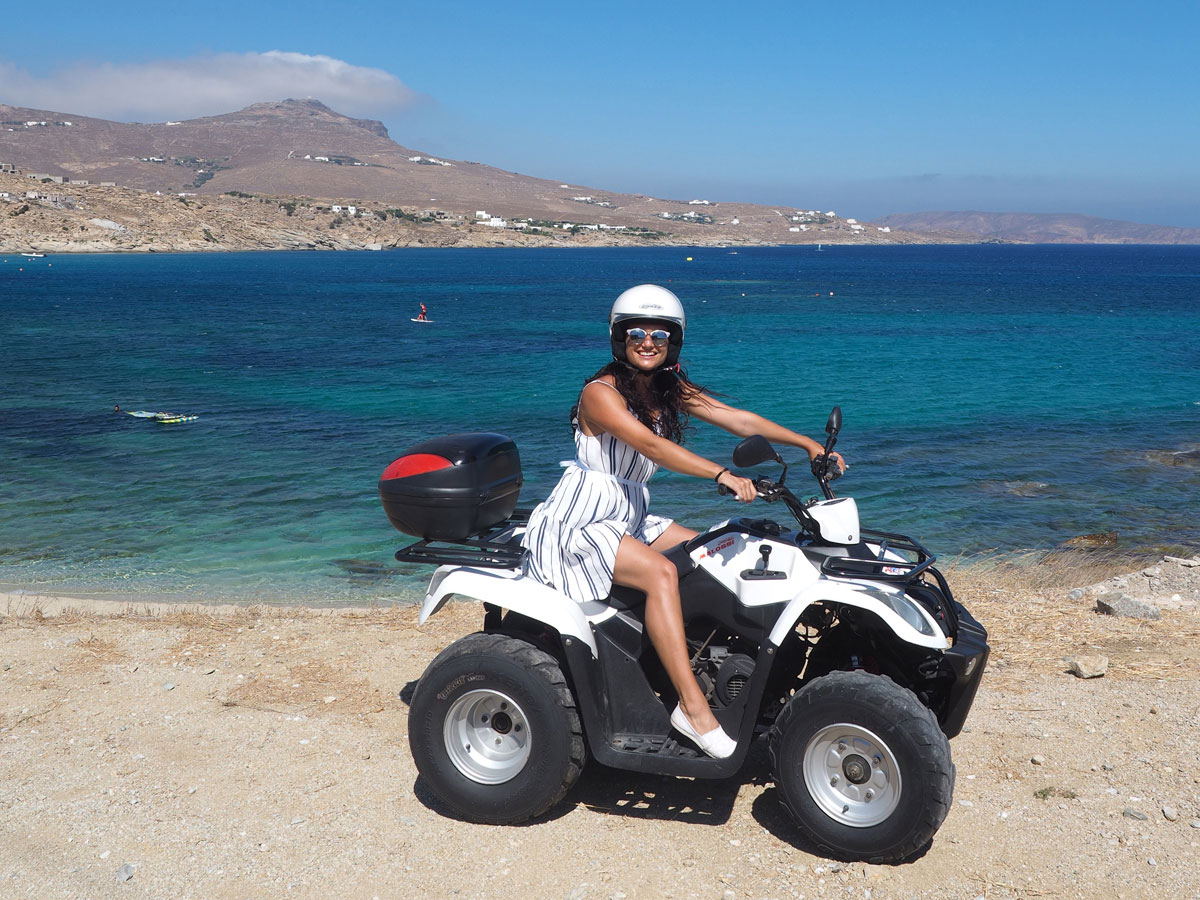 Traveling to Greece during Corona pandemic
Corona defines our life in 2020, especially when we travel. Greece has reacted relatively soon and is currently allowing tourists to enter the country, but only if you register as a tourist and fill out a form. A few hours before departure you will receive a QR Code with which you have to register on entry. According to a certain logic some tourists will be selected who have to go to a corona test, it all depends on which qr code you got. As far as I am informed, you don't have to stay in isolation until the result is available, but you should avoid contact (which you should do anyway, even without a test…). Since August there are stricter rules again – in Mykonos masks are mandatory, even outdoors. Masks are only required to be worn when walking through the alleys of Mykonos City and are only worn outdoors. There are general restrictions in Greece on ferry and air traffic.
Find more information about traveling to greece during the corona pandemic here