White buildings dipping the landscape in cotton, blue domes inbetween those white buildings and black and red beaches, giving the feeling of being on a different planet. That's typical for Santorini.
Lately, the greek island Santorini is being hyped on Social Media. The beautiful buildings, the infinity pools and the blue domes are being displayed on Social Media very often. The fascination about Santorini is not new. My mum and my grandparents have already been talking about the beauty of the greek island years ago. After going to Rhodes last year (read more about it here and here), I was hoping for coming back soon to another greek island. When a friend of mine asked me, if I want to join her going to Santorini, I couldn't resist and we were exploring the island. Santorin has more to offer than white buildings.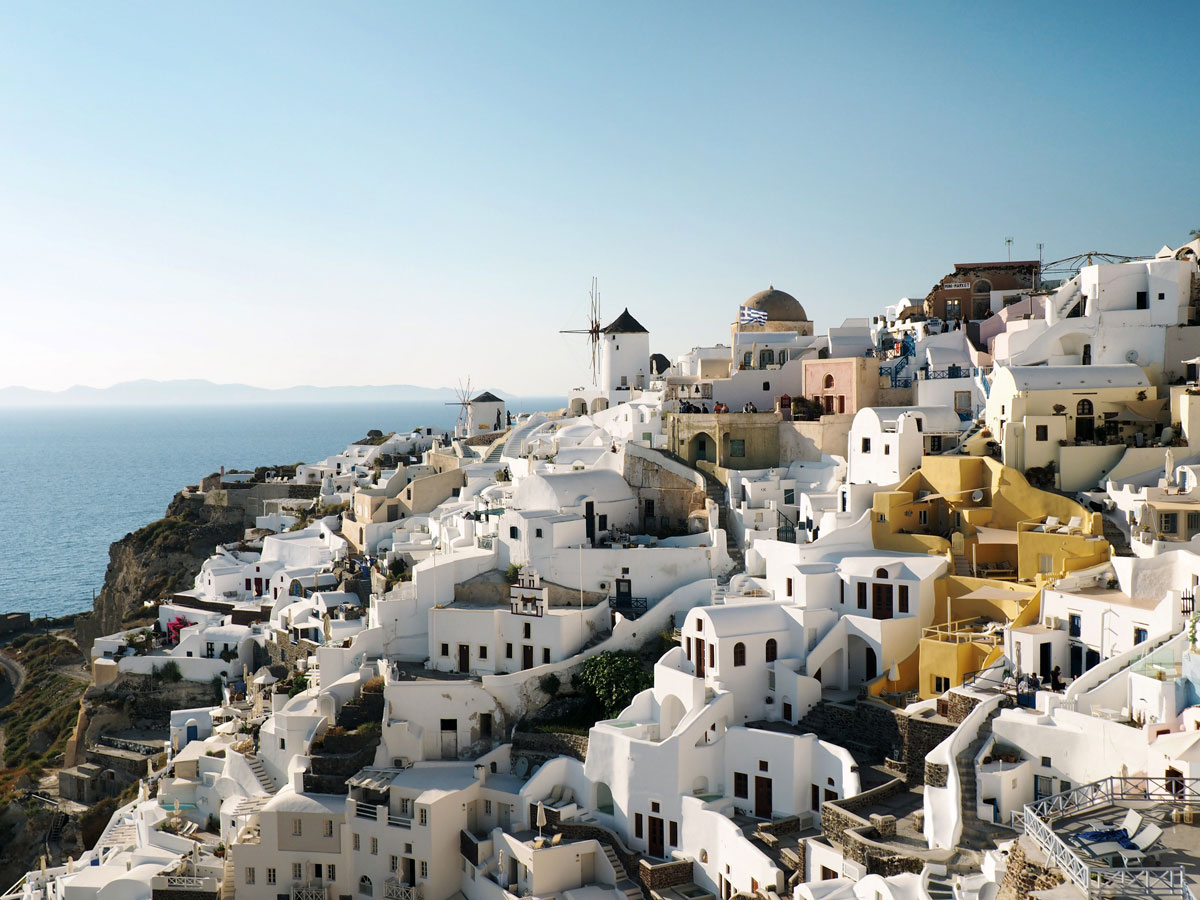 Places you have to see on Santorini
Places to stay in Santorini
Santorini offers so many beautiful hotels all around the island. If you feel like getting an awesome view every day and some instagrammable hotel, you should totally stay in Thira, Firostefani, Imerovigli or Oia.
Thira/Fira
Let's start with the touristy areas of the island. Thira is the main village on Santorini and also the island is called like that. Thira is one of the most visited touristy villages of the island. There are a lot of the typical white buildings. Inbetween the buildings are some cute little colorful churches and chaples.
Thira is the village, most cruise ships are going to, so there might be many people from those ships running around. You'll also find the tourist boats, which are taking you for trips to the volcano or Oia. From the harbor to the city center there are three ways. Either you're walking (which might be a bit tiring, due to the fact that the harbor is downstairs), you can take the back of a donkey, or go by cable car (6 Euro). We were walking downstairs and going up by cable car.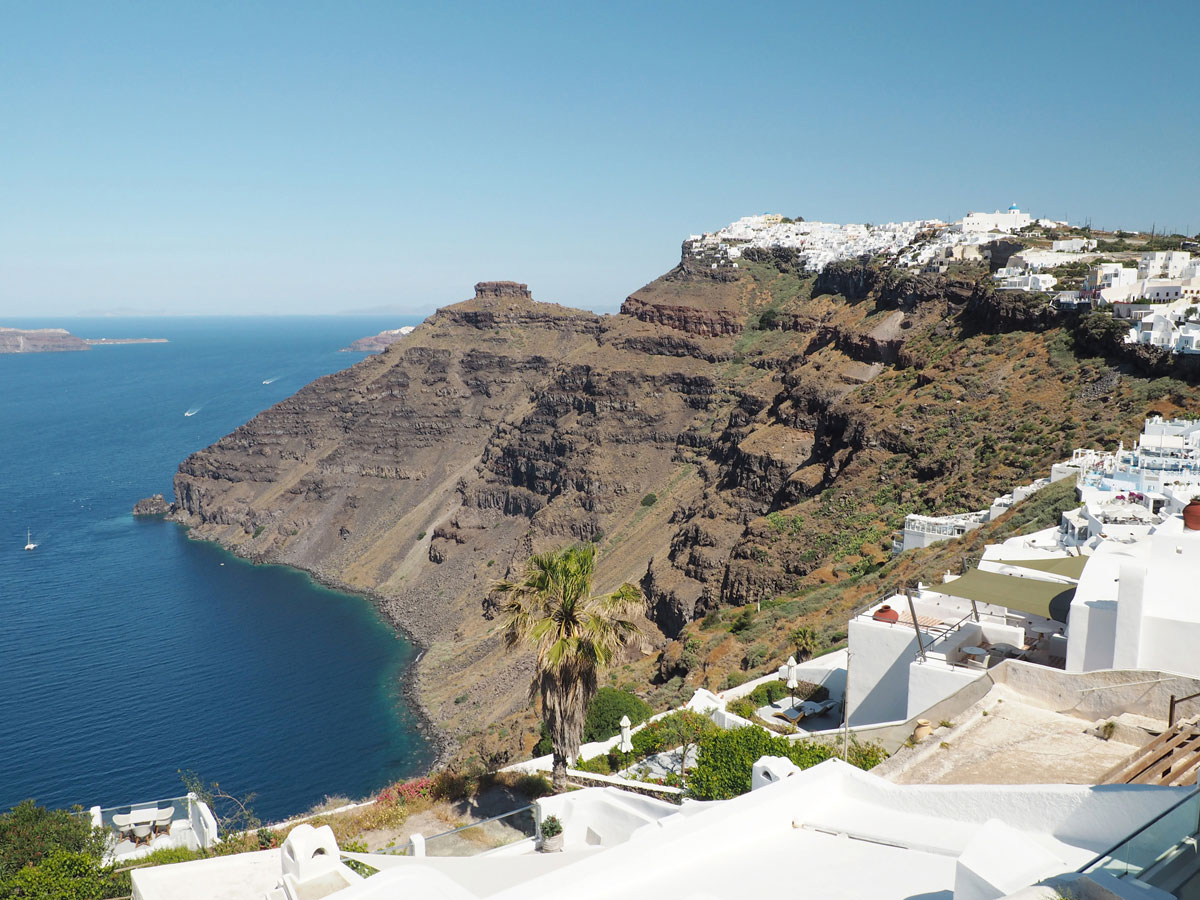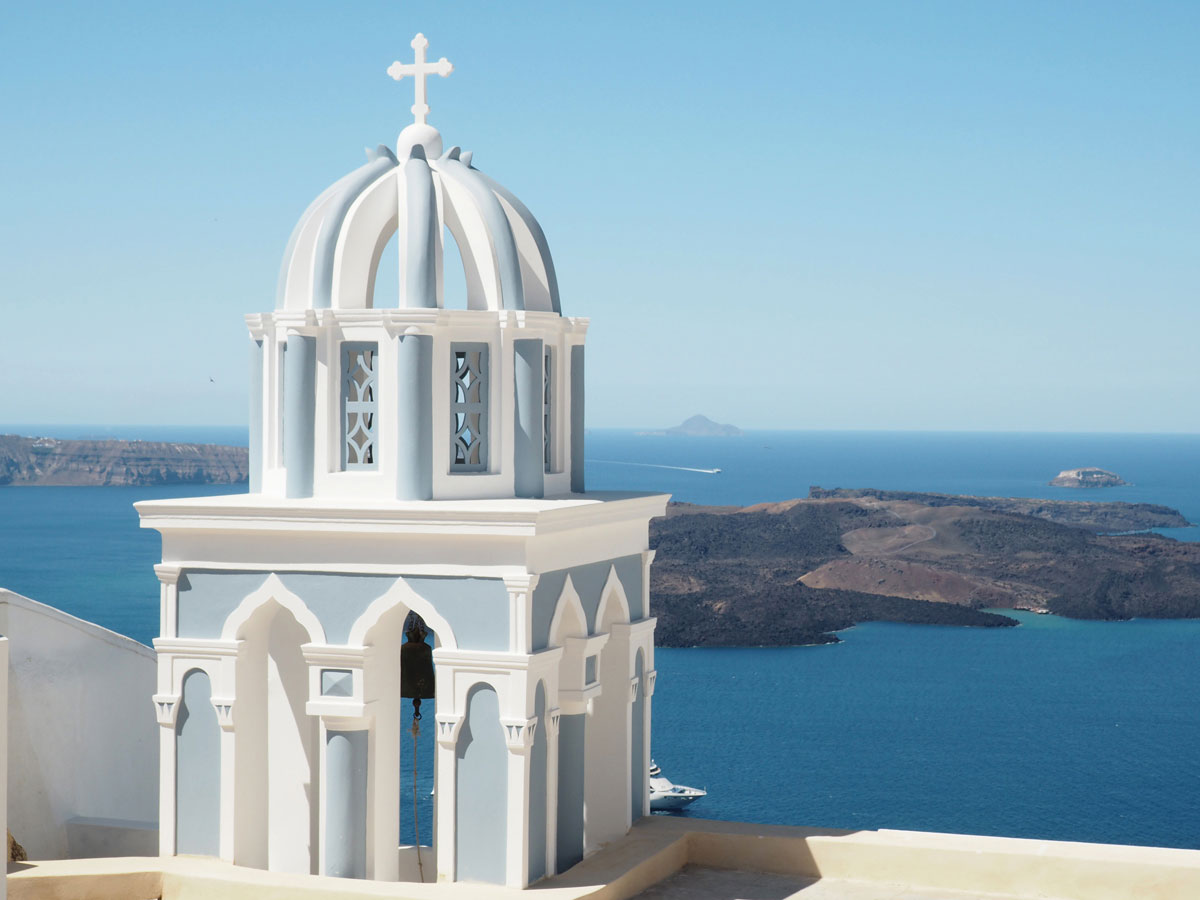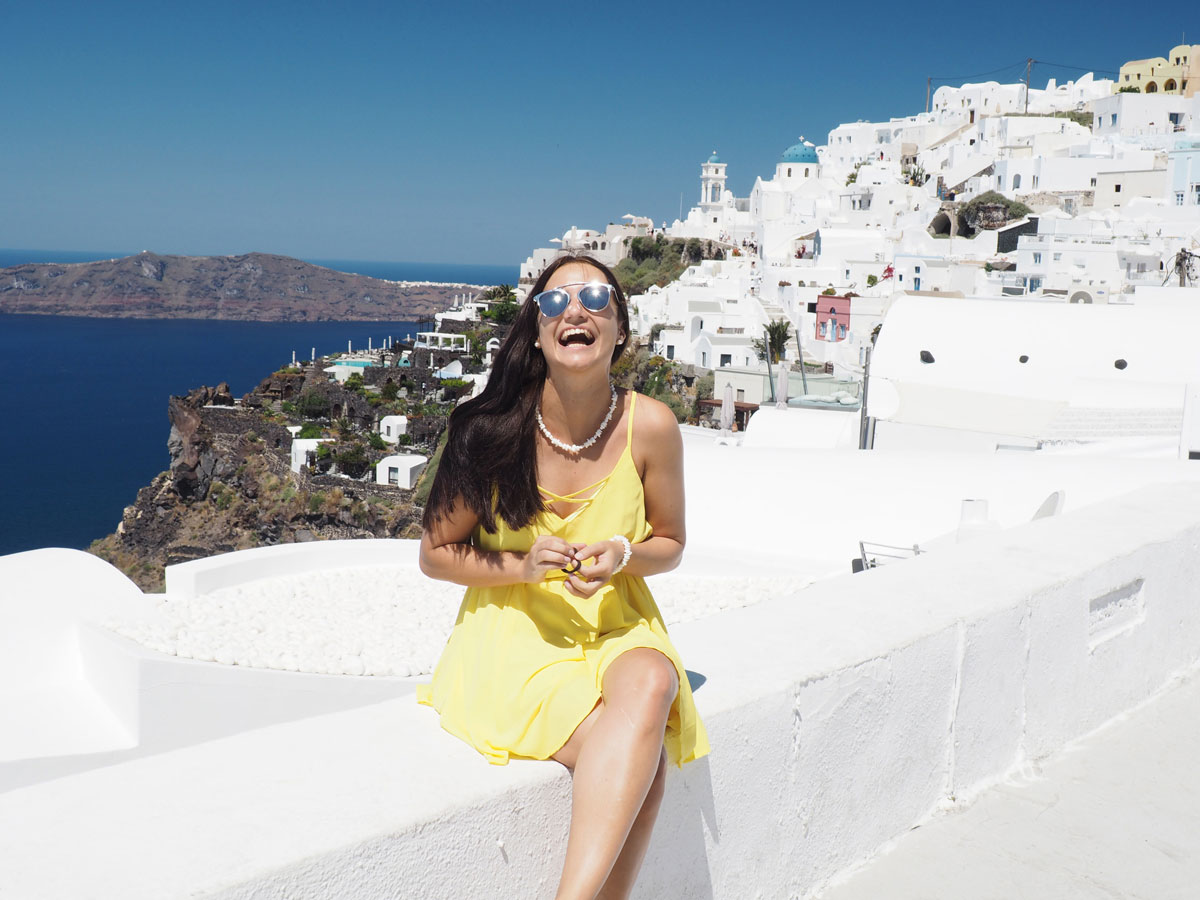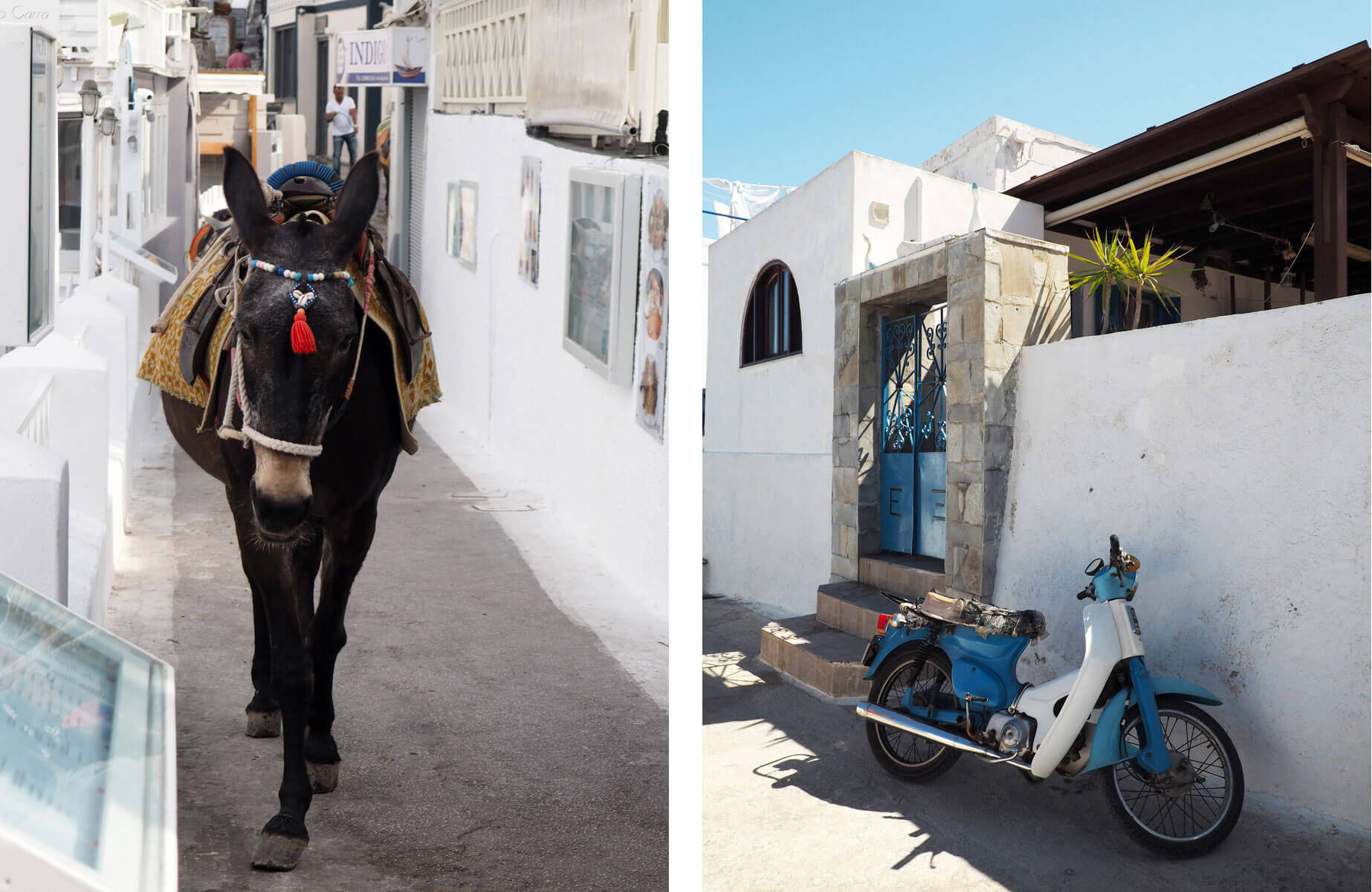 Walking from Thira to Firostefani and Imerovigli
Walking from the touristy town Thira to the less frequented tow villages Firostefani and Imerovigli is something I can recommend. Firostefani and Imerovigli are cute little villages where you won't find that many people strolling around. Therefore you can take your time and enjoy the beautiful greek streets and the amazing view on the Caldera, Skaros Rock and Oia.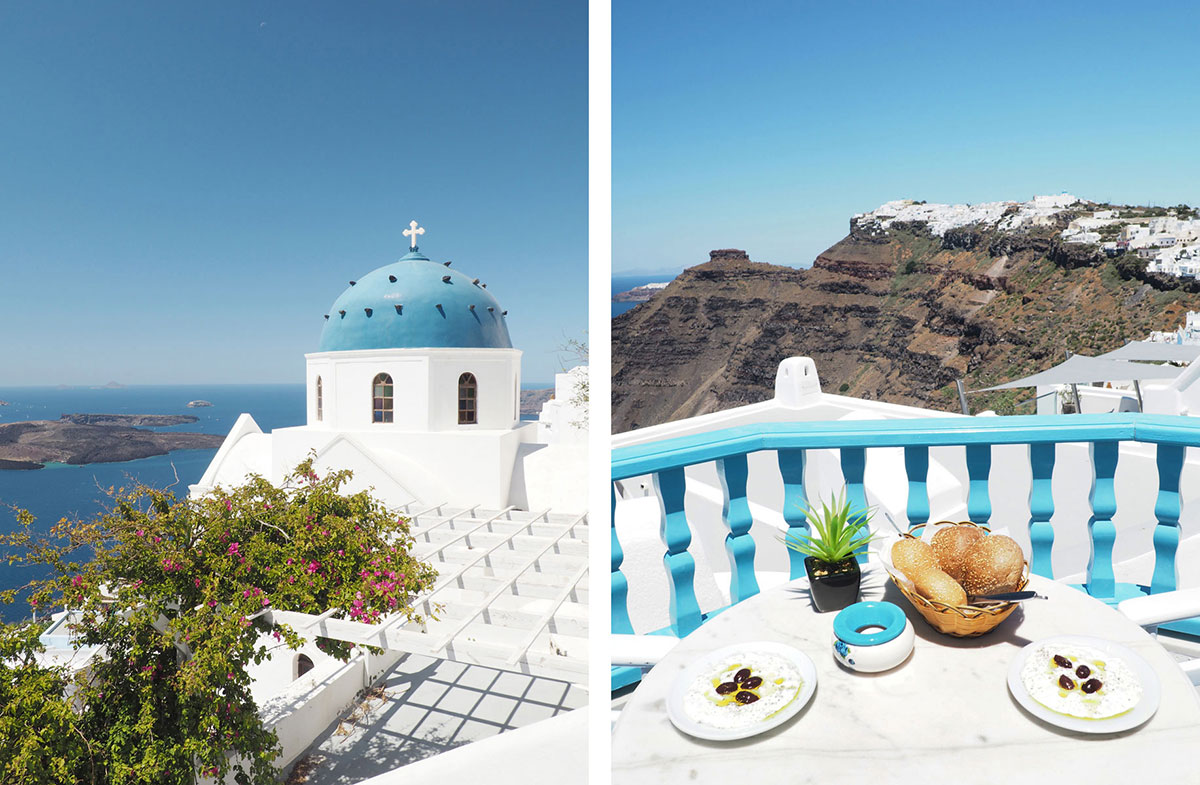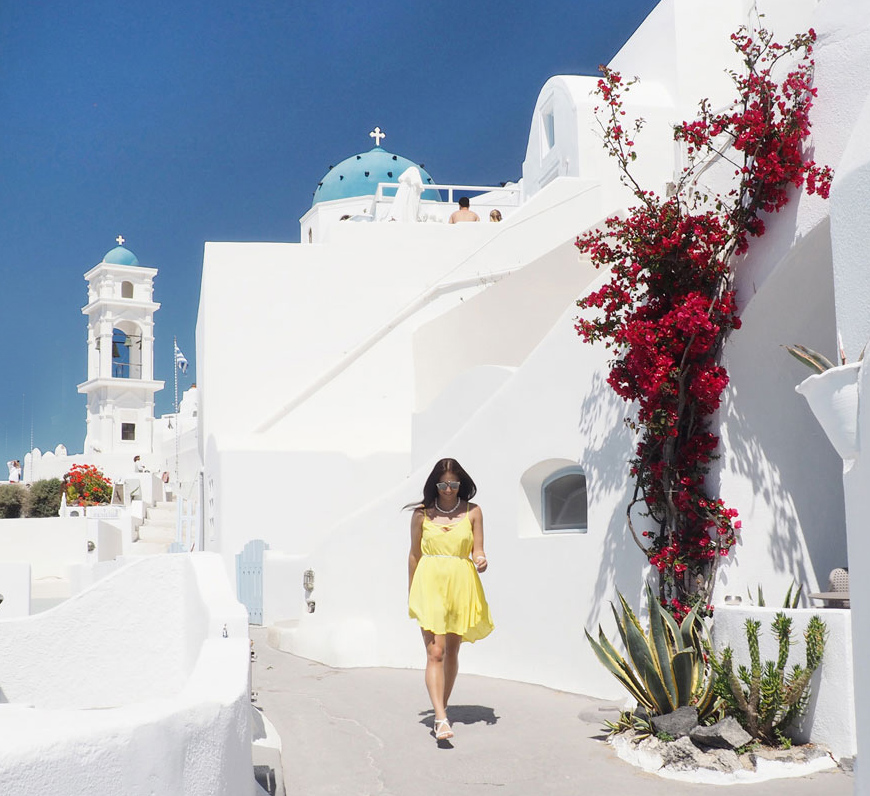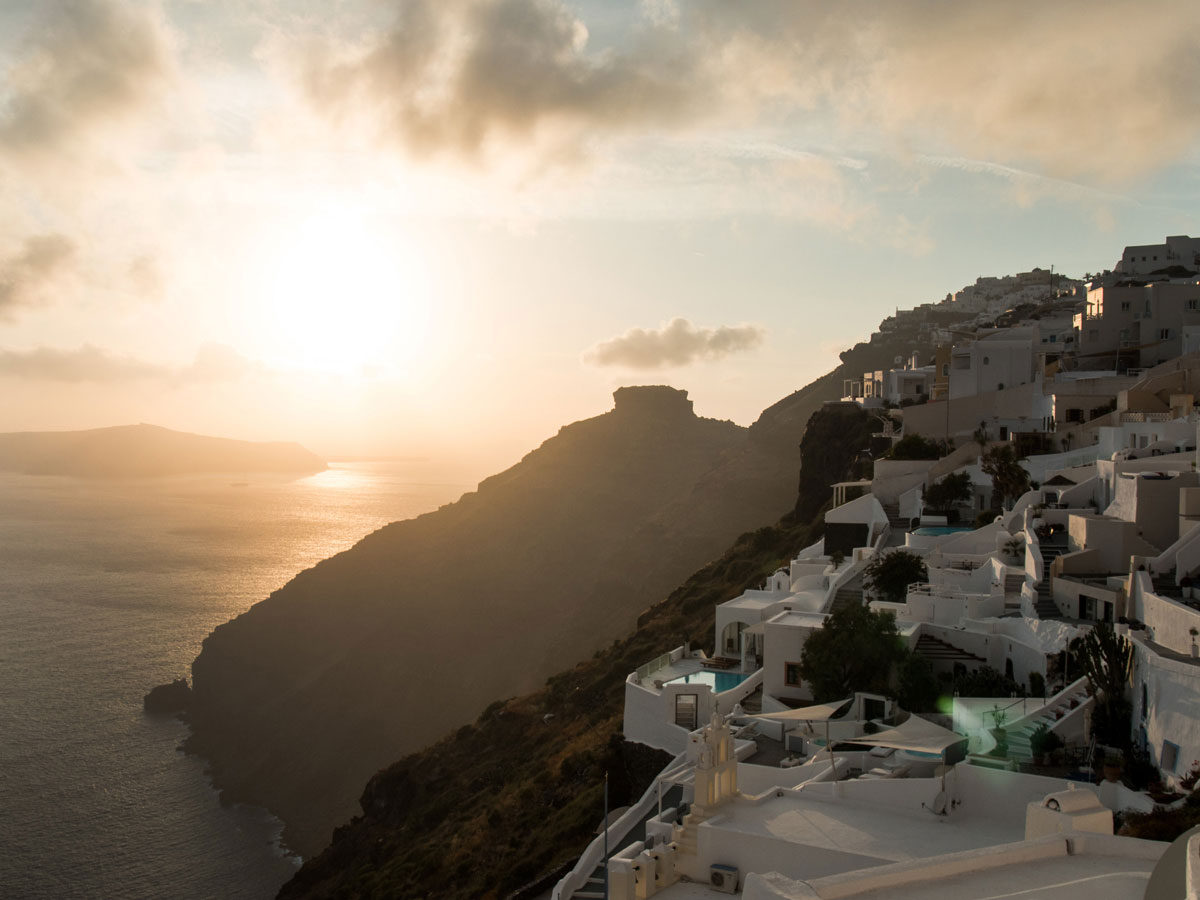 Oia / Ia
The most visited town on the whole island and also the most famous one is called Oia. It's in the north end of the island and famous for its sunsets. At sunset, all of the tourists are trying to get the best spot to watch the sun going down into the sea. I've been taking many many pictures in Oia, specially of the famous postcard like locations.
Sunsets in Oia are that special, because it's one of the few places where you can see the sun going down directly into the sea. If you don't like waiting for a sunset for 2 hours to get a good view on it, I can recommend going to a restaurant at that time.
See my restaurant recommendations and where to watch the sunset in santorini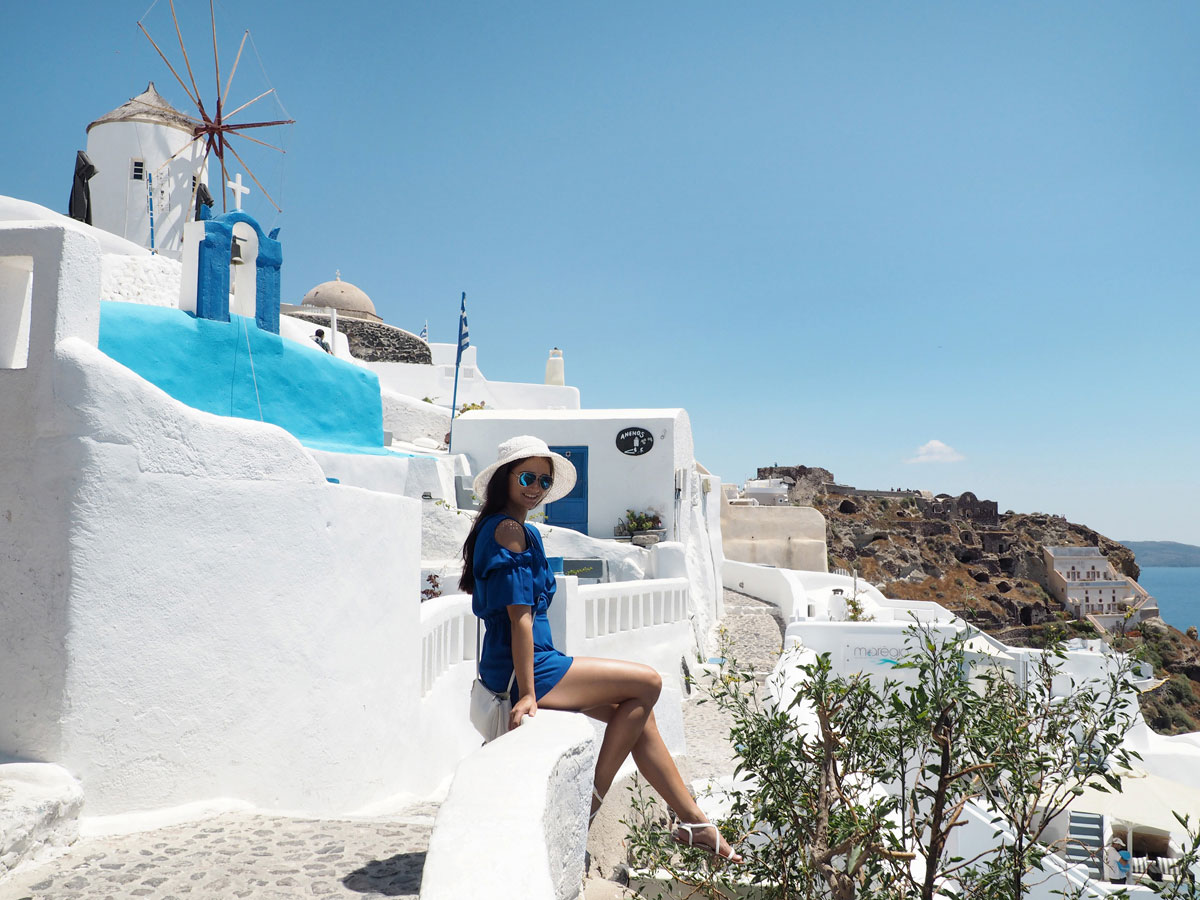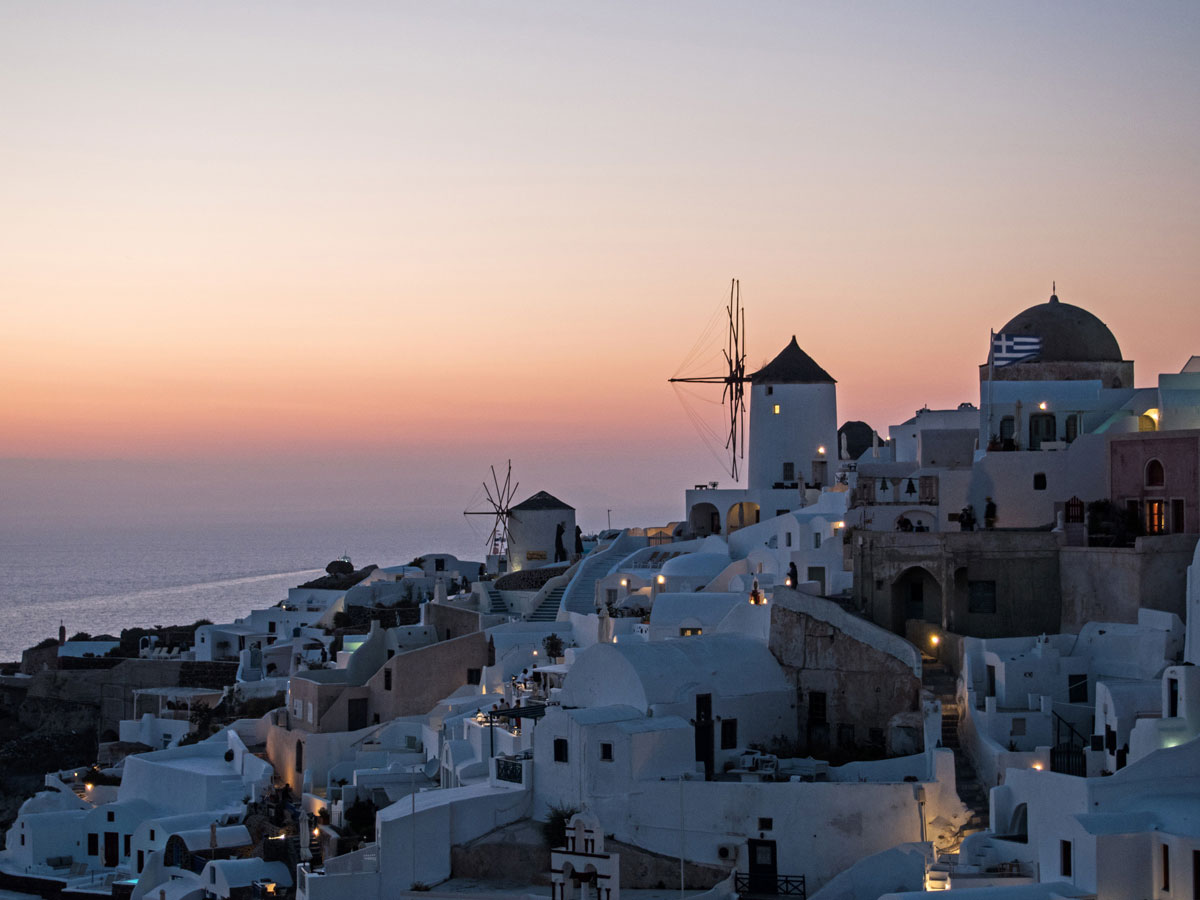 Skaros Rock
At the coastal area of Imerovigli there's a very special rock called Scaros Rock. Hiking there is highly recommended. On the rock there has been a castle, where you can still find some leftovers. You should walk down until the end of the island to see the cute little church lying there. The hike doesn't take too long and isn't that strenuous as it might look like. Only one advise: Don't go there around lunchtime, because there is nothing to hide from the sun. It's a good place to watch sunset though.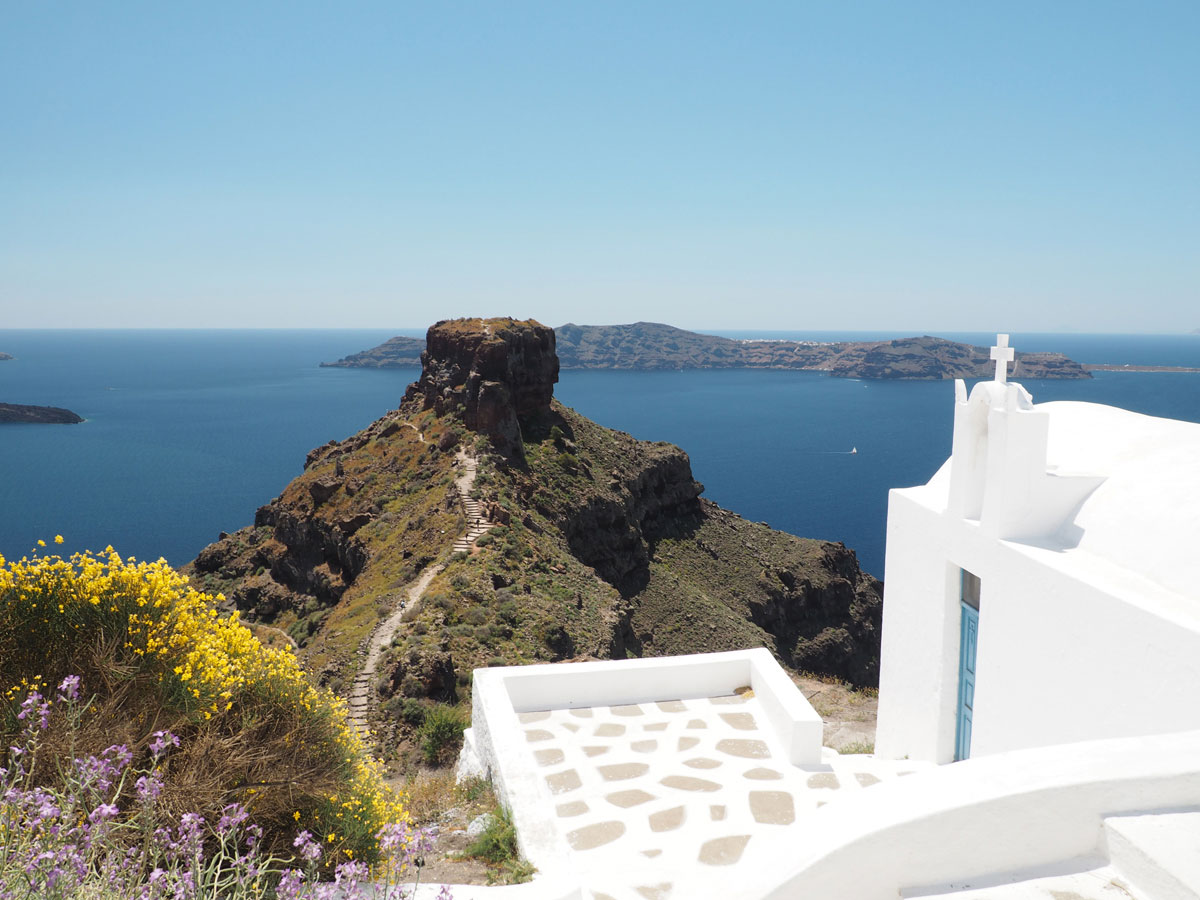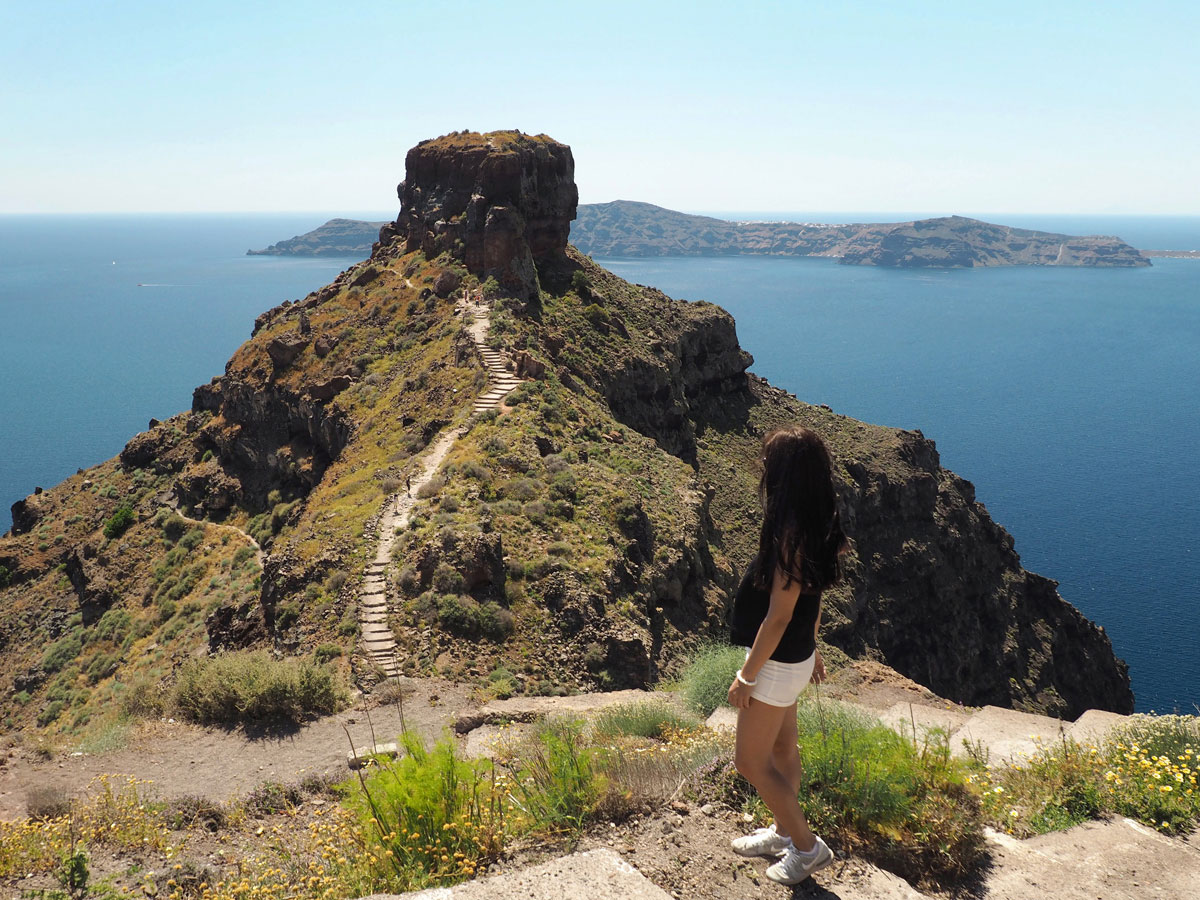 Volcano & Hot Springs
The islands of Santorini are the edge of a flooded caldera, a collapsed crater of a volcano. Next to the main island there are two islands called Nea Kameni and Palea Kameni, where you can find an inactive volcano. The last eruption of the volcano was 1950 and right now you can see exiting gas. We were taking a boattrip to the volcano. I wasn't quite sure if it's going to be interesting, but in the end I was pretty excited. It's a beautiful island worth seeing. We have also been going to the hot springs, which has been weird, but also pretty amazing. Swimming in the orange colored water is said to be good for skin and health.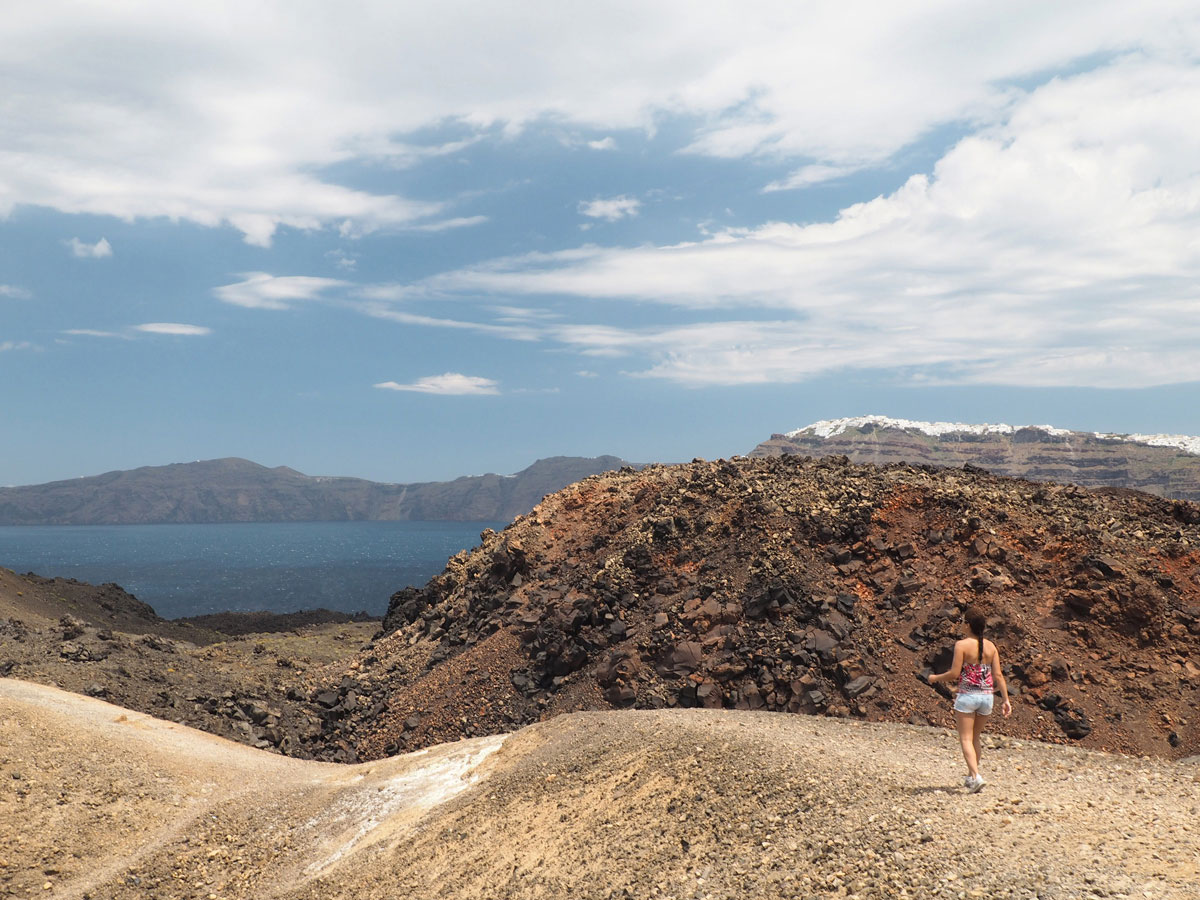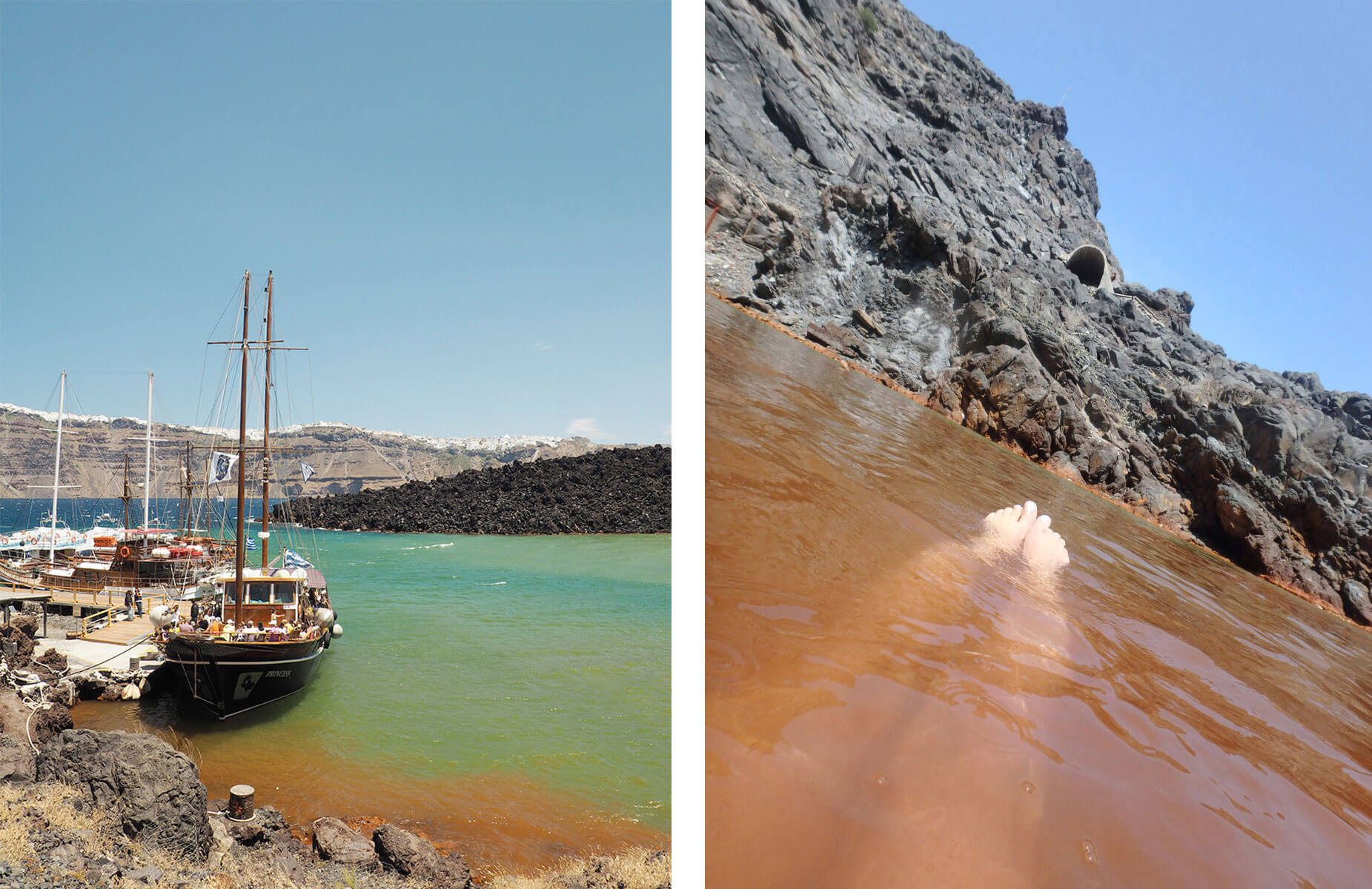 White beach, red beach and black beach
Sunbathing on Santorini? On my research people told me that Santorini isn't an island to go for if you want to stay at the beach. When we've been there it was pretty windy and not too warm, so we didn't even try it. Still, we wanted to see the beaches, specially because of the black sand that you can find on an volcano island. I've seen black beaches before, when we were going to Hawaii – and to be honest, they're a bit more spectacular, but still – those black beaches are beautiful too. Some of the beaches are made for tourists – you'll find sunbeds and sunshades there. So if you want to relax on a beach, without bringing your own stuff, you can go to Kamari or Perissa. I can recommend visiting the so called "white beach". It's next to some beautiful cliffs and walking along the beach is very relaxing. When we were going there, it was empty, we could only see a few surfers trying to catch the perfect wave. Afterwards we were going to the "red beach" with red sand and cliffs. It's not comfortable for taking a swim, but it's nice to see. It's a bit of a rough way to walk there, so wear good shoes.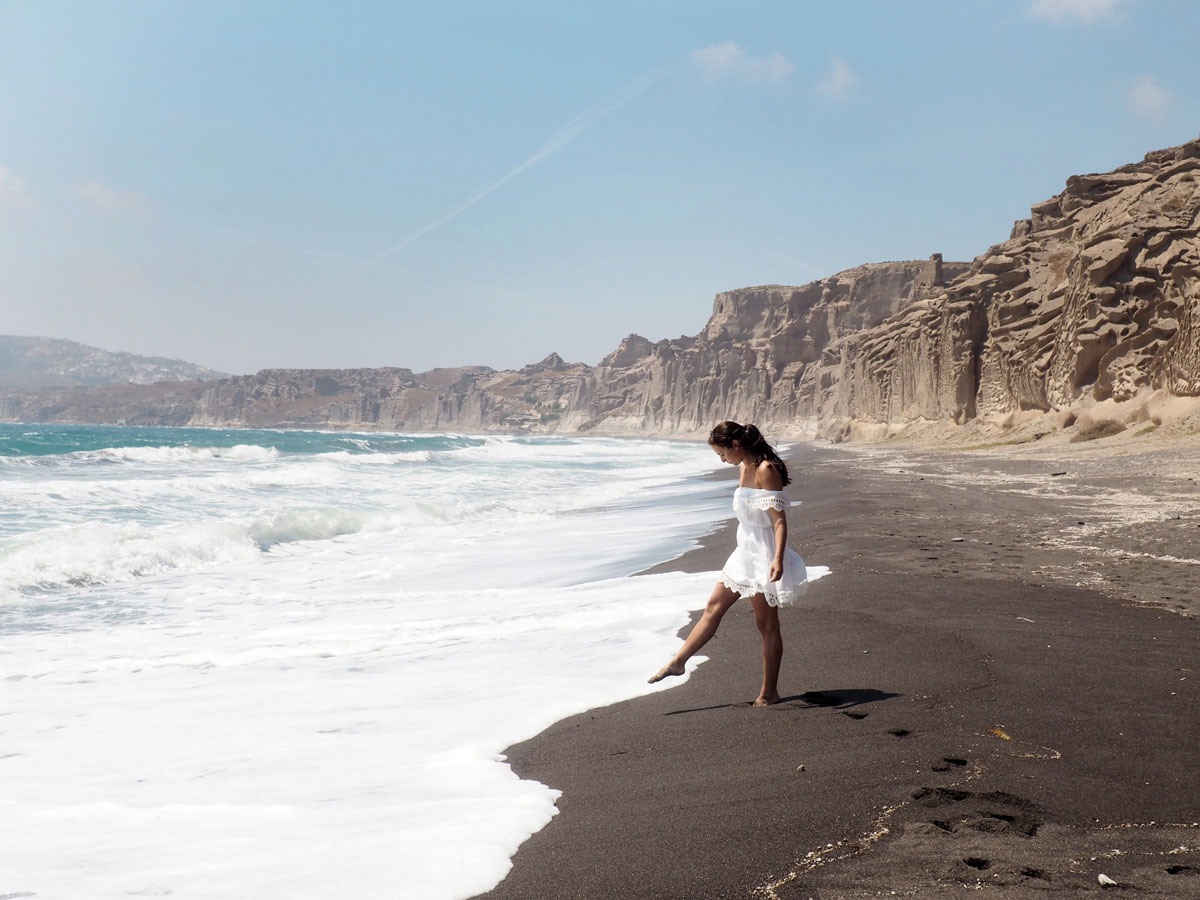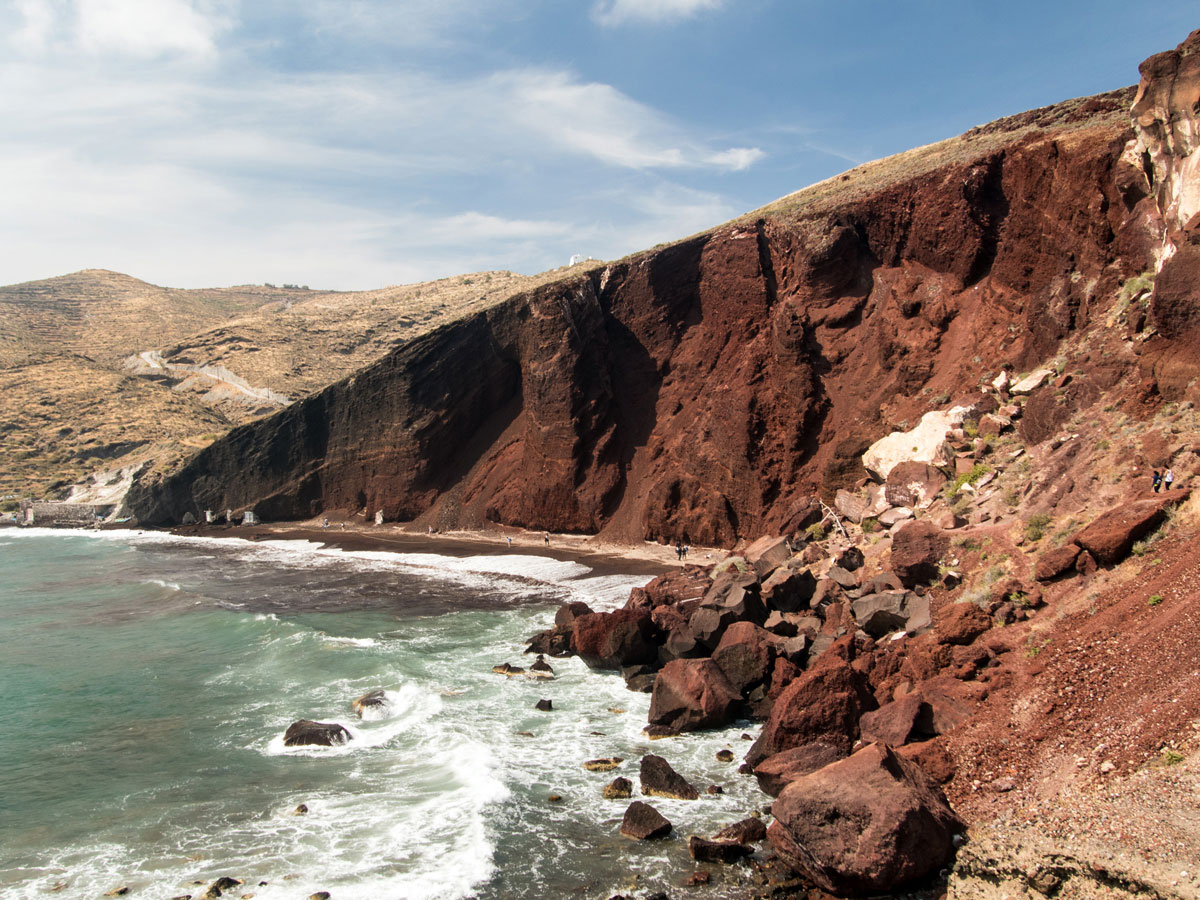 Soon I'll continue writing about Santorini – restaurants, accomodations, driving and much more is about to come. Additionally I'll write a blogpost about the best sunsets on the island.
Who has been on Santorini? What did you like most?