The great wall of China is near beijing and you can go there for daytrip very easily – and i think that, if you have a day (or half a day) left, you should really visit the tallest building in the world history and one of the seven wonders of the world.
There are some areas that you can visit from beijing and they're all a bit different:
Badaling:
Very easy to go to – there are busses going there all the time, which is nice if you only have some hours left, but you won't be alone on the wall at all, because most of the tourists go there.
Mutianyu:
Second easy to reach – around 80km from beijing you can find Mutianyu. You can go there by bus, but going there by bus won't be that easy, so most of the people are renting a taxi for a day (around 500-700RMB) or going with some organised tours (most of the hotels offer one). We choose Mutianyu (and i loved it) and you can read about it in this blogpost.
Jinshanling:
Only a few tourists choose Jinshanling, because it's far from beijing and you can't get there by bus, so you need to rent a taxi or book an organised tour. I've heard that Jinshanling is very beautiful (right in the middle of the mountains), there are some older parts of the wall there as well and you can go there for a hike.
Simatai:
At the moment you're not allowed to get up to the great wall directly in simatai (some kms away you can get up), but i've been told that it's very beautiful, same like Jinshanling – in the middle of the mountains with some older parts of the wall. You'll need a good pair of shoes there, because there are some very old parts of the wall, which are a bit dangerous (just a bit ;))
Daytrip to Mutianyu
For our daytrip we choose Mutianyu, because it's cheaper and easier to reach than jinshanling and there aren't that many tourists as in badaling. I expected a lot of tourists there as well, but we even had troubles to find somebody to take a picture of us – because there are that few people there (in winter).
Getting there
Getting there is really easy (if you don't travel low budget) – we booked a taxi driver for a day, who picked us up at the hotel and took us directly to the great wall. Bus would be cheaper (for sure), but you will need a lot of time, if you want to go by bus.
Getting up&down
You can take the shuttle bus from the village up to the great wall, then you can walk up the wall or take the cable car (around 100 RMB). We only had 3h before heading back to beijing and for that reason we were choosing the easy way up by cable car. For going down you can take the cable car again, walk down, or do the adventurous ride with the toboggan run (be careful, your ticket for the cable car cannot be used there – alternatively you can choose the chairlift up and the ride down, there's a combined ticket for that).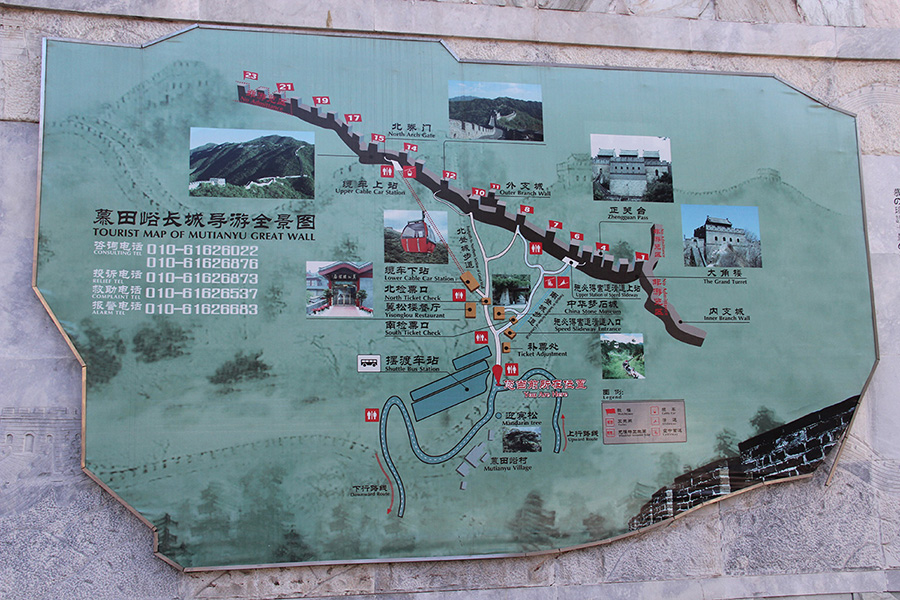 The wall
We were really impressed when we were getting up the wall. The view is fantastic and the wall is amazing! You can go to the south (on the right handside) or to the north (on the left handside), which might be more impressive, because you get up a hill and have a nice view up there. We were choosing the right side, because we saw some snow in that direction and we liked that (those Austrians….. :P)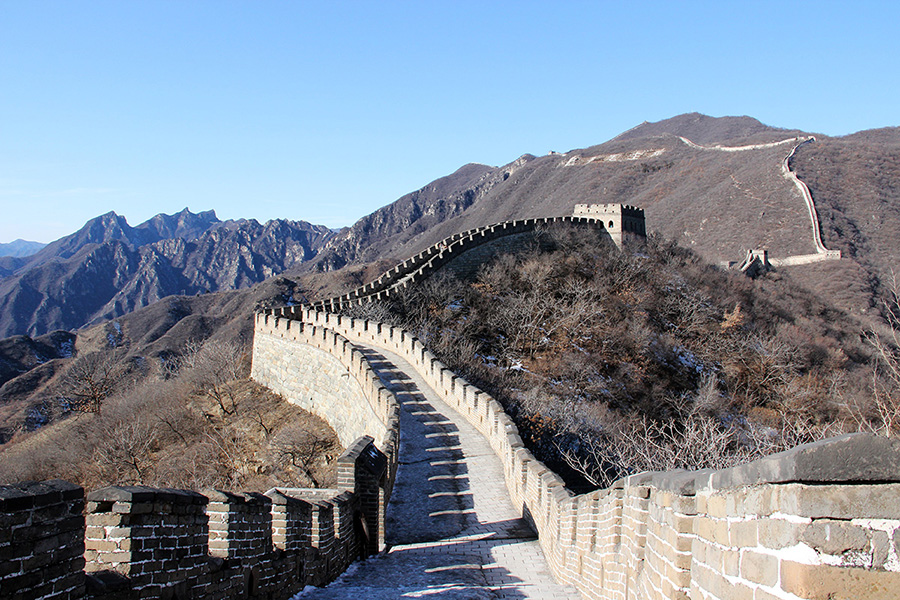 Conclusion
The great wall is very impressive! The towers are so amazing, none of them look the same. The stairs are crazy- some are that high, you have to push up yourself and others that low that you're not sure if there are stairs at all. I loved the daytrip and i would totally recommend Mutianyu to anybody – the view is fantastic!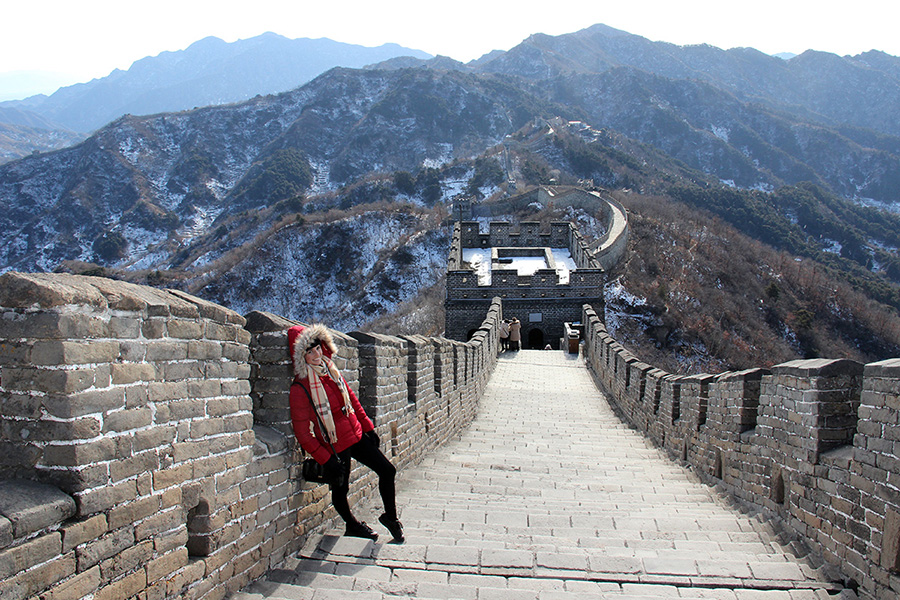 Tipps for visiting the great wall
Bring along some water, there are some restaurants in the village, so you can get some food there (prices are okay and the food was really good)
If possible don't go there on the weekend or chinese holidays (1-7. October and 1.-3. May)
Bring along a pair of good shoes, you'll need them