I've already been writing a blogpost about the best sights in Athens (read more about it here), but additionally I wanted to share some of my most favorite tips for traveling to the greek city.
Accomodation
Me and my friend didn't feel like spending too much money on accomodation, so we were choosing to stay at an AirBnb. We were lucky getting a beautiful place, only the distance to the city center was a bit tiring. In general Athens isn't too expensive, so you'll be able to find a cute place for an affordable price.
Getting around
Athens is a huge city. There's an underground system which is good for getting to places way too far walking, but as the stations are located quite far from each other, it's easier taking a bus or walking along. If you're about to take a bus, make sure you're bringing along the greek translation of the station you want to get too, because otherwise you might get lost. From the airport there's an underground line to the city center. It takes ages and you're not allowed using the same ticket as everywhere else, but it's the cheapest way to get to the city during the day.
Saving money by using the combined ticket of Athens
So this is the most touristy thing to do, but probably also the best thing for your first visit in the city. Athens is offering a combined historical sites ticket, which is priced 35 euros and you can use it at 8 different sights. Included in the price is Acropolis, Hadrians Library, greek agora, roman agora, Kerameikos, Olympeion, Lykeion. If you're about to pay them seperately, it might be more expensive. The ticket prices are different for all the historical buildings though, so just check it out if it's worth for you using the combined ticket or not.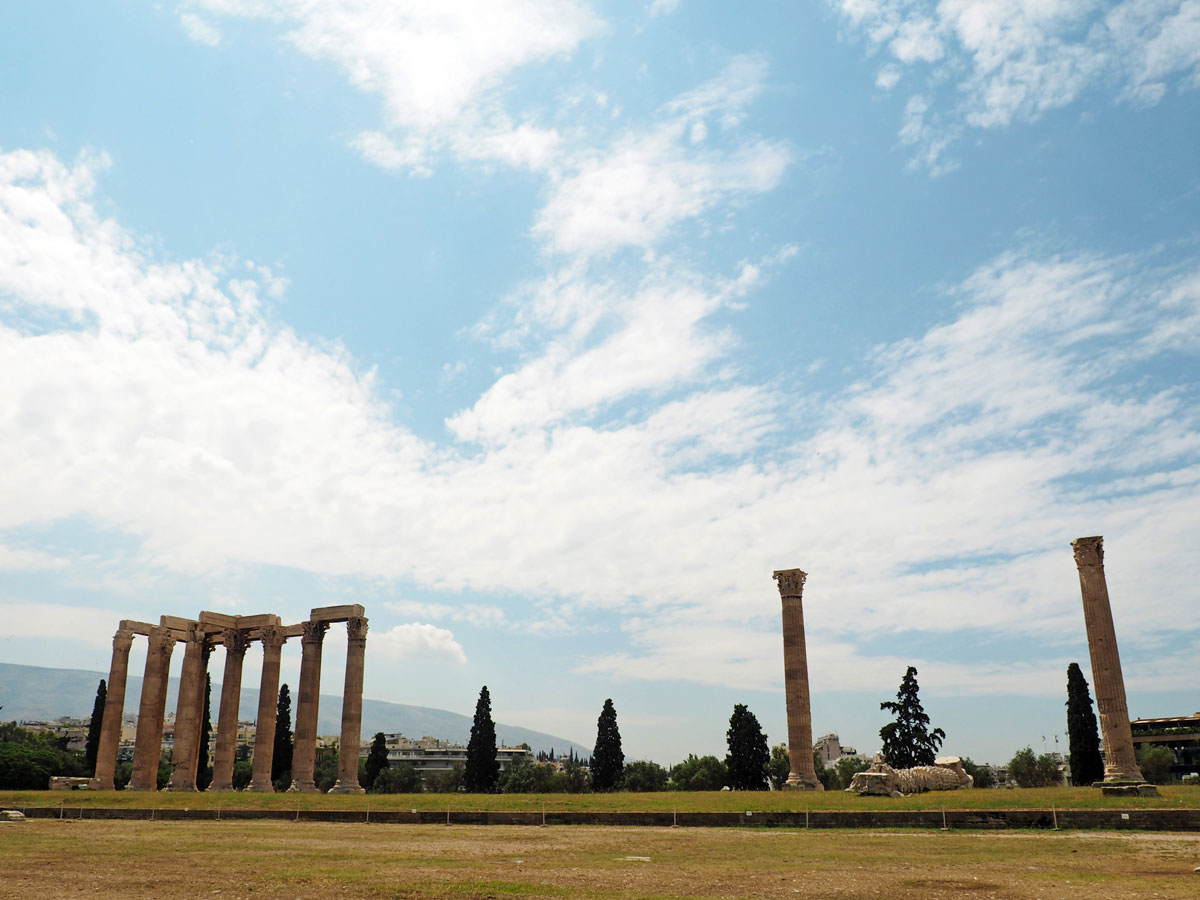 Restaurants & Bars in Athen
A for Athens Cocktailbar
So this has been one of my most favorite places in Athens. A for Athens Cocktailbar is offering an amazing view on the Acropolis and the city center. Prices are a bit higher than usually in greece, but still not too expensive (I paid 4 euros for my iced caffe latte).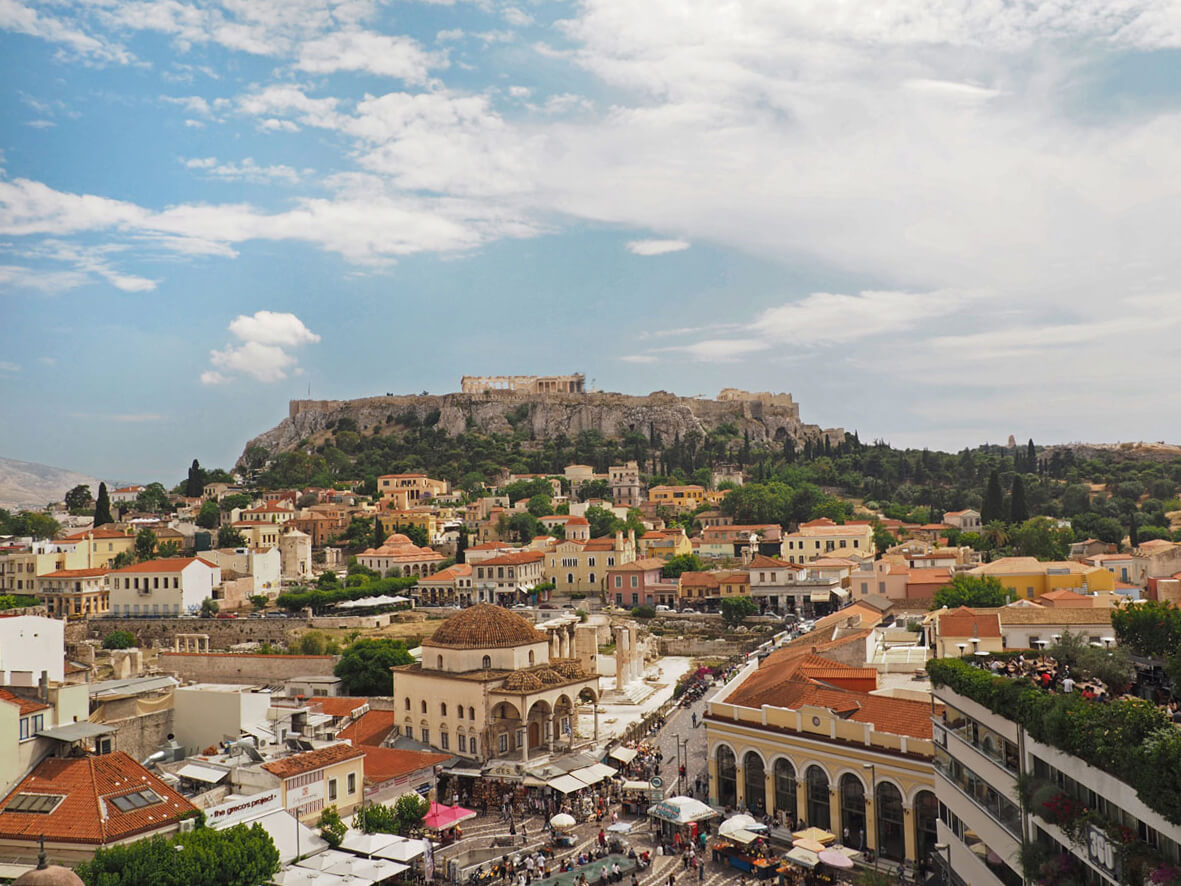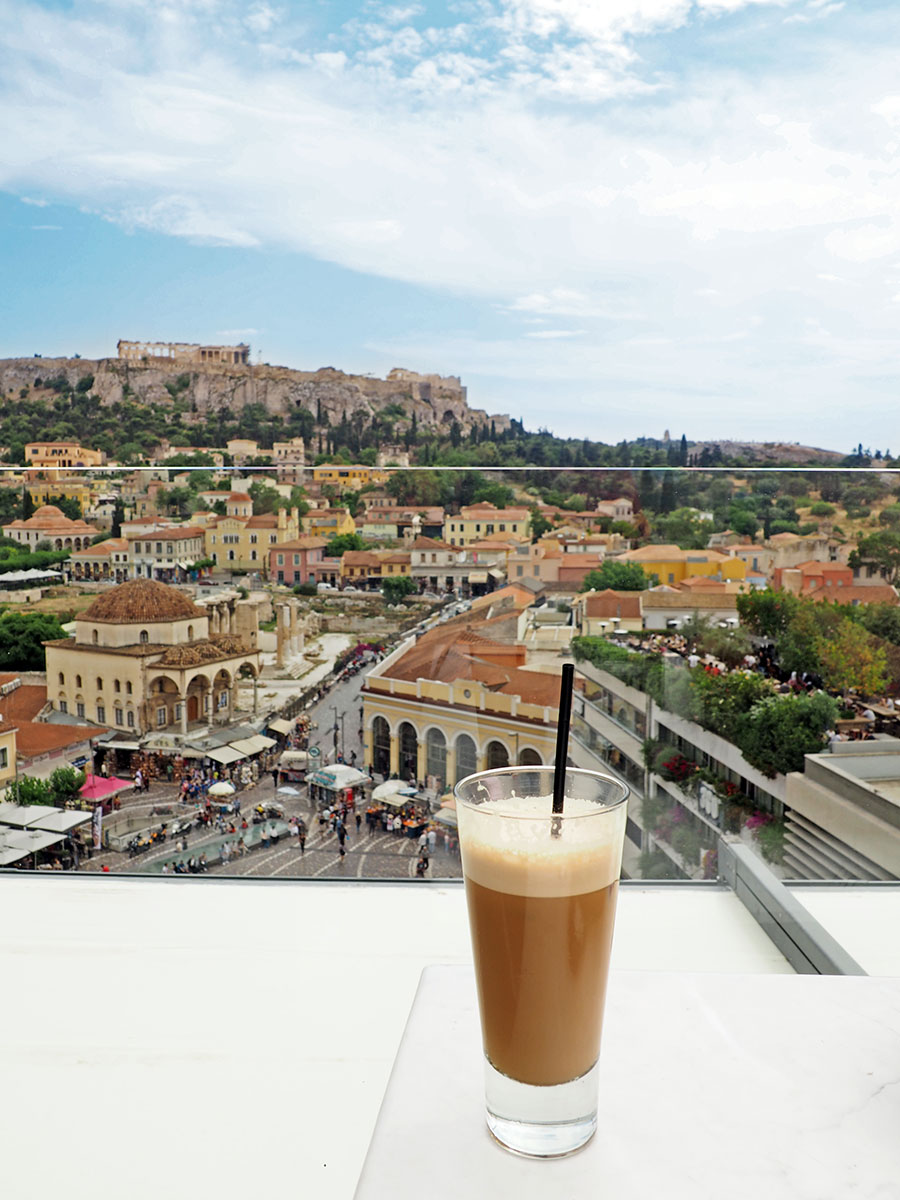 Plaka
The plaka might be famous for being the most touristy area in Athens, but it's still worth a visit. There are cute little streets and a few good restaurants which aren't too overpriced. Just make sure to check the prices before visiting on, some of them are highly overpriced.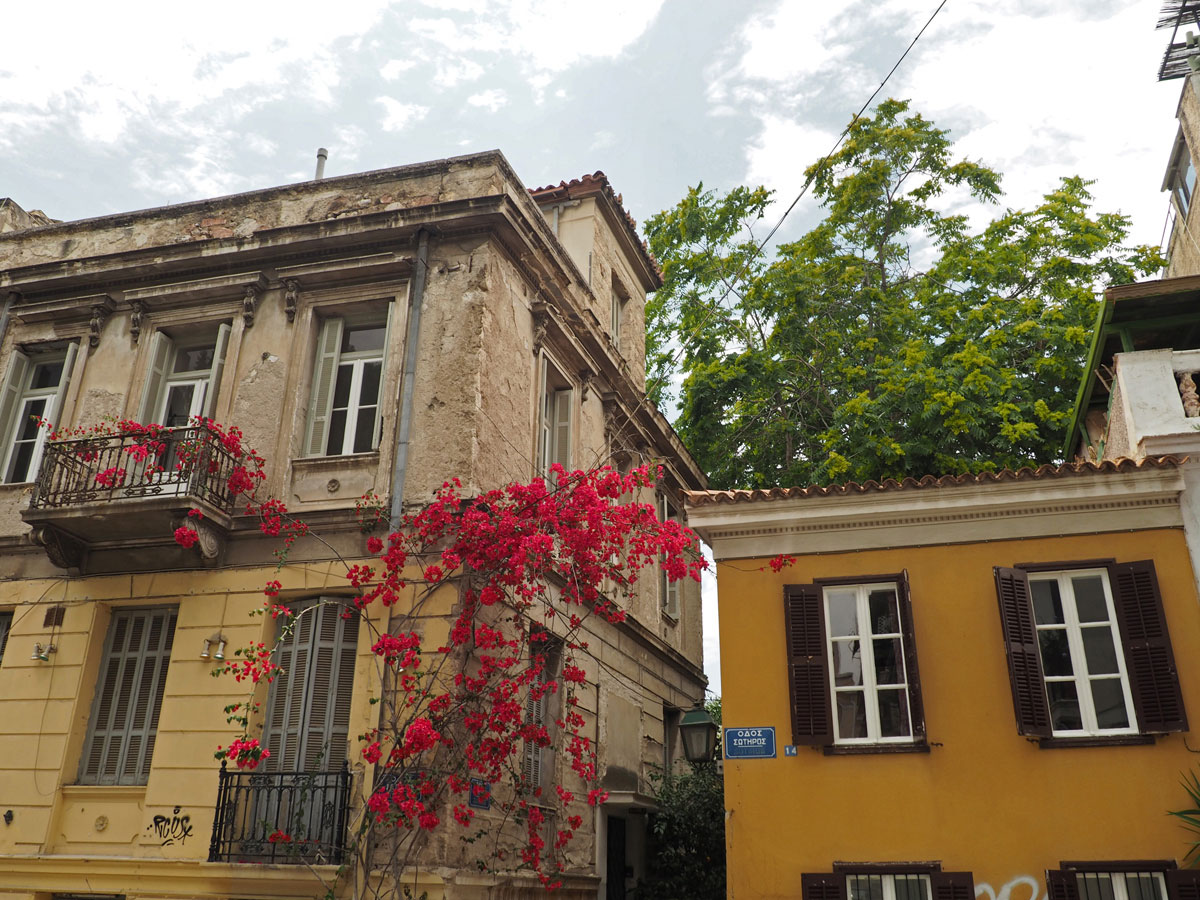 Eating waffles at Lontos Cafe
When we were walking up to the observatory (read more about it here), we were passing this restaurant, just accidently when a woman was eating waffles there. In the end we ended up sitting there too, getting some tasty waffels.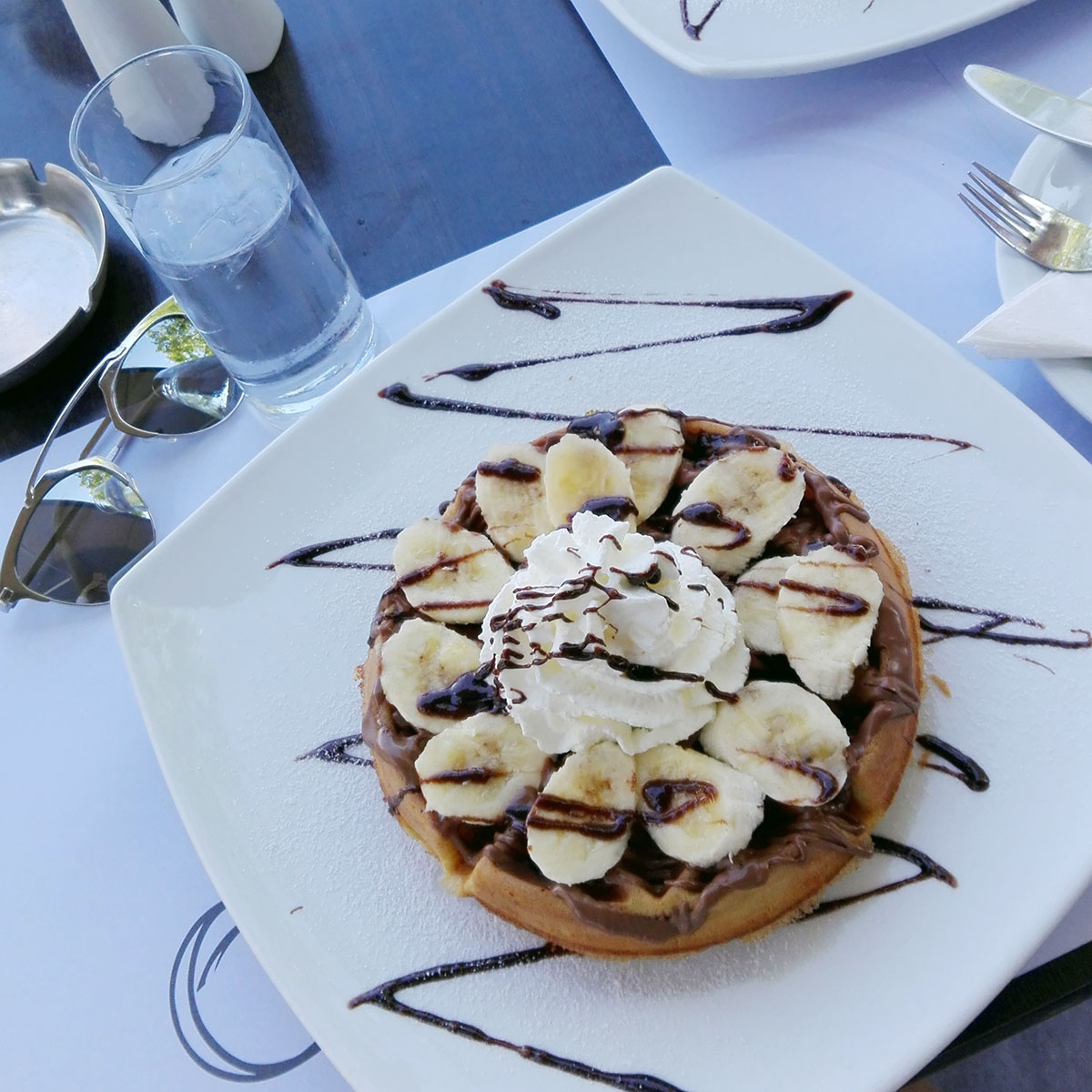 Exarchia
There's an area in Athens called Exarchia. It's well known as the place where all the demonstrations are taking places, but there are also a few restaurants, bars and graffiti.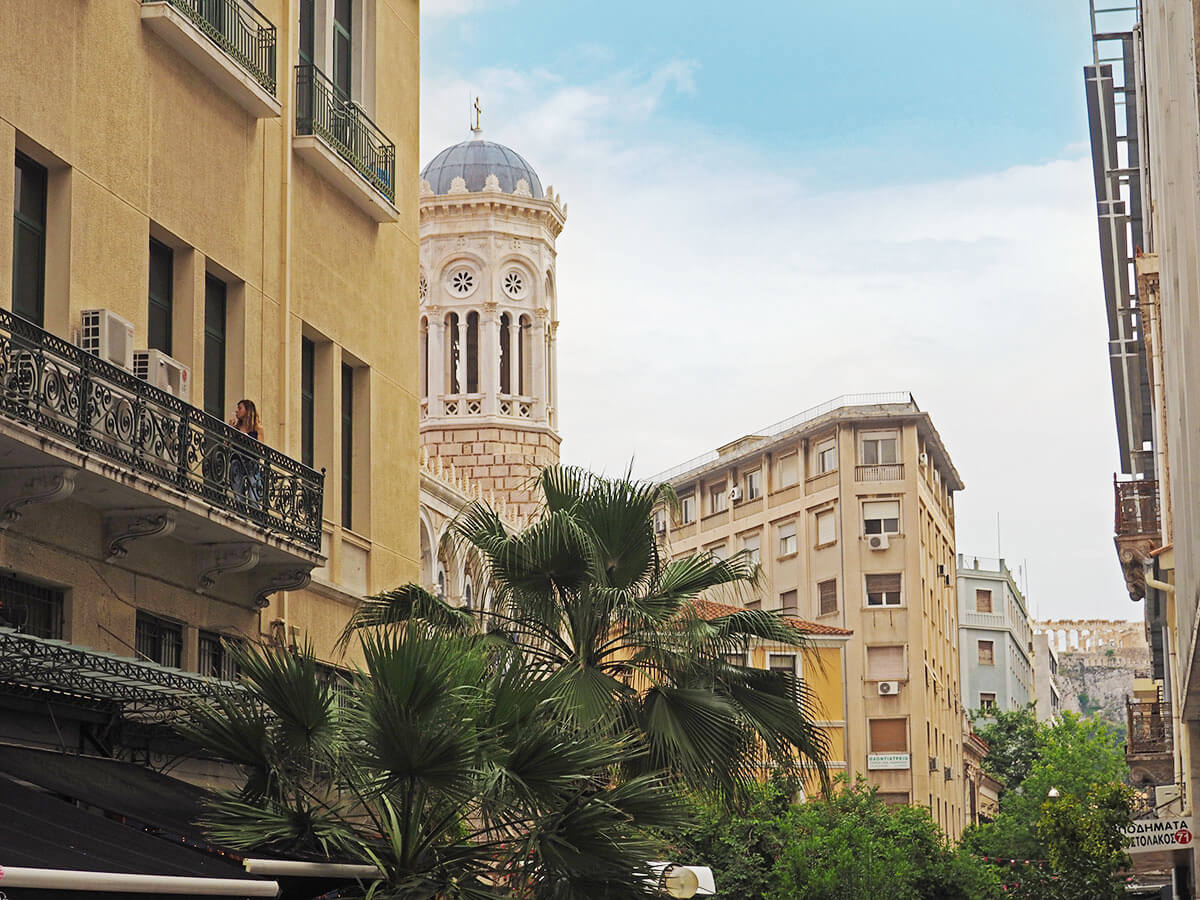 What to wear?
To be honest, I've never been thinking about what to wear in Europe, because I've never had problems – until now. Walking down the street with hotpants wasn't the smartest thing to do. All the people were looking at us as if we're aliens. I'm not sure if it's because we were wearing something short and showing some skin, or because of the fact that they might have a different feeling of temperature than we do. But really – over 30 degrees, I guess I should be allowed wearing shorts. In the end I was wearing a skirt over my shorts so that nobody can see my legs any longer.